World Premiere of TRICK AND ANOTONIA Is a Hot Cold War Affair
FTC Statement: Reviewers are frequently provided by the publisher/production company with a copy of the material being reviewed.The opinions published are solely those of the respective reviewers and may not reflect the opinions of CriticalBlast.com or its management.
As an Amazon Associate, we earn from qualifying purchases. (This is a legal requirement, as apparently some sites advertise for Amazon for free. Yes, that's sarcasm.)
Submitted by

Jeff Ritter

on Tue, 07/12/2016 - 01:34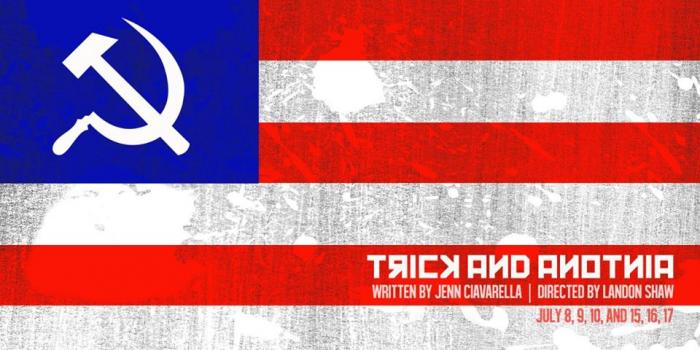 The world of spies and foreign intelligence has always intrigued me. I suppose it comes from growing up in the Cold War era, with the Watergate scandal, President Reagan telling Gorbachev to tear down the Berlin Wall, and that suave, debonair secret agent of British intelligence, James Bond, in regular rotation on early cable. Even though "my" Bond will always be Roger Moore, I was hooked from the first moment. Gadgets, hidden weapons in secret compartments, remote listening devices, enigmatic codes, I devoured everything I could find on the subject of spycraft. I soon learned that the life is not nearly as glamorous as Hollywood makes it out to be. Maintaining relationships based on trust is difficult when your very life hinges on the fact that you can trust no one.
 That's a central theme in the new stage play TRICK AND ANOTONIA, written by St. Louis-area playwright Jenn Ciavarella and directed by Landon Shaw for First Run Theatre. The world premiere runs July 8-10 and 15-17 in the spacious Thomas Hunter Theatre at DeSmet High School in Creve Coeur, Missouri. This is a story of love and betrayal behind the Iron Curtain. The title characters are played by two sets of actors, with Robert Stevenson and Annalise Webb playing CIA Agent Patrick Brispio, aka Trick, and Anotonia, aka Trick's ex-wife Russian spy, respectively, while Jeremy Schnelt and Carly Udling play the younger versions of the same. There are two stories going on nearly simultaneously—a tense 48 hours of negotiation between Anotonia and her captors, including Patrick, his boss Undersecretary Grady (Chuck Winning) and FBI negotiator Lucinda Samuels (Cammie Middleton), who is trying to trade Anotonia to Moscow for a captured America spy. The younger leads reenact the origins of this relationship in frequent flashbacks. Rounding out the cast is Brad Slavik as Russian intelligence agent Gregor and Melanie Kozak as Patrick's estranged adult daughter Jackie.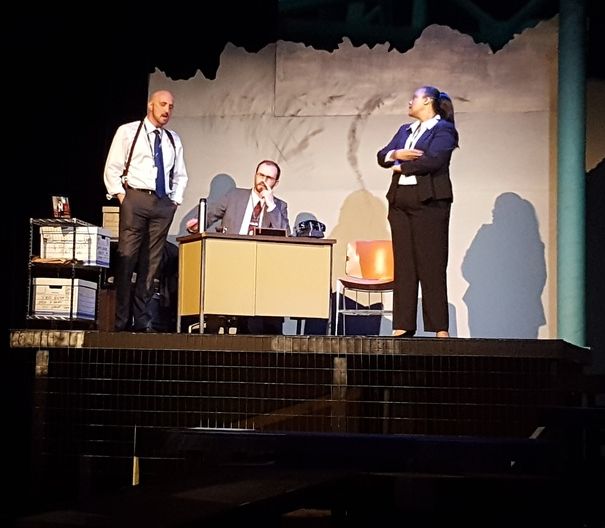 Robert Stevenson fluctuates between collected and cracked nicely, though it's when he really loses it in the direct conflict with his ex-wife that Trick's inner turmoil is made most clear. Stevenson's slow-building pressure cooker performance was a nice counterpoint to the immediate emotional rollercoaster Jeremy Schnelt took his Trick on. I found the younger Trick to me more likeable, which in turn made older Trick's introversion more palpable and his late eruption all the more intense. The ladies playing Antonia were both excellent; with Carly Udling being the perfect young love interest and nearly perfect spy and Annalise Webb displaying how well her Anotonia has learned her trade and the cynicism that comes with betraying the people you are closest to in life. Chuck Winning and Cammie Middleton are both spot-on as intelligence agents despite the occasionally soap-operatic dialogue.  Alas, Melanie Kozak, who turned in an award-nominated performance in THE ELEPHANT MAN last year at Looking Glass Playhouse, is given very little to do hear but serve as the "MacGuffin" for adult Patrick's return to living rather than merely existing.
Landon Shaw designed the stage and utilized it to strong effect, with the upper platform representing the CIA offices in the modern time and the stage level mainly for the flashback sequences. Projected backdrops added a sense of both time and place. The show wasn't terribly hard to follow though it does feel a little verbose at times. Both Tricks and Anotonia's have a lot of dialogue to get through. Some scenes, particularly the CIA office conversations, were a bit melodramatic, sounding more like "theatre' dialogue than what you'd probably hear in an actual CIA field office. There was surprisingly little swearing and a bit more tolerance for office drinking than I would have expected. I think I would have liked a little more action or more silent, physical storytelling, but that might just be me having watched too many seasons of '24' and Marvel's AGENTS OF SHIELD and films like TINKER, TAILOR, SOLDIER, SPY and the Gene Hackman classic THE CONVERSATION recently. The dialogue is generally fine, particularly between the younger pair of leads where the romance is the main focus and the spycraft more of a backdrop.  
Overall, TRICK AND ANOTONIA was an enjoyable show that, much like real intelligence operations, takes a little while to develop but comes to an explosive conclusion. If you enjoy a bit of Shakespearean "star-crossed lovers" romance and the intrigue of Soviet-era espionage, you should enjoy TRICK AND ANOTONIA. Engage in a little intelligence-gathering yourself by checking out http://www.firstruntheatre.com/ for more information.