Knives Out Takes A Good Stab At "Whodunit?" Genre
FTC Statement: Reviewers are frequently provided by the publisher/production company with a copy of the material being reviewed.The opinions published are solely those of the respective reviewers and may not reflect the opinions of CriticalBlast.com or its management.
As an Amazon Associate, we earn from qualifying purchases. (This is a legal requirement, as apparently some sites advertise for Amazon for free. Yes, that's sarcasm.)
Submitted by

Jeff Ritter

on Sat, 11/09/2019 - 00:15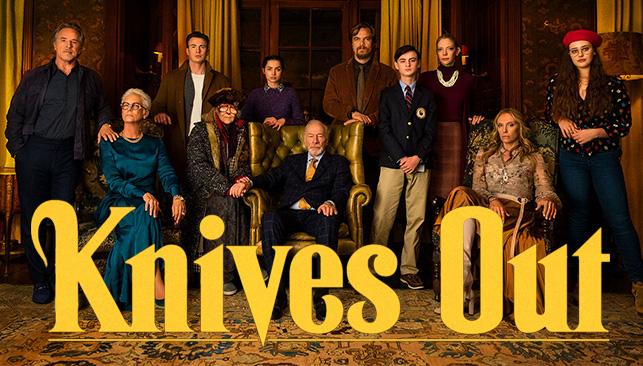 Before we talk about Knives Out, the new film written, produced and directed by Rian Johnson, I feel it's important to mention that I went into this movie fully intending to hate it. Is that unprofessional for a movie critic? Sure, probably, but I still get intensely angry during any discussion of Star Wars: The Last Jedi. The original trilogy is as much a part of me as my lungs, spleen and heart. Are we clear on this? The Hulk rage was simmering just below my skin (it's all Disney now, so I can mix pop culture references with reckless abandon, right?), and I was sure I would explode in my seat within the first ten minutes.
I sat. I watched. At times I stroked my chin as I do when I'm really concentrating. And I watched. I chuckled. I nodded. I liked it. I liked it a lot!
Damn you, Rian Johnson!
It's a classic whodunit in the spirit of Agatha Christie's beloved mysteries and the board game/movie Clue. The patriarch of a well-heeled but dysfunctional family is found dead and his entire estate is left to none of them. His death is suspicious; fingers are pointed in every direction. And present for much of it is a slow-talking country gumshoe languidly observing until the end, when his quiet genius exposes all. That's as much of the plot that I will divulge; anything more would be a disservice to the story.
I can, however, rave about the cast. Daniel Craig is absolutely brilliant in this most un-James Bond role. As private detective Benoit Blanc, he affects this Foghorn Leghorn/Mark Twain American accent that hides all of his unfailingly perfect 007 baggage incredibly well. He is generally laid back, practically a set piece, until he cranks it up at the climax and then both his subtlety and charisma are glorious to behold. 
Ana de Armas is superb as the late patriarch's nurse, Marta Cabrera, To her patient she was a friend more than hired help. To the rest of the family, she was young and comparatively poor and unsophisticated. As the story wraps up her character shows surprising depth and de Armas makes every facet of her character sparkle. Her biggest film to date has been Blade Runner 2049, but this is a performance that could really open some doors for her in a big way. (Psstt…Kevin Feige, there are several Marvel characters that Miss de Armas would be a great fit for,, especially White Tiger!)
The family includes Christopher Plummer as patriarch Harlan Thrombley, Jamie Lee Curtis as Linda Drysdale, Thrombley's eldest daughter , who is married to Richaard Drysdale, played by  Don Johnson. Their son Ransom Drysdale, is played by Chris Evans, Michael Shannon is Thrombey's youngest son, Walt. Toni Collette is the patriarch's widowed daughter-in-law. Confused yet? There are still more wives, children and the help to name, but ultimately they mostly just make a lot of commotion to distract you from seeing the subtle clues. An eclectic mix of character actors and star power, their bickering over trivial and mundane matters might strike a familiar chord at times, but the ramifications, amplified by the multitudes that come with great wealth, were surprisingly juicy.
I probably swore to never see and certainly never praise a Rian Johnson film, privately if not publicly, immediately after watching his infamous episode of my favorite movie franchise from a long, long time ago. It was an oath I never intended to break. Yet Knives Out is so cleverly constructed, so perfectly acted and executed, I'm forced to go against every fiber of my being and say, "Congratulations on your wonderful film, Rian Johnson. I truly enjoyed it. Might I suggest adapting it for the stage? It could work equally well as a play--even "the worst car chase ever" scene could probably work in the right venue." I honestly enjoyed Knives Out so much that I'm about to say something else that goes against my usual cinematic beliefs--I want Daniel Craig's character to do this at least once more in a sequel or as the start of a new franchise. Both the character and the performer were that good. Yes, I'll admit it, Rian Johnson's script and direction were very good too. Sigh…I need a drink. I'll be at the cantina in Mos Eisley, the first round is on me.
Rian Johnson's Knives Out opens in theaters on Wednesday, Nov 27, 2019 with a runtime of 130 minutes.