New Line Theatre's hilarious HEAD OVER HEELS should not be missed!
FTC Statement: Reviewers are frequently provided by the publisher/production company with a copy of the material being reviewed.The opinions published are solely those of the respective reviewers and may not reflect the opinions of CriticalBlast.com or its management.
As an Amazon Associate, we earn from qualifying purchases. (This is a legal requirement, as apparently some sites advertise for Amazon for free. Yes, that's sarcasm.)
Submitted by

Jeff Ritter

on Tue, 03/10/2020 - 22:37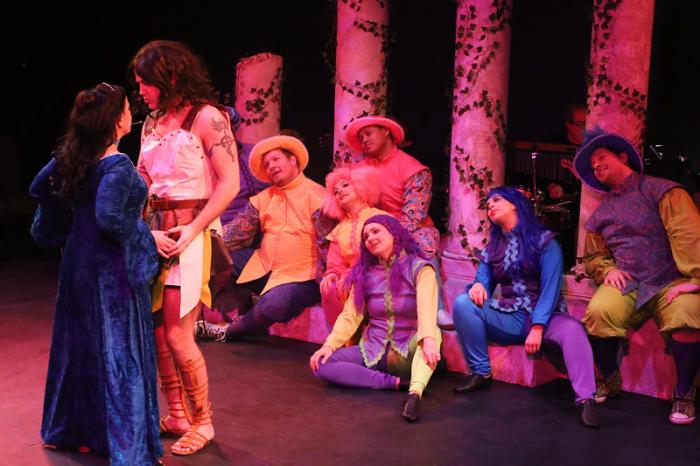 If you've never attended a New Line Theatre musical, Head Over Heels, a fun "jukebox" musical conceived and written by Avenue Q's Jeff Whitty and adapted by James Magruder, would be a great place to start. It's based on a 16th century book called The Countess of Pembroke's Arcadia, by Sir Philip Sidney, and while never wildly popular itself, it has endured to influence even the Bard himself, William Shakespeare (or whoever really wrote King Lear). After reading it in college, Whitty had a flash of inspiration. He conceived of a mash-up, that modern day concept of combining two things you wouldn't think would work together yet magically do just that. You can spend hours browsing song mash-ups on YouTube. Whitty took it to a whole new level, mashing 16th century prose with the music of 80s punk-pop favorites, The Go-Go's. Mash those two with a live musical theatre performance and you have the perfect reason to attend the next performance at New Line's home in the Marcelle Theatre in the Grand Center Arts District. It's flat out great – Reese's Peanut Butter Cup great – the highest form of flattery one can give a mash-up product like this!
To avoid spoilers, let's just say the plot, on the surface, is familiar ground for anyone who's read Shakespeare (or perhaps Edward de Vere) or any classical comedy. King Basilius (Zachary Allen Farmer) and Queen Gynecia (Carrie Wenos Priesmeyer), their passion for each other at its nadir, are trying unsuccessfully to find a suitable suitor for their beautiful but vain eldest daughter, Princess Pamela (Grace Langford), while forbidding their younger daughter, Princess Philoclea (Melissa Phelps), from encouraging the patronage of her own suitor, the loyal but low-born shepherd Musidorus (Clayton Humburg). When the king receives a dire prophecy from the Oracle Pythio (Tielere Cheatem), he falsely decrees that to save his kingdom he must march his people to a neighboring kingdom, and slay a Golden Stag. Thus begins what could be viewed as National Lampoon's Classical Vacation: the Musical. King Basilius marches his entire kingdom in a fruitless search for the falsehoods he told his wife to maintain his iron grip on the status quo, which includes terribly outdated ideas about gender, sexuality, love, and monarchies. Along the way, the king's trusted advisor Dametas (Aaron Allen) does his best to spot the signs of the prophecy, never realizing that his own daughter (and Princess Pamela's servant girl) Mopsa (Jacyln Amber) is the pivotal player in this laugh out loud misadventure.
Head Over Heels features a tremendous cast from top to bottom. I've been looking forward to seeing Melissa Felps in a leading role for some time now. It seems she's usually cast as in a smaller part as the little kid or the best friend of the leading actress, but her high-power voice and strong acting ability has stood out to me more each time I've seen perform, such as in New Line's The Zombies of Penzance and Be More Chill. I can't help but notice when Felps gets the opportunity to show off her operatic register, the room gets so quiet – even the always excellent New Line Band seems to drop away as her voice soars – it gives me goosebumps! Her chemistry with Clayton Humburg, another talented New Line actor (American Idiot, La Cage aux Folles), was fun to watch. Humburg's role is challenging on multiple levels, having to speak in the confusing tongue of shepherds when nervous, classical dialogue in "ye olde English" the rest of the time, singing well-known Go-Go's hits in different keys and tempos than you hear on the local oldies station (Hold up…I remember these songs like it was yesterday, and I'm not that old!…sigh) and cross-dressing to boot! Humburg nailed all of it. 
Their co-stars, Grace Langford and Jaclyn Amber, are equally fun to watch. Langford (Be More Chill, The Playhouse in Westport Plaza's Avenue Q) has been on a roll these last couple of years, turning in one fine performance after another. She juggles a variety of character traits as Princess Pamela, at times ditzy, manipulative, haughty, humble and most of all confused about who she really is. She also boasts a powerful voice of her own that pairs well with her costars. Jaclyn Amber, who worked with Langford on New Line's Cry-Baby, does a fine job as Pamela's sarcastic servant who helps Pamela discover that they aren't as different as they had believed.
The casting of the royal couple, Basilius and Gynecia, are no strangers to St. Louis stages. Zachary Allen Farmer is a longtime New Line actor who can always be relied upon to deliver a standout performance. I believe it was in the duet the svelte one performs with his on-stage wife, Carrie Wenos Priesmeyer, on "This Old Feeling" where he really cuts loose, his voice taking on a kind of whiskey-soaked soulful quality reminiscent of vintage Joe Cocker.  Menos Priesmeyer has been in a variety of shows across the area, but I don't think I've managed to catch any of her shows until now, where she's made her New Line debut. She brings a fun, "smarter than you think" quality to Gynecia who routinely challenges her old-fashion husband throughout the show. I'm also not sure I've had the pleasure to have watched Aaron Allen perform anywhere before. He was a longtime regular with New Line, it seems, until just before I started reviewing their shows. As Dametas, he walks the line between wise man and fool with aplomb. I appreciated his physical comedy as well, as he'd throw himself across the Marcelle Theatre stage to intercept another "flag" from the mysterious Oracle Pythio.
Tiélere Cheatem is an artist and actor who keeps busy in the St. louis theatre scene, appearing in shows with Mustard Seed Theatre, Stray dog Theatre, and New Line, where I first took notice of him in La Cage aux Folles. I have a feeling Cheatem will be stealing scenes around here for a long time to come. As the androgynous non-binary oracle who prefers to be address in the plural, Cheatem dazzles every time he's on the set. Spruced up, steam-driven intro effects give him a rock star/WWE Superstar mystique while his words drip with honeyed elocution. Like the old saying says, "Go big or go home!" Watch Cheatem when he goes big in Head Over Heels and ou'll be raving about his performance the whole way home.   
My readers know that I am very fond of ensemble actors. I feel they don't get enough credit for their efforts, by and large, dancing to a lead's song or gesturing wildly at their fellow "city folk" and carrying on silent conversations while the spotlight is pointing elsewhere. The entire ensemble for Head Over Heels was fantastic. If the St. Louis Theatre Circle or any of the area theatre award groups have an award for best ensemble, I hope they don't forget this group when nomination time rolls around. Representing the fairer sex of the Arcadian populace, Maggie Nold, Michelle Sauer, Sara Rae Womack and Alyssa Wolf launch the show with a gymnastic group cartwheel that even the old East German judge would give high marks for. After that, they perform a number of high energy dance routines, perform with hand puppets, and sing chorus parts cleanly so that every song is easily understood. I don't always get that from National Tours, so kudos to you all for a job very well done. Not to be underestimated, however, are the Arcadian men, represented by Kevin Corpuz, Evan Fornachon, Chris Kernan, and Chris Moore, each a leading man talent in their own right. They keep up step-for-step with the ladies, two of which choreographed this production: Sauer and Womack. I think this might be the best choreographed production New Line has done yet. I'm giving you all a standing ovation from my keyboard, especially for the side-splittingly funny sheep puppets who supported Humburg on "Mad About You" (pronounced "Ewe?")!   
Head Over Heels is the kind of show that St. Louis theatre fans might overlook. It's not a well-known classic like Anything Goes or a modern Broadway smash like Hamilton. That's what's so great about it – the material feel familiar in tone and substance but delivered in such a novel way that you almost forget this is the bizarre combination of a book that originated in the 1570s, set to the music of Belinda Carlisle, Jane Wiedlin, Charlotte Caffey, Margot Olavarria, and Gina Schock (among others over the years), that manages to be more relevant now than perhaps it's ever been. I think this project must have been a love-at-first-sight proposition for New Line Creative Director Scott Miller and Director Mike Dowdy-Windsor. They certainly pulled out all the stops with their technical crew, including Music Director Nicholas Valdez leading Jake "Six String" Heberlie, Aaron "Guitar Man" Brown, Jake "The Base" Stergos, and Clancy "Can't Be Beat" Newell through The Go-Go's repertoire. Rob Lippert crafted another fine set, placed between a divided audience to give the impression that each side is a gallery of courtesans watching the royal family's zany expedition unfold. Kimi Short's props perfectly complimented Courtney Gibson and Sarah Porter's costumes – a special shout out to whoever found those strappy sandals Clayton Humburg wears (and if you can get a line on a pair of those in a Men's 8.5, let me know). Kenneth Zinkl expertly lights the show and Ryan Day makes sure everything you hear comes to your ears crystal clear.
I suppose it would have been faster to say, "I loved this show so much I might just go see it again!" right from the start, but it's important that you understand why it's so good, and hopefully you're digging out your debit card and looking up www.MetroTix.com or www.NewLineTheatre.com right now on your phone or tablet to purchase your seats for their remaining shows, which run through March 28, 2020. If you saw it already and liked it, make plans to go again -- bring some friends -- and join me! From what I've heard, despite the praise that many of my fellow critics have given The Band's Visit, which just wrapped up its national tour stop three blocks west at the Fabulous Fox Theatre, a good chunk of the audience were extremely disappointed in that production. It racked up Tony Awards a few years ago, but that doesn't always mean that it will play in Peoria, a town famous for being the metaphorical hub of Mid-American cultural taste just a couple hours northeast of St. Louis. In fact, the Go-Go's actually played on September 12, 1984 as part of their "Prime Time Tour," so if you don't believe me, believe Peoria – anything involving the Go-Go's is always a tremendous time! Other shows may have fancy awards, but this one has the beat! If this review motivates you to check out New Line Theatre's Head Over Heels for yourself, please send me a note at jtknightmail@gmail.com with "HEAD OVER HEELS" in the subject line and let me know if you agree! Maybe I'll even come up with a small prize of some sort for the best "fan review" I receive on this show – that's how much I think this production deserves to have a sold-out audience for the rest of its run.  (Note: that's maybe…no prizes are currently guaranteed in any way, shape or form, but don't let that stop ya!)