Hot Tuna: Live At Sweetwater 1, Live At Sweetwater 2, & Live In Japan
FTC Statement: Reviewers are frequently provided by the publisher/production company with a copy of the material being reviewed.The opinions published are solely those of the respective reviewers and may not reflect the opinions of CriticalBlast.com or its management.
As an Amazon Associate, we earn from qualifying purchases. (This is a legal requirement, as apparently some sites advertise for Amazon for free. Yes, that's sarcasm.)
Submitted by

Dennis Russo

on Wed, 07/19/2023 - 20:17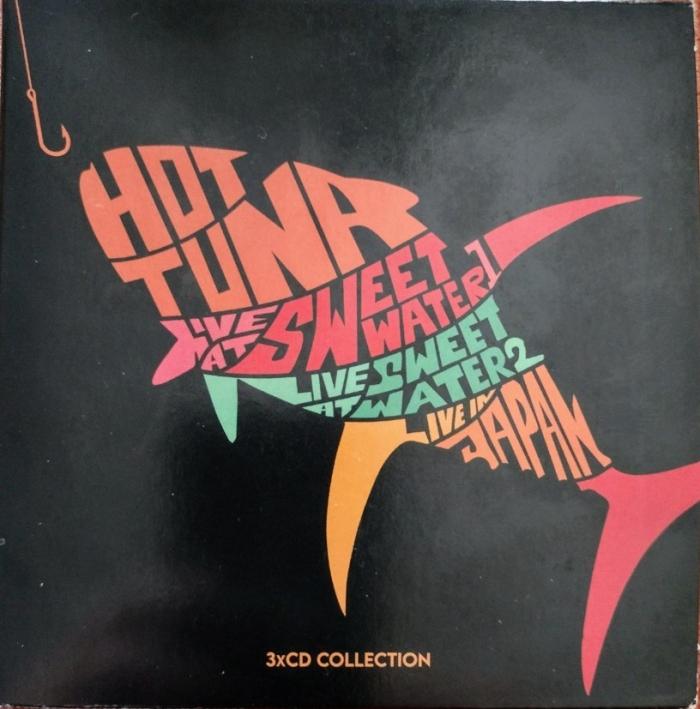 Okay… try to remain calm, I said to myself… don't get your hopes blown out of proportion… remember your dignity (what little you have of it)… yes, this is a 3-CD Set of Hot Tuna music live… yes, it's from 3 different shows… yes, the songs have been remastered… yes, it's from Mercury Studios… but stay reserved… it might not be that good… WRONG! WRONG! WRONG! … This set is freakin' off the charts awesome!
Well, that threw decorum out the window!
So, if you couldn't tell by that first paragraph, I am a huge "Tuna" fan…
Since being formed by Jefferson Airplane mainstays Jorma Kaukonen and Jack Casady, along with other Airplane alumni and musicians back around 1969/70, Hot Tuna has been playing their take on American Blues/Country/Rockabilly/Bluegrass/Americana with the same sort of artistic flare and Haight Ashbury influence that the JA, Grateful Dead, Janis Joplin, Jimi Hendrix, et al had that brought them to prominence on the American music scene back in the late '60s and early '70s… Sometimes in a traditional Americana style, sometimes in a more, shall we say, "Acid"… sometimes electric, sometimes acoustic… sometimes classic tunes, sometimes original tunes… but always foot-tapping, good-time, good-listening music.
As with any band that has been around this long, they have had various other members joining with Jorma and Jack throughout the years, and the 3 CDs in this set each have an array of musicians…. and, as was the time back then, many other big-name artists from other groups played on each other's albums either as members of the band or guest musicians. This set is no exception, as you will see listed and hear other musicians like Michael Falzarano, Bob Weir, Maria Muldaur, Wavy Gravy. Some musicians played at all 3 shows, some only at one.
The 3 CDs, as the name implies, are from 2 shows from Sweetwater and 1 from a Japan Show… Yokohama, to be exact.
All the music on these CDs was remastered by Michael Falzarano, who was a member of the band and also played on all 3 CDs.
For this reason, apart from the musicians' performances, makes this such a stellar set. Having someone like Michael remaster this music, not only because he played on it but because he really knows this style of music… as also a member of the New Riders Of The Purple Sage and his own band, he knows exactly how this music should sound, how the instruments and voices should come across in the sound stage, which ones should have prominence, etc… anyone else might have butchered the music into sounding like a Country Music Television concert…. While the sound stage is not particularly wide or deep, it is more than sufficient to convey the realism of the performances, the palpability of putting the instruments in the performers' hands, and to be able to tell the difference between a bass guitar and a gut bucket bass. This is as close to being there as you could be without ever actually having been there.
This set even comes with a folded poster that mirrors the image on the cover and opens up to about the size of a small playbill, a little larger than an LP… a nice little touch.
Listening to these CDs reminds me happily of a combination of "Old And In The Way" and NRPS's "Home, Home On The Range," two stellar live albums that captured the energy and essence of this music and the performers. Performances/Albums I didn't think would be captured again until I heard this set. Throw a little Commander Cody And His Lost Planet Airmen, and The Flying Burrito Brothers playing in there, and you have the magic of what this set sounds like to me.
I have 8 Hot Tuna LPs in my collection, and there's a certain nostalgia to them when I take them out of their sleeves and put them on my turntable to listen to… this set being on Compact Disc, while losing that tactile charm of the vinyl, does not sacrifice much in terms of sound… singers and instruments sound as they should, and I couldn't detect any difference in Jorma's voice between the 2 mediums.
What I also think is worth calling out is that even though these are 3 different shows, in fact, 2 different countries, they all have the same sound as if they were recorded together… so much so you won't go, "oh, I liked the way this CD sounded but not that one", once again another mastering nod to Mr. Falzarano.
You'll notice this most on similar songs played at each show… each slightly different in performance, but the same sound about them. There are also several songs on each CD that were never released before, which add to this set being a "must-have" set (I've made note of them on the songs lists below). I really liked this because I am very familiar with a good many songs on this set from the various albums I have and to be able to hear some that I haven't before was awesome.
Worth calling out too is that the list of songs played is wonderful… as I mentioned above, some appear on all 3 CDs, some on just 1 or 2… some songs are old standards from different genres, some are Jorma's own original compositions or the bandmates'… some of which even harken back to JA (Jefferson Airplane), while some are original to Tuna… you've got songs like "Embryonic Journey" and "My AK47" as well as "Blue Moon Of Kentucky" and "Folsom Prison Blues" and "Maggie's Farm"… far too many to list here without listing every song (which I do at the bottom)… where else are you going to hear songs by Jellyroll Morton, Johnny Cash, Bill Monroe, and Bob Dylan among others all on the same album and all played such that they belong together here? Suffice to say you'll be going "I can't believe they do this song, I can't believe they do that song by so-and-so)… suffice to say too that while they perform them all their own way in many ways, they still stay true to the originals… and their own compositions fit in so well with these famous songs that you can plainly see how those artists that created the originals influenced them in their songs… they mesh seamlessly. This set (as do all Hot Tuna albums) lets you hear too just how great musicians Jorma and Jack are. The various guitar and bass work on these albums are wonderful to hear and different in many ways from what they did on the JA albums… to go from 2 somewhat different styles of music with such ease and aplomb is a testament to their skill and something to experience. Taking nothing away, mind you, from the playing of the other musicians… listening to the guitar and piano playing on "My AK-47" and "Uncle Sam Blues" and the bass on "99 Year Blues" to name just a few instances here, had me in awe of them.
If I were to call out one flaw on this set, it would be that there is no mention of where exactly the shows took place or when other than at Sweetwater and Japan (the only way I knew the Japan show was in Yokohama was that they mention it in the introduction), but other than that minor inconvenience to me, this set is flawless and another Mercury Studios home run!
I dare say there could not be a Hot Tuna fan out there that would not want to have this set in their collection and will even go as far out on a limb to say they need to have this in their collection… not to collect, but to listen to, tap your feet, and dig it!
If you've not heard or seen them before, and I've sparked your interest, I can think of no better set to start you off with, and if you're interested in seeing them live, you still can… according to their website, Electric Hot Tuna is still doing some shows through 2023 and Acoustic Hot Tuna through 2024. Unfortunately, they are not coming around near me, but if you're fortunate enough to live near one of their shows (either one), I encourage you to go.
As for me, this set gets me close, and my feet were tapping and bouncing so long and so often listening to these 3 CDs that my ankles hurt so that I almost couldn't walk! But as they say, no pain, no gain, and I gained a whole lot of pleasure listening to this set!
Live At Sweetwater 1 Songs:
Whinin' Boy Blues
Great Change
Nobody Knows You When You're Down And Out
I Know You Rider (Previously unreleased)
Embryonic Journey
Trouble In Mind
Bank Robber
I See The Light
I'll Be There For You
True Religion (Previously unreleased)
I Belong To The Band
Maggie's Farm (With Bob Weir)
That's Alight Mama (Previously unreleased)
Been So Long (Previously unreleased)
Genesis
Ice Age
Praise The Lord And Pass The Snakes
Live At Sweetwater 2 Songs:
1.   Hesitation Blues
2.   Dime For Beer
3.   Trial By Fire (Previously unreleased)
4.   Death Don't Have No Mercy
5.   99 Year Blues
6.   San Francisco Bay Blues
7.   Too Many Years (Previously unreleased)
8.   Blue Moon Of Kentucky
9.   Ain't Got No Home (With Happy Traum)
10. Good Morning Little Schoolgirl (With Bob Weir)
11. Walkin' Blues (Previously unreleased)
12. Third Week In Chelsea
13. My AK-47
14. Parchman Farm
15. Folsom Prison Blues (Previously unreleased)
Live In Japan Songs:
1.   Walkin' Blues
2.   Parchman Farm(Previously unreleased)
3.   True Religion
4.   Been So Long
5.   Uncle Sam Blues
6.   Vampire Woman
7.   Follow The Drinking Gourd (Previously unreleased)
8.   Keep Your Lamps Trimmed and Burning (Previously unreleased)
9.   Let Us Get Together
10. Third Week In Chelsea
11. 99 Year Blues
12. Ice Age
13. San Francisco Bay Blues
14. Folsom Prison Blues (Previously unreleased)
15. Mann's Fate