New Line's Excellent HEATHERS May Be More Relevant Than Ever
FTC Statement: Reviewers are frequently provided by the publisher/production company with a copy of the material being reviewed.The opinions published are solely those of the respective reviewers and may not reflect the opinions of CriticalBlast.com or its management.
As an Amazon Associate, we earn from qualifying purchases. (This is a legal requirement, as apparently some sites advertise for Amazon for free. Yes, that's sarcasm.)
Submitted by

Jeff Ritter

on Sun, 10/11/2015 - 13:41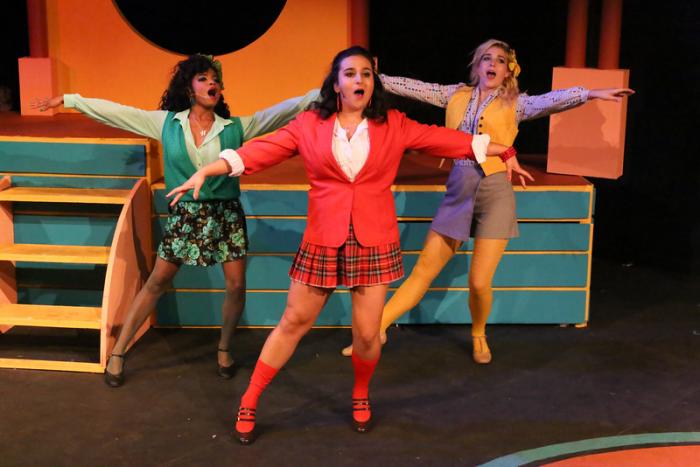 There seems to be no shortage of musicals based on popular films these days. Some of them are pretty good; SISTER ACT was hilarious, and you can bet pretty much any Disney adaption will be top notch. Others, such as DIRTY DANCING and A CHRISTMAS STORY, probably should have been left where they belong -- on dusty VHS tapes. Then there are the unexpected conversions of cult movies to musical theatre that one wouldn't expect to see. That's where New Line Theatre excels, in bringing the unexpected to the St. Louis theatre scene. They did an incredibly tense musical version of the horror classic NIGHT OF THE LIVING DEAD a couple of seasons ago that had my niece and I jumping out of our seats. Their current production is HEATHERS, based on the 1989 dark comedy starring Wynona Ryder and Christian Slater. I know dark comedy has been around probably forever, but I think that was the film that I first really became aware of the concept. I'd be laughing and then something completely crazy happens and I would stop in mid-guffaw, nearly choking on my own tonsils, wondering if I was supposed to find that part funny or be totally freaked out. New Line Theatre director Scott Miller succeeded beautifully in recreating that feeling.
If you plan to see the show and you haven't seen the movie, please bookmark this page (you should have CriticalBlast.com saved in your favorites list anyway—and like us on Facebook!), go watch the production and then come back and see if your experience matches mine. Don't worry; we'll be here when you get back. I don't think there's any way I can discuss the plot without spoiling anything, but I'll do my best. So if you're okay with possible spoilers here we go…HEATHERS is the story of Veronica Sawyer (Anna Skidis) during her senior year of high school. High school, as many of you will recall or perhaps would attest to currently, can be a living hell. The jocks pick on you, the nerds think you're dumb, the morons think you're a nerd, the teachers don't get you, and the popular kids, oh those popular kids, they are the worst. The sneers, the put downs, all because you got your shoes at K-Mart instead of Saks Fifth Avenue or whatever – you're either with them or you're nobody, and nobody likes being a nobody.  Veronica manages to ingratiate herself with the "Heathers," the snobby trio of same-named tarts who think they're better than everyone else. Heather Chandler (Sicily Mathenia) is the ringleader, with Heather Duke (Cameisha Cotton) and Heather McNamara (Larissa White) as her lieutenants. The terrible trio spends their days belittling the less well-off, and pulling mean-spirited pranks on unfortunate targets like Martha Dunnstock (Grace Seidel), Veronica's best friend since diapers, sadly saddled with the horrible nickname "Martha Dumptruck." If the Heathers weren't enough, the football team's quarterback Kurt Kelly (Clayton Humburg) and star linebacker Ram Sweeney (Omega Jones) are terrorizing the student body too. Then along comes the boy in black, strange new kid J.D. (Evan Fornachon). He's smart, a little melancholy, and backs down from no one. Veronica soon finds herself divided between the privileges of "Heatherhood" and her new boyfriend at the opposite end of the popularity scale.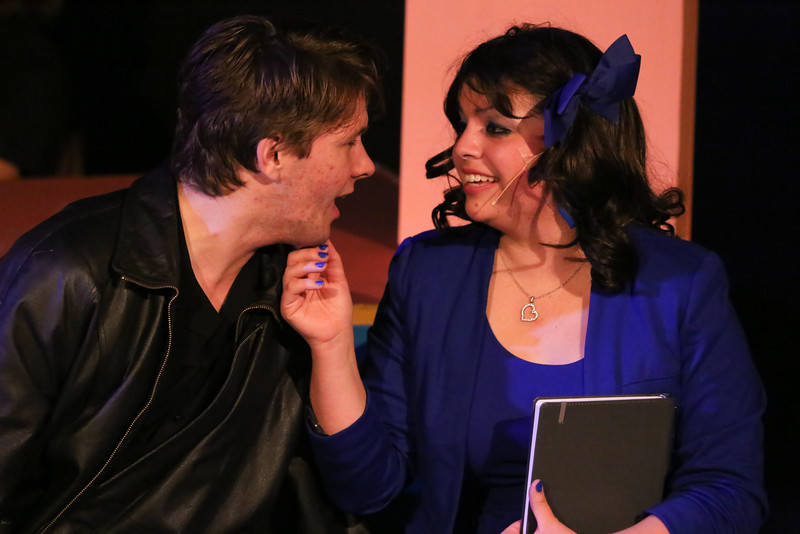 That's when things get really dark and twisted. I'll leave it for you to see for yourselves, but if your high school experiences mirror those of Veronica at the end of the first act and pretty much all of the second, I don't want to know about it. I don't know enough about how statutes of limitations work. I do know that New Line has always featured some strong actors with tremendous voices, and HEATHERS is no exception. This is my first time seeing Anna Skidis as a true leading actress, and she did not disappoint. I've enjoyed her work in past New Line shows such as RENT, JERRY SPRINGER the OPERA and the terrific HANDS ON A HARDBODY, and she usually plays someone with some good one-liners and given one song to show off her magnificent pipes, but here she's asked to run what I always think of as the "Patrick Stewart Gauntlet" – jumping from one emotion to another, sometimes within the same moment of a scene. I'd like to see it again just to see if I can quantify how many emotional states she performs here. It's not just a tender word here, a terse word there; she physically invests herself into each emotion with facial expressions and body language. She is a complete actress and really shines in this production. She was paired with Evan Fornachon in RENT and the duo showed good chemistry once again. Evan seems more natural as J.D. than he did as Roger, and he exemplified the pre-Columbine brooder perfectly. The Heathers, of course, have to be deliciously evil for this show to work, and they are – Sicily Mathenia was delightful as the head bully, Larissa White was spot-on as the super-cute yet not-super-bright follower and Cameisha Cotton was wonderful as the head-Heather-in-waiting. Grace Seidel floored the audience with a stunning solo that brought enthusiastic applause and shouts of joy from nearly everyone in attendance. Clayton Humburg and Omega Jones were simultaneously hilarious and disgusting, and spent a good portion of the second act in their Fruit of the Looms. The ensemble, consisting of Brenda Bass, Kevin Corpus, Colin Dowd, Alex Glow, Joel Hackbarth, Lindsey Jones, Chris Kernan and Victoria Valentine had some funny lines in several songs, and all of them added some nice physical acting to their scenes, from facial expressions to over-the-top suggestive dance numbers. Joel and Chris have a hilarious duet that got the audience roaring. New Line shows often feature familiar faces – Anna, Evan , Larissa and Joel have been seen regularly in recent seasons – but this show boasts a lot of new faces too, and of those Cameisha Cotton really stood out as someone to watch—she'll got "future superstar" written all over her! From my close vantage point, I thought Brenda Bass did a great job, projecting her strong voice in choruses and providing good facial expressions when reacting from the background.
The first production in New Line's 25th season, HEATHERS was a lot of fun. It's been years since I last watched the film, so even though I knew it was going to be dark I was surprised at times at just how dark this show is. For those who haven't seen the movie, the musical show could prove to be too much. The songs are a little raunchy and the subject matter at times is downright disturbing. The row I was sitting in all but vanished at intermission, and I hear that previous performances saw a fair bit of attrition as well. If HEATHERS makes you squirm al little, that's good—it means they're doing it right. The lady to my left was a high school teacher and she stuck with it, though she admitted at intermission that she had not seen the film and some of the material hit a bit close to home. The movie HEATHERS was released long before the events of Columbine, which is now sadly all too common of an occurrence these days. Yes, HEATHERS – movie and musical alike – are shocking. They're also cautionary tales about conformity and morality plays about doing the right thing even if it makes you less popular. If you can sit through the parts that make you uncomfortable I think you'll enjoy the show and reach the same conclusions as to the deeper meaning under the façade of teenage angst and awkwardness. In many ways HEATHERS is more relevant now than it was in the late 80s.
I should point out that if you've attended New Line Theatre performances in the past, they've moved into a new venue! New Line now runs at the Marcelle Theatre, 3310 Samuel Shepard Drive, about three blocks east of Powell Howell and the Fabulous Fox in the Grand Center entertainment district. They have parking directly across from the venue, and the Marcelle is nice! I'm sure the New Line gang will always have a soft spot for their old digs on Clayton Road in the old CBC High School, but the Marcelle is gorgeous new facility. It's a "black box" theatre, and they tend to be cozy. I'm not sure of the exact capacity but it's a tad bit smaller that their previous home, so if you plan on seeing HEATHERS, which runs through October 24, or any of the other shows upcoming in New Line's 25th Anniversary Season – AMERICAN IDIOT, ATOMIC, and Andrew Lloyd Webber's TELL ME ON A SUNDAY -- get your tickets early! They've had no choice but to turn a few people away for every performance so far. Fire codes, you know? For more information or tickets, please visit www.NewLineTheatre.com or call Metrotix at (314) 534-1111.