IRVING BERLIN's WHITE CHRISTMAS Gets The Holidays Started In Style
FTC Statement: Reviewers are frequently provided by the publisher/production company with a copy of the material being reviewed.The opinions published are solely those of the respective reviewers and may not reflect the opinions of CriticalBlast.com or its management.
As an Amazon Associate, we earn from qualifying purchases. (This is a legal requirement, as apparently some sites advertise for Amazon for free. Yes, that's sarcasm.)
Submitted by

Jeff Ritter

on Wed, 11/18/2015 - 22:30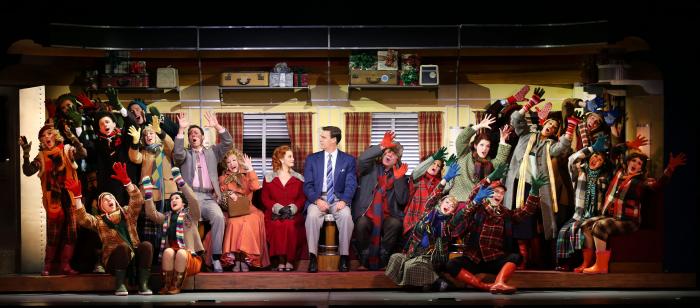 IRVING BERLIN'S WHITE CHRISTMAS is gracing the stage at the Fabulous Fox Theatre from November 17-22, 2015, just in time for…Thanksgiving. You can blame WICKED's December residency for that, but that's fine, really. The retail stores rolled out their Christmas gear before Halloween, so chances are you've already been dreaming of a white Christmas. And why wouldn't you? After all, Bing Crosby's rendition of the Irving Berlin classic is the best selling single of all time, according to the good folks at Guinness Book. Chances are you've seen the old movie or witness the production on previous tours, but believe it or not, I've never seen it before tonight.
The story is a tad thin, but the cast's verve and vigor more than make up for it. Captain Bob Wallace (Sean Montgomery) and Private Phil Davis (Jeremy Benton) are entertaining the troops in Europe in 1944. Their show is dismissed only half-curmudgeonly by General Henry Waverly (Conrad John Schuck), who hoped that in ten years his whole division will be seeing carols around the fire at home with their families. The very next scene fast forwards to 1954, and Wallace and Davis are a song and dance duo delighting the television audience of Ed Sullivan's very big "shew." Wallace, the most buttoned-up of the performing pair, plans on a Florida holiday on the links, but the wilder Davis tricks him into following the talented and beautiful Haynes Sisters (Kerry Conte as Betty, Kelly Sheehan as Judy) to their booking in blustery Vermont. As luck would have it, the very inn they're staying at was recently purchased by General Waverly, but he's already over his head with bills. Martha Watson (Pamela Myers), a former Broadway talent herself in the mold of Ethel Merman, assists the general with running the inn, and also mistakes a message from Wallace's friend, a producer on the Ed Sullivan show, as a plot to take over the inn from the General. This throws Wallace's budding romance with Betty Haynes into a tailspin. Fortunately, as things tend to in musical theatre, the fella gets his girl, the general keeps the inn, and everyone has a very merry Christmas.
As plots go, that's pretty typical. As performances go, this tour is top notch. Sean Montgomery and Jeremy Benton have good chemistry together, as do Kerry Conte and Kelly Sheehan. They each have amazing voices and extremely talented feet as everyone danced sublimely. Montgomery in particular was very interesting in the role of Bob Wallace, made famous by Bing Crosby. If I closed my eyes, I'd have sworn he was the much-lauded stage and film actor Nathan Lane. While he doesn't sound like Bing, Montgomery has that classic theatre tenor quality that makes him a standout performer in pretty much anything. Kerry Conte's beautiful voice was only surpassed by her graceful beauty. I just wish the plot gave her a little more to do than be the convenient patsy for the silly misinformation MacGuffin for the plot's obvious if shallow and ultimately unnecessary attempt at conflict. It was a treat to see Conrad John Schuck in person. He's one of those actors that you've seen a hundred times, usually as a judge, a U.S. Senator, a member of the military brass, the police chief—any of a plethora of authority figure roles for the erstwhile heroes to antagonize. It's rare for a national touring show to feature an actor that I ever recognize at any distance from the stage. Susan Waverly, the General's granddaughter, was played in this performance by Elizabeth Crawford, though Samantha Penny will be seen regularly in the role during this run as well. Miss Crawford was delightful, charming the audience with both comedic and at least somewhat dramatic scenes. Cliff Bemis, who has several roles in the show, is best as Ezekiel Foster, the weird old maintenance man at the General's inn. He's clearly a fan of Tim Conway's braned of physical humor.
Even with all this star power in the major roles, my biggest joy in this show came from the unsung singing heroes of the Ensemble. Maria Briggs, Rachel Coloff, Elish Conlon, Darien Crago, Laurie DiFilippo, Joe Grandy, Drew Humphrey, Bryan Thomas Hunt, Megan Kelley, Connor McRory, Bryan Charles Moor, Mike Nulty, Kristyne Pop, Jake Primmerman, Sean Quinn, Rachel Rhodes-Devey and Kelly Skidmore are absolutely flawless in each and every dance routine. Director and Choreographer Randy Skinner and Associate Director and Choreographer Mary Giattino-Styles put their marvelous cast through a variety of dance styles from tap to jazz and I never noticed a single actor out of synch or lost. Every step was perfect, every turn crisply executed, and every dance a treat for the appreciative audience.
IRVING BERLIN'S WHITE CHRISTMAS runs through November 22, with, matinees on Nov 19, 21-22. It's the perfect show to get you in the holiday mood. Remember, ladies and gentlemen, we're closing in fast on the last month of shopping before the big holiday. Who wouldn't love some tickets to any of the Fabulous Fox's terrific lineup of shows this season? See www.FabulousFox.com for all the news and seating availability.