CIRQUE DREAMS HOLIDAZE Is A Crazy Christmas Circus Of Fun
FTC Statement: Reviewers are frequently provided by the publisher/production company with a copy of the material being reviewed.The opinions published are solely those of the respective reviewers and may not reflect the opinions of CriticalBlast.com or its management.
As an Amazon Associate, we earn from qualifying purchases. (This is a legal requirement, as apparently some sites advertise for Amazon for free. Yes, that's sarcasm.)
Submitted by

Jeff Ritter

on Sun, 12/06/2015 - 00:36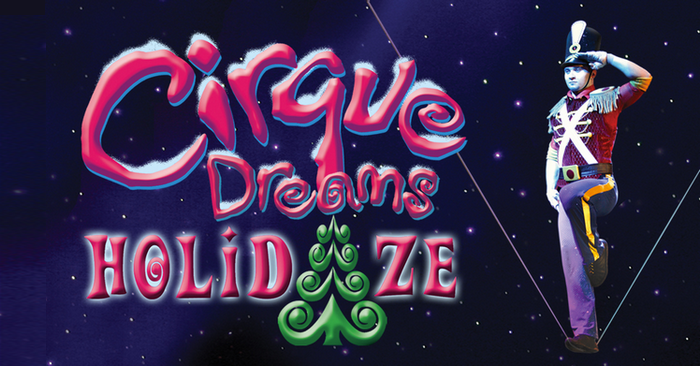 I might not be a big fan o f clowns, but I'm a huge fan of clowning around. Sing a song, tell a joke, perform a little stunt or better still, a little magic, and bring a smile or even a laugh from the grumpiest of Scrooges—that's what the holidays are all about, right? CIRQUE DREAMS HOLIDAZE, a kind of circus/variety show hybrid with a wonderfully low creepy clown threshold (none!),brought, smiles, laughs, cheers, gasps of awe, appreciative whistles and tons of applause from the Fox Theatre audience in St. Louis on December 4, 2015. Like most of the audience I had to deal with a variety of community holiday events, the typical Friday night traffic, and traffic jams that had some highway commuters parked for more than a mile. I'd imagine more than a few of us arrived feeling mighty grumpy, but I'm quite positive we all went home very happy.
Cirque Productions founder and Artistic Director Neil Goldberg, along with Managing Director Jim Geisler, Artistic Manager and Musical Director Jill Winters, and Artistic/Choreography Director Heather Hoffman have assembled an outstanding troupe entertainers from around the world to delight their audience with stunts both beautiful and provocative, while maintaining an all-ages atmosphere of Christmas cheer. The set gave the appearance of Christmas morning, with a large stylized Christmas tree dominating the backdrop. Presents and ornaments, holiday trains and even Mr. and Mrs. Claus themselves danced and leaped across the stage, while an Angel (Courtney Higgins), the Ice Queen (Emily McCloskey) and Dickens (as in Charles, one assumes—Michael Brown), sang holiday favorites and original compositions. All three singers sounded great, and each of them got a chance to shine individually or in harmony with the others.
The circus stunts are where CIRQUE DREAMS HOLIDAZE really stands out from other holiday-themed musicals. A high flying Marionette Alexandra Koroleva of Russia performed some dazzling aerial acrobatics, assisted by her countryman Sergey Korolev, on stilts. Roller-skating duo Gino and Andrea Torreblanca-Caro of Chile put on a dizzying display of free-wheeling roller dance. Buyankhishig and Erdenesuvd Ganbaatar, all the way from Mongolia, performed some wild contortions inside of a double hoop lofted high above the stage, and returned in the second act for some more acrobatic contortions in a floor routine. Ukrainian Sergii Kapranov climbed a rickety tower of wooden chairs as he continued to build it higher and higher. Four reindeer—Americans Lisa Brown, Billy Jackson, Louis Lavecchia, and Edward Yacynych—demonstrated why I was wise to stop jumping rope at the age of 10. I was never going to be as fast or as dynamic as this herd. They broke out some time honored Double Dutch too.
Latvia's Victor Dodonov balances an array of glassware and candles arranged on a platter held only by a thin object in his mouth while navigating obstacles. If that wasn't enough he'd return in the second act to balance himself on a board resting atop various cylinders and drums in a marvelous display of balance that should not be attempted at home. Santa Claus himself, Sergey Korolev (previously on the stilts), assisted his young (six!) helper Alexandra Koroleva (the Marionette from earlier) in a display of contortion and acrobatics. Russia's Andrey Lyamin took to the skies in an aerial dance, his costume fluttering with ribbons. He'd come back later as one of the Flying Angels on the silk "curtains" alongside the lovely and graceful Ukrainian Olena Lyamina. Our own Billy Jackson, one of the earlier jump- roping reindeer, next serves as Maestro to a few randomly selected members of the audience, attempting to get them to play bells. He hammed it up like a mime with an allowance for exuberant gasps of delight and mock disgust. One of my favorite bits involved the magical art of the quick change, performed extremely effectively by Viacheslav Borabanov and the gorgeous Yulia Petrakova, both from Russia. Ethiopia was represented by Samial Haftu and Amanuel Hayle, where one would recline onto his back and shoulders while flipping, spinning and pointing the other fellow with his feet. Mrs. Claus, Russia's Irina Guseva, performed a similar routine, juggling various tubes, hoops and assorted objects with her feet. Russian Zhora Oganisian also juggled, keeping a number of balls in the air at all times. Finally, Semen Belozertsev sauntered! He gamely Hnto the stage, dressed like a toy soldier. He then hoisted himself up onto a tight rope stretched across the stage, though not nearly as tightly as my preface would appear to suggest. Of course there was plenty more song and dance number interspersed throughout.
CIRQUE DREAMS HOLIDAZE was mesmerizing for young and old alike. It's a shame it's only in town for a short run, through Sunday, December 6, at the Fox Theatre. If you can't find a ticket this year, be on the lookout next year—I get a feeling this troupe could be a welcome regular visitor to St. Louis for many Christmases yet to come.