You are here
Home
›
Live Entertainment
› A GENTLEMAN'S GUIDE TO LOVE & MURDER Launches the 2016-2017 Broadway Series at the Fox Theatre ›
A GENTLEMAN'S GUIDE TO LOVE & MURDER Launches the 2016-2017 Broadway Series at the Fox Theatre
FTC Statement: Reviewers are frequently provided by the publisher/production company with a copy of the material being reviewed.The opinions published are solely those of the respective reviewers and may not reflect the opinions of CriticalBlast.com or its management.
As an Amazon Associate, we earn from qualifying purchases. (This is a legal requirement, as apparently some sites advertise for Amazon for free. Yes, that's sarcasm.)
Submitted by

Jeff Ritter

on Sat, 09/17/2016 - 16:56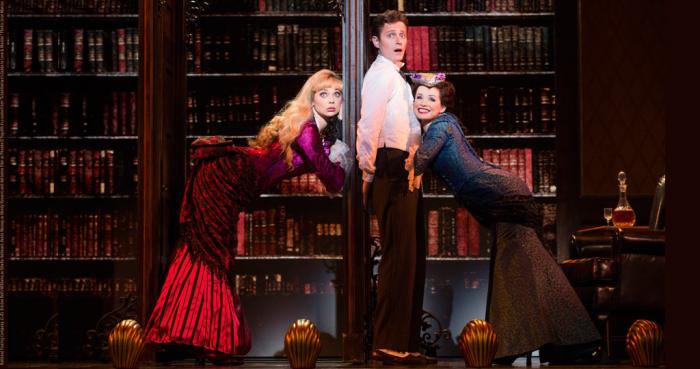 The 2016 - 2017 Broadway Series at the Fabulous Fox Theatre in St. Louis got underway with the national tour of the Tony Award-winning A GENTLEMAN'S GUIDE TO LOVE & MURDER. The story comes from a novel written by Roy Horniman way back in 1907 called ISRAEL RANK: THE AUTOBIOGRAPHY OF A CRIMINAL. That tales was the basis of film called KIND HEARTS AND CORONETS starring Sir Alec Guinness. The production clearly has a classic pedigree, and yet, I didn't like the Robert L. Freedman and Steven Lutvak, production, directed by Darko Tresnjak, as much as I'd expected to. Maybe my expectations were too high. Maybe I'm getting harder to please in my old age. Maybe you'll absolutely love it and I'm completely fine with that!
The story revolves around Monty Navarro (Kevin Massey), the bastard son of an estranged daughter of the noble D'Ysquith family (John Rapson plays almost the ENTIRE Dy'squith clan--at least the ones who get murdered). When his mum passes away, her friend Miss Shingle (MaryVanArsdel), who serves at the pleasure of the D'Ysquiths at Highhurst Castle, clues him in on the family secret: He's ninth in line to inherit the title, wealth and castle befitting his rightful place as the Earl of Highhurst. Thus begins my disappointment with the first act: repetitive murder of most of his relatives in front of him in the line of succession. Some of the deaths are amusing enough, but the songs that accompany this grim business are tediously repetitive. The tempo and beat of many of the songs in the first act feel as samey as modern country music, which at least has the slight advantage of not being sang in an operatic style with British accents. What little I could make out of each song sounded pretty much the same as what came before.By the third or forth time Jon Rapson died on stage I was stifling yawns, which is a real shame because Rapson and Massey are quite good. In fact the entire cast is rock solid, but the first act was simply too uninteresting for me. 
The saving grace of the first act is the love interests of Monty Navarro-D'Ysquith, Sibella Hallward Kristen Beth Williams), the sultry vamp who grew up sans silver spoon with Monty, and loves him, but desires to be rich and respected, and Phoebe D''Ysquith ()Adrienne Eller), the widow of one of the many faces of John Rapson and and Monty's cousin. But wait...that means...well, hey, that sort of kissing cousins chicanery wasn't all that uncommon among the noble houses of England in those days, wot? Wot! Moving on...Where Act One left me bored, Act Two perked me up as the romantic intrigues between Monty, Phoebe, and Sibella ramped up. If the show had focused on this aspect a bit more and downplayed the murders mostly foul in the first half, or spread them out a bit more, I probably would have been whistling appreciatively from my seat. "I've Decided To Marry You" is probably the closest I've come to seeing a Looney Tunes farce live on stage, as Monty juggles both of his ladies from a vestibule between his bedroom and the parlor, holding one door after another shut to prevent one woman from knowing the other was present. That scene, and the one that accompanies the dinner party gone terribly awry featuring Monty's last living obstacle to his Earlship (Earldom?), Major Lord Bartholomew D'Ysquith (Surprise! It's John Rapson again!) and Lady Eugenia (Kristen Menglekoch in her all too brief scene-stealing moment) redeemed the show for me. The music and melodies of the second act have more variety, and the tone feels more tense as Scotland Yard's Chief Inspector Pinckney (Ben Roseberry) starts investigating the sudden and suspicious demise of the Y'Squith family. Of course, it's musical theatre, and Broadway tour shows seldom if ever end on a sad note.Then again, few of them end on such a polygamist fantasy note either. 
Another thing that I found to be a bit of a letdown was the set. The sides of the spacious Fox stage are more or less cut off with a hulking frame set in the center. This presents the story as taking place within a stage production itself, which, if used for comedic effect as in a production like NOISES OFF, can be a wonderful component of the show. Here it feels needlessly redundant and serves to alienet the audience at the far sides of the venue. The costumes are excellent--Linda Cho won a Tony for her designs, but there's virtually no dancing to speak of, at least not any that was memorable an hour later.
On the whole, I was entertained by A GENTLEMAN'S GUIDE TO LOVE & MURDER, but not nearly as much as I'd hoped. Broadway players Rapson and Massey do a fine job with the material and Williams and Eller are winning leading ladies, but I still feel hugely let down by the first act. In fact, as a means to entertain myself during the first hour, I decided that the story might make for an excellent dark comedy series on BBC. The murders and the Y'sQuiths could be developed more slowly, almost like DEXTER was on Showtime before it went completely off the rails in the last couple of seasons. The love triangle could evolve slowly too, each segment of the relationship simmering on ever increasing heat until it boils over at the end of the season. Naturally you'd have to cast Tim Roth as Monty Navarro--he'd be perfect as the bad guy you can't help but root for. Who would play the may soon-to-be-late Earls of Highhurst? Eddie Izzard came to mind, as did Alan Cumming and Allen Craig, if for no other reason than to help him avoid doing more Bond films. 
From folks I've talked to, the general audience seemed to love A GENTLEMAN'S GUIDE TO LOVE & MURDER while the critics I spoke to were generally less enamored, but that certainly shouldn't dissuade anyone from seeing it for themselves. A GENTLEMAN'S GUIDE TO LOVE & MURDER runs Semptember 13-25 at the Fox Theatre. Please visit www.FabulousFox.com and http://www.agentlemansguidebroadway.com/tour.php for more information.