JSA: Joint Security Area
FTC Statement: Reviewers are frequently provided by the publisher/production company with a copy of the material being reviewed.The opinions published are solely those of the respective reviewers and may not reflect the opinions of CriticalBlast.com or its management.
As an Amazon Associate, we earn from qualifying purchases. (This is a legal requirement, as apparently some sites advertise for Amazon for free. Yes, that's sarcasm.)
Submitted by

Stu Moran

on Sun, 02/14/2021 - 14:03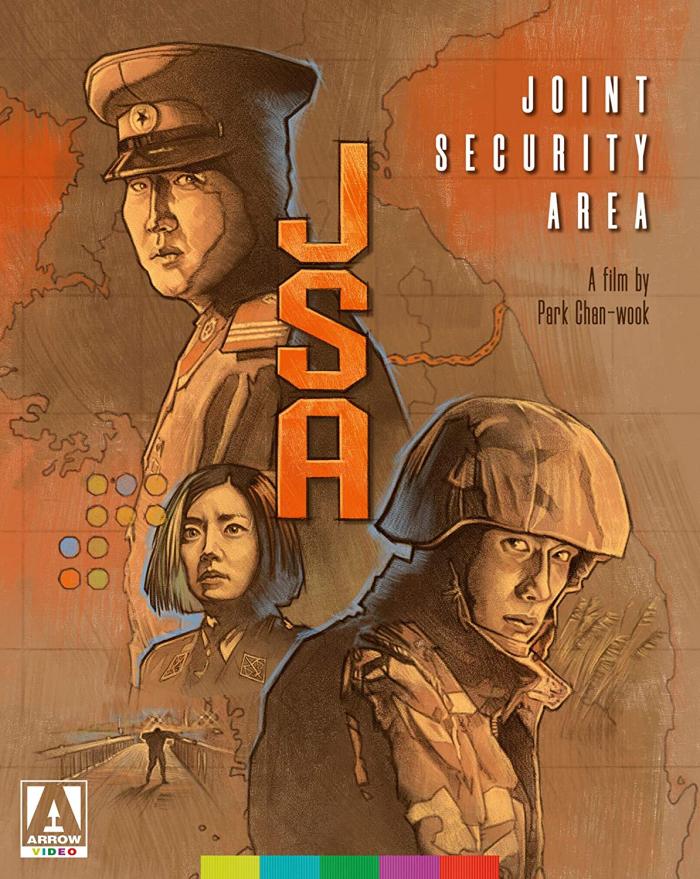 Arrow Films brings to Blu-ray Joint Security Area, a 2000 South Korean mystery thriller film starring Lee Young-ae, Lee Byung-hun and Song Kang-ho. Directed by  Park Chan-wook, JSA is based on the novel DMZ by Park Sang-yeon, and was the highest-grossing film in Korean film history at the time. It won Best Film at the 2000 Blue Dragon Film Awards and the 2001 Grand Bell Awards.
In order to give a SPOILER FREE write-up of this film, I will first need to explain what a JSA is to those of you that may not know the history of the conflict between North and South Korea. The Joint Security Area is the only portion of the Korean Demilitarized Zone where North and South Korean forces stand face-to-face. The JSA is used by the two Koreas for diplomatic engagements and, until March 1991, was also the site of military negotiations between North Korea and the United Nations Command.
The film follows the story of a young Korean-born Swiss Army Major, Sophie E. Jean (Lee Young-ae), who is tasked with investigating an incident where two North Korean soldiers were killed in the JSA at a North Korean border house. Sergeant Lee Soo-hyeok (Lee Byung-hun), a South Korean soldier on border duty, attempts to flee back to the South Korean side. The southern troops rescue him while gunfire erupts and the remaining Noth Korean soliders retreats back to the north.
It is Maj. Jean's duty to interview (as a neutral party) both the remaining soldiers, and bring forth the truth of what happened at the site without sparking more tensions or conficts between the two sides--a task that will not be easy for her or for the soliders who remain as suspects.
Anymore telling of the plot from there on out would surely give away the story and reveal the mystery. I highly reccomend you watch the film on your own to put youself in the shoes of Sophie and discover the truth along with her. Fans of such films as A Few Good Men and the Korean war film Brotherhood will surely enjoy this film, as it shows an unbiased view of what it is to be just a person, a human, in time of war when you are forced to take a side and fight for something that may or may not be moral to you.
Arrow Video did a tremendous job with the transfer of this film. Shot in 2000, the movie looks as crisp and clear as if it was shot and filmed yesterday. It features beautifully constructed cinemaphotorgraphy that really should be showcased to a wider western audience.
As always, Arrow films packs each of their releases with more bonus content then any other media distributor today, including:
Audio Commentary with Simon Ward
Isolated Music and Effects Track
Stepping Over Boundaries 
Archival Special Features: The JSA Story 
Archival Special Features: Making the Film 
Archival Special Features: About JSA
Archival Special Features: Behind the Scenes Montage
Archival Special Features: Opening Ceremony 
Music Videos: Letter from a Private
Music Videos: Take the Power Back 
Promotional Materials: Korean Theatrical Trailer
Promotional Materials: Korean TV Spot 
Promotional Materials: Image Gallery 
Fans of Park Chan-wook's previous films such as The Vengeance Trilogy (Sympathy for Mr. Vengeance, Oldboy, and Lady Vengeance) will surely be suprised that he can keep the suspense level as high in this one as he did in the others, and also give us a riveting courtroom-esque drama that tells the story of the effects of war on four young men who put aside their differences and found not only common ground, but friendship as well.
A must for anyone that enjoys the real stories of what happens during a war.