You are here
Home
›
Music
› Owning EMERSON LAKE AND PALMER: LIVE AT MONTREUX 1997 Will Have You Saying, "Ooh, What A Lucky Man I Am" ›
Owning EMERSON LAKE AND PALMER: LIVE AT MONTREUX 1997 Will Have You Saying, "Ooh, What A Lucky Man I Am"
FTC Statement: Reviewers are frequently provided by the publisher/production company with a copy of the material being reviewed.The opinions published are solely those of the respective reviewers and may not reflect the opinions of CriticalBlast.com or its management.
As an Amazon Associate, we earn from qualifying purchases. (This is a legal requirement, as apparently some sites advertise for Amazon for free. Yes, that's sarcasm.)
Submitted by

Dennis Russo

on Mon, 09/14/2015 - 16:43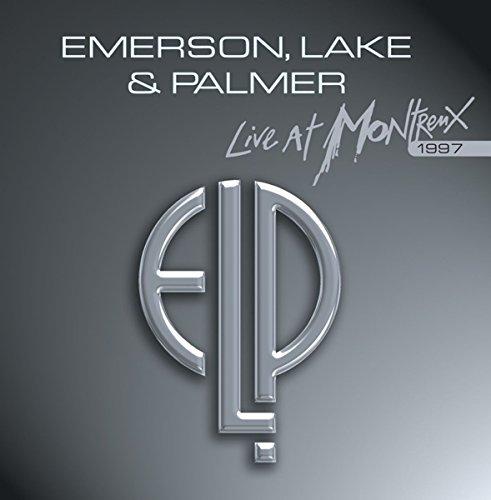 What do Aaron Copeland, Carl Orff, Modest Mussorgsky, and Johann Sebastian Bach all have in common?  They all have music arranged and played by the greatest power trio of progressive rock ever: Emerson Lake and Palmer.
Is there a better opening song to a concert than "Karnevil 9-1st Impression Part 2?" Or better opening lyrics than "Welcome back my friends to the show that never ends?" In all my concert going and musical listening, I think not (well, maybe with the exception of Alice Cooper's "Hello Hooray"); but anyway, how apropos for this band who, even at the time of this show in 1997, had been around, despite a break-up in the early 80's, for decades?
Eagle Rock Entertainment has done it again with the release of this concert recorded live at the Montreux Music festival back in 1997, showcasing the band in an incredible performance that, had they not released it, might have gone unheard by countless thousands of fans both new and old -- and that would have not only been a loss to music, but humanity itself!
Formed in 1970, ELP is composed of three musicians, themselves from other seminal bands in their own right (Greg Lake (vocals, guitar and bass) came from KING CRIMSON, Keith Emerson (keyboards) from THE NICE, and Carl Palmer (drums) from ATOMIC ROOSTER), and is widely considered Progressive rock's first super-group. ELP is the Progressive Rock equivalent of CREAM. Emerson is every bit the virtuoso on the keyboards as Eric Clapton is on the guitar; Palmer was and is arguably one of the greatest drummers ever, and Carl Palmer's vocals stand out as one of the most iconic voices ever put down on record.
It's easy for bands these days to blow audiences away with a stage full of musicians and vocalists. It's another thing to do it with just three people, and that is what is done here. They simply blew me away.
ELP was always cutting edge. The music was just so different, so cool to listen too. How cool was the band? They even had the cover art of their1973 album "Brain Salad Surgery" done by  H.R. Giger -- six years before the movie ALIEN made him a household word to the rest of America!
Enough about the band itself, though, and onto this 2CD set. Does it do justice to this legacy or greatness? Oh yeah it does. Keith Emerson shows again/still just what keyboards in the hands of a musician who knows how to use them for more than just a backing instrument can do and be. And I'll say with no apologies that keyboards have ruined some of the best rock bands out there, because they didn't know how to use them effectively or creatively in their compositions. On this set you we hear why he is the Master and the others are mere afterthoughts.
What immediately struck me, and I liked, about this album was that it includes the introduction of the band, which made me feel from the start that I was at the show. Once the music begins and Greg Lake starts to sing, I settled in for the show -- and what a show I got!
Lake's vocals,  though a little more chestier than in the past and not quite as smooth as on the studio albums, are no less sublime here because they are mic'd very well. The keyboards and drums create this wall of sound that makes it seem like both Keith and Carl have eight arms each. Keith's keyboards explore all manners from straight up melodic music, to jazz, to rock, to sounds that were reminiscent of Louis and Bebe Barron's "Electronic Tonalities" from FORBIDDEN PLANET. Carl Palmer's drums and cymbals move across the sound stage in blinding speeds and arrays, and Greg's vocal's, bass and acoustic guitar give a solidity to the soundstage that was just downright exciting to listen to. It was as if he/they were right there in front of me.
Together they held me at the edge of my seat just digging their music again like I used to back in the day. I am so glad I got to experience the show that this CD set captures. They play songs here from the familiar to the not-so-familiar. (A song list follows at the end of the review). Some of the ones where the lyrics are so familiar you know them from start to finish ("Lucky Man," "Karnevil 9"), some are instrumentals that take you into explorations of the melding of classical and progressive music that you never thought possible ("Fanfare for the Common Man," "Carmina Burana"), that, together as a package deal, just give you a great concert experience.
There are many instances where both Keith and Carl go off on solos that are just…well, mind-bending is the best word that comes to mind. Even the ending of the album is nicely done in that after the last notes are played we hear a thank you and a slow fade out of the audience applauding -- only to be replaced by my own.
The liner notes included are nicely done and include commentary about the show from each member of the band; but how I wish this set was on vinyl! Not only because I am sure the sound would be even better because of the organic quality that vinyl brings to vocals, drums and acoustic guitars that digital cannot capture, but also because the writing would be large enough for these old eyes to read easily! I had to struggle to read the tiny lettering.
This CD is a wonderful release that is sure to please any fan of the band. If you've ever been wondering about what this "Prog-Rock" thing is all about, I can think of no finer live example than this set. From an audio standpoint, it is a very good recording with a solid soundstage and some striking dynamics that will test your system's resolve.
I have become a real fan of Eagle Rock Entertainment and the music they are putting out/bringing back for us to enjoy. I encourage everyone to check them out to learn more about them, and I eagerly await their new releases.
I'm rating this album 5 out of 5, only because I can't give it a 6!
Songs:
CD1
Karnevil 9-1st Impression Part 2
Tiger In A Spotlight
Hoedown
Touch And Go
From The Beginning
Knife Edge
Bitches Crystal
Creole Dance
Honky Tonk Train Blues
Take A People
CD2
Lucky Man

Tarkus/Pictures At An Exhibition

Medley:

Fanfare For The Common Man
Carmina Burana
Carl Palmer's Drum Solo
Rondo
Toccata And Fugue In D Minor