Santana, McLaughlin Illuminate World of Great Jazz Fusion, Guitar
FTC Statement: Reviewers are frequently provided by the publisher/production company with a copy of the material being reviewed.The opinions published are solely those of the respective reviewers and may not reflect the opinions of CriticalBlast.com or its management.
As an Amazon Associate, we earn from qualifying purchases. (This is a legal requirement, as apparently some sites advertise for Amazon for free. Yes, that's sarcasm.)
Submitted by

Dennis Russo

on Fri, 09/25/2015 - 05:11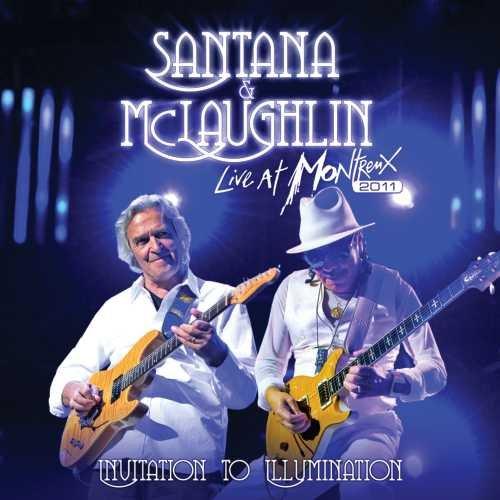 The Montreux Jazz Festival was started in 1969 by the late Claude Nobs, and is renowned worldwide as one of if not the great Jazz festivals held; everyone who is anyone wants to play at this yearly event. Now, with consent from the festival and the artists, Eagle Rock Entertainment is making these concerts available for the first time on CD.
SANTANA AND MCLAUGHLIN: LIVE AT MONTREUX 2011 is one such concert…and what a concert it is!
The liners notes with this CD set are exceptional and take the time to give you a real history to the players, the festival and the music contained in the set. I will tell everyone up front, just because you see the name Carlos Santana and the song title "Stairway to Heaven" included on these discs, this is not in any way shape or form a rock concert. This is jazz fusion through and through…sometimes traditional (for them) and sometimes eclectic, but every bit jazz, and if you are expecting a rock concert you will be disappointed. BUT…if you know the music both of these men have played, both together and apart throughout the years, and are a fan of jazz/fusion or of guitar in general and want to hear it played by two of the greatest guitar virtuosi ever…here is your chance.
Now, I know it seems I rave about so many great guitar players from the "old days," but there is a good reason for it. There were many great guitarists then, but no one gets to hear them today because the "classic" radio stations only play the marketable radio hits from back then. Oh, you will still hear "Oye Como Va" or another of Carlos' mainstream "classics," but they don't begin to scratch the surface of this man's talent…and I hope to change all of that. For those who have listened to these guitarists throughout the years, I'm not telling you anything you don't already know, and I hope you cut me some slack if I sound redundant. It's only to help bring those less fortunate up to speed.
This concert is a reunion of two of the best. Both John and Carlos have collaborated and recorded together before, and in fact the two even followed (maybe they still do I don't know) the same spiritual guru, Sri Chinmoy and that is why you will often hear them called Mahavishnu John McLaughlin and Devadip Carlos Santana.
(Back Cover from "Love, Devotion, Surrender)
 (Front Cover of "Love, Devotion, Surrender)
On this CD set, you will often hear them talk about spirituality and hear it reflected in their music--music influenced by greats such as John Coltrane, Miles Davis, Billie Holiday, Marvin Gaye, Bob Dylan, John Lee Hooker and Led Zeppelin. But make no mistake; these songs all reflect themselves in them.
The sound on these discs is excellent, and both gentlemen's guitars are mic'd very well and can be clearly heard separate from each with blistering clarity. John McLaughlin is still one of the fastest true guitar pickers ever, and Carlos Santana is such a master technician when he plays that they compliment both wonderfully whether they are playing separately or together. While the guitars are the leads of the band, they don't overpower it, and you can easily follow any instrument you choose to as the songs play.
This is a live album, and there are a couple of times when the playing is a little disjointed, but that is to be expected since they had not played these songs (or together) in a long time.
The fairly large complement of backing musicians are an assortment of many great musicians in their own right, and play incredibly tight, each playing with the other so simply, it seems they are in tune with each other.
The bottom line is, when great musicians get together, great music happens.
This is such cool, good-listening-to music. I so wanted to be able to play the guitar like both of these two men, but because they were/are so above so many others, I didn't even try. I just relinquished myself to letting them play for me, and digging their music.
I was very tempted to compare the LOVE, DEVOTION, SURRENDER album to the CD, since most of the songs on it are from that album are performed here, but it wouldn't be a true comparison since we are talking analog vs. digital, live vs. studio, and 38 years between the two. But still…okay I had to anyway.
Admittedly, it had been some time since I'd done some serious listening to this album so this was perfect timing.
All things considered, the album held up very well. But there is something captured in this live set that the studio album just doesn't capture: that less-polished improvisational spirit that this type of music evokes from the musicians that just set this apart.
What the vinyl album did make apparent is that while John is still unbelievably quick and precise on the fret board, the album showed that he has indeed slowed down from the light-speed playing he did back then. But that's okay. He and Carlos both still have more than most would ever hope to even dream to have, and this set will prove it to you.
I love the long introduction of the band at the start of the first CD; the mix captures the essence of this historical recording, and it always helps add to the feeling of being there at the show. Each song flows into the other, but there are some times when John and Carlos both start talking before the songs that is a little too long and unfocused for me, but again this is a live show and they had a message to tell…and no one seemed to mind.
I don't find any of the songs on this set to be weak; this is a set that just screams to be put on and let play, every song is good to great.
While I would be hard pressed to say what my favorite song is on this CD set, if pinned down it would actually be the last song on this set: the blues number "Shake It Up and Go." Anyone who thinks a song can't be played both as a blues rhythm simultaneously with a jazz/fusion essence has got to hear this song to believe it. It's downright awesome and THE man himself, Mr. Claude Nobs, plays the harmonica on it!
I also really liked Cindy Blackman Santana's drum solo as well. You may remember her most famously from playing with Lenny Kravitz, but apart from also being Mrs. Carlos Santana she is a accomplished jazz musician and can play with the best of them. Listening to her play not only as a soloist on this song but throughout the set (along with another the legendary great drummer, Dennis Chambers) would inspire any girl to pick up the sticks and start playing.
The concert finishes off with the "thank you's" that come with a live show and fade out that just completes the concert going experience I just attended in my mind.
This is such a great set, enthusiastically recommended, recorded with excellent acoustics. It would be a fine complement (or start) to anyone's collection. I look forward to seeing other releases from the Montreux Jazz Festival that Eagle Rock Entertainment has in store for us, and this could be the start of a great collection on its own that every music fan will want to own.
Songs:
CD1
Echoes of Angels / Introductions
The Life Divine
Medley:
Peace on Earth / A Hard Rain's A-Gonna Fall / Stairway to Heaven / Our Prayer / SOCC
Right Off
Vuelta Abajo
Vashkar
The Creator has A Master Plan
Naima
Lotus Land Opus 47, No. 1
CD 2
Downstairs
Venus/Upper Egypt
Let Us Go into The House Of The Lord
Black Satin
Cindy Blackman Santana Drum Solo
A Love Supreme
Shake it Up And Go