You are here
Home
›
Music
› Spotlight Gallery Rolling Stones Clear Viny and Album Art Lithographs Make Excellent Holiday Gift ›
Spotlight Gallery Rolling Stones Clear Viny and Album Art Lithographs Make Excellent Holiday Gift
FTC Statement: Reviewers are frequently provided by the publisher/production company with a copy of the material being reviewed.The opinions published are solely those of the respective reviewers and may not reflect the opinions of CriticalBlast.com or its management.
As an Amazon Associate, we earn from qualifying purchases. (This is a legal requirement, as apparently some sites advertise for Amazon for free. Yes, that's sarcasm.)
Submitted by

Dennis Russo

on Sun, 11/29/2015 - 12:36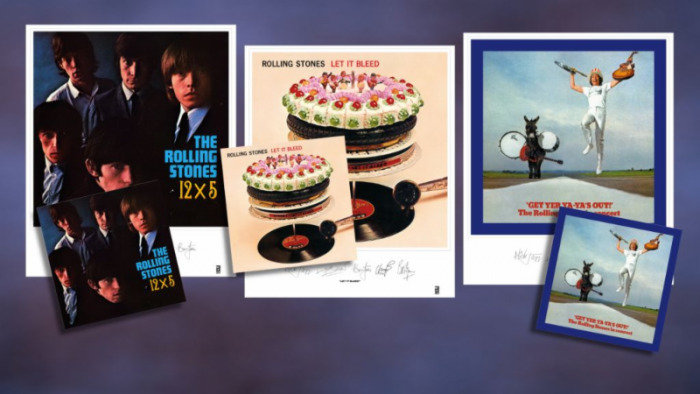 The Rolling Stones Limited Edition Clear Vinyl + Album Art Lithographs.
Normally in reviews such as these I list the email and phone numbers to order the item(s) being reviewed at the end of the review.
Well I'm not doing that here. These collectibles are so beautiful, so well made, and so you-need-to-have-one-of-these, that even at $199.00 they are such a value for what you receive. And because they are limited to only 2,500 worldwide each, I'm afraid that if you wait till the end you might miss out on any remaining. Remember you're not only going to get the limited edition lithograph, you're going to get the matching limited edition vinyl album on clear vinyl as well, for the same very reasonable price!
You can come back and finishing reading the review after you have secured yours.
The Rolling Stones Limited Edition Clear Vinyl + Album Art Lithographs are available for purchase at www.spotlightgallery.com or by calling 1-877-914-3040. They are $199.00 which includes free shipping and handling.
Well, now that you hopefully have yours on order, let me tell you how much I like this offering from Spotlight Gallery, a new division of Time-Life.
Anyone familiar with Time –Life offerings knows they offer high quality products (I own several Time-Life collectables; my most cherished is their History of Rock and Roll on vinyl that I acquired years ago and will never part with), and these sets are no exception. Offered in conjunction with ABKCO Music and Records, Spotlight Gallery is releasing 3 offerings from the greatest band in the world, The Rolling Stones.
The first three album/album art lithographs being released are 12 X 5, LET IT BLEED and GET YOUR YA-YA'S OUT." Each comes with a certificate of authenticity on the back of the litho.
These are not just random albums that Spotlight Gallery has chosen. Each of these represents not only a great example of rock and roll albums, but are also great examples of art in their own right.
12X5 is the Stones second full-length U.S. Album. This blues-heavy album features the classic songs "It's All Over Now" and one of my all-time favorite Stones songs, "Time Is on My Side," and is the example I received to review. It features portrait of the members of the band on the cover shot by David Bailey and is thought to be a visual riposte to MEET THE BEATLES. Bailey is one of the most celebrated celebrity photographers in the world of all time.
The limited edition album on clear vinyl is sourced from the album's original mono mix…and let me tell you it sounds wonderful! Now, I can't speak for the other albums (having only this edition to review) but I won't hesitate in saying I would believe the others sounds just as good. I love the early Stones sound, and this is about as good as I have ever heard. (My pictures don't do justice to the high quality of this set in person)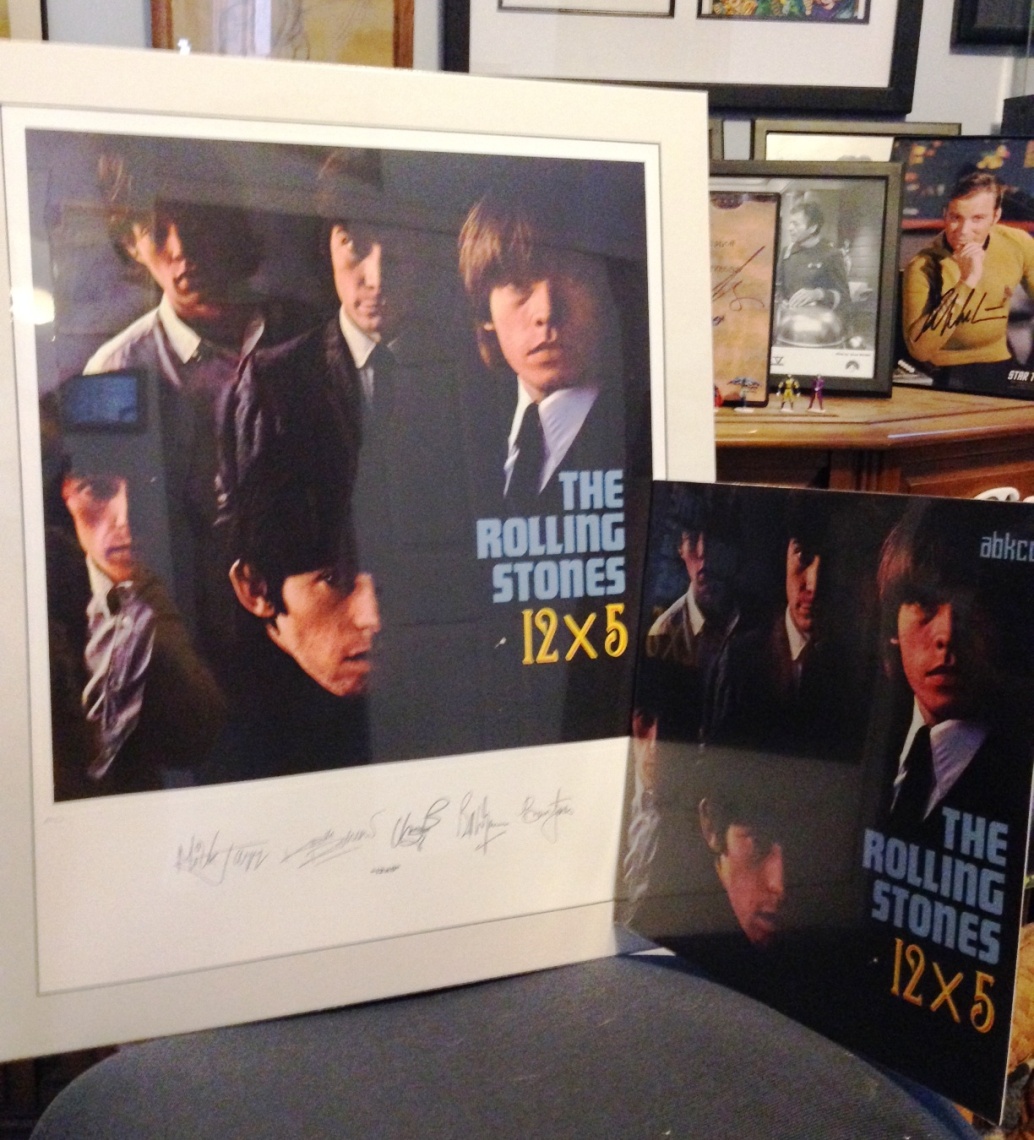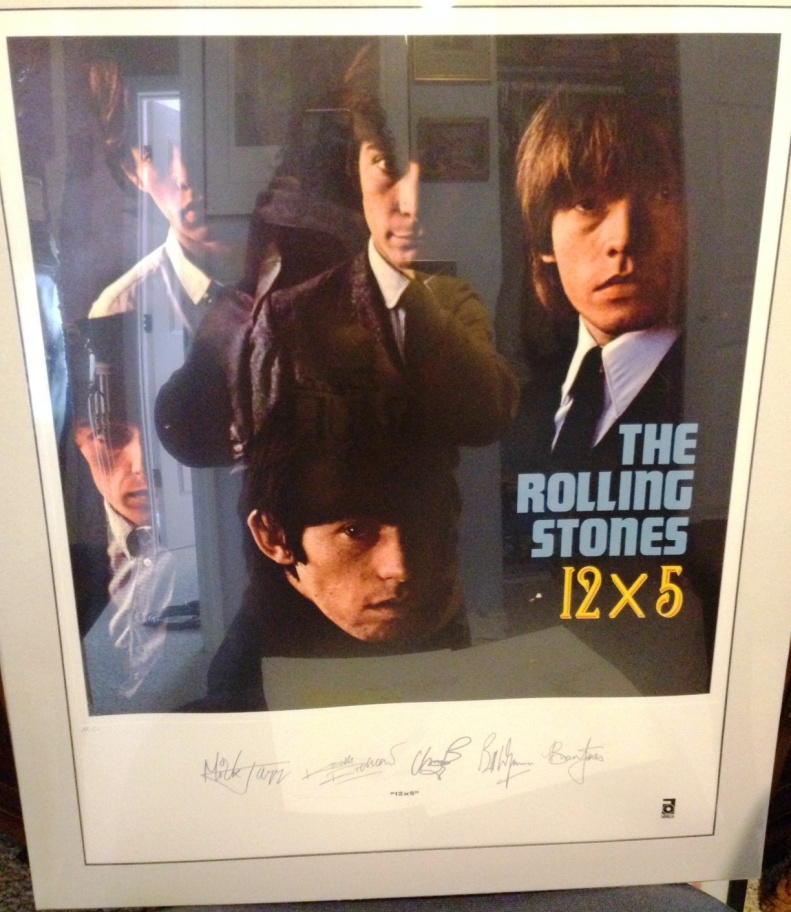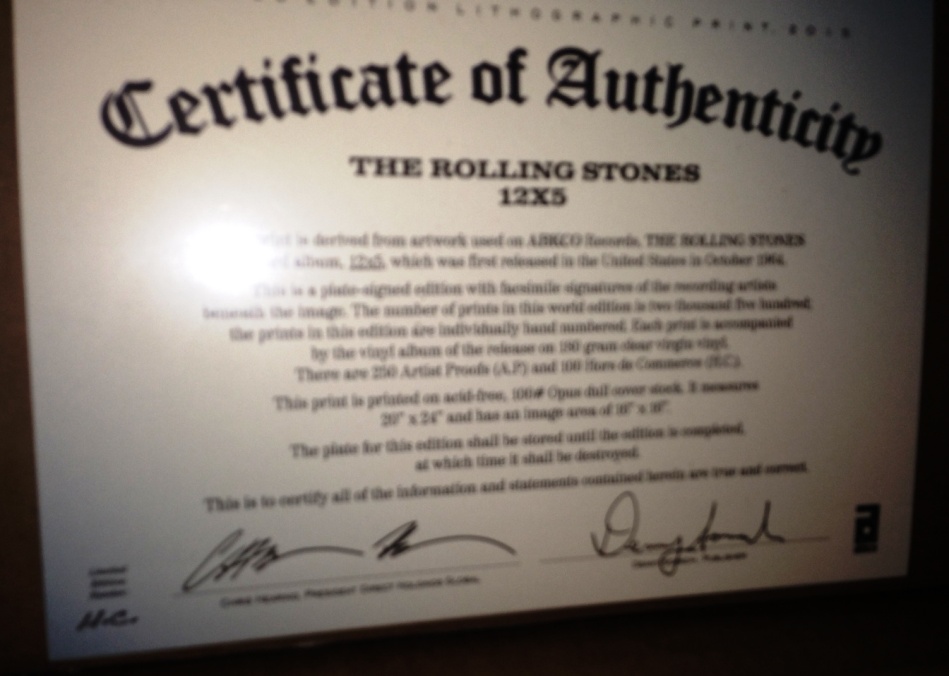 LET IT BLEED is considered by many to be the Rolling Stones' best album, and with songs like "Midnight Rambler," "You Got the Silver,"  "Gimme Shelter," and  "You Can't Always Get What You Want," I can't say I'd argue with that. The LET IT BLEED album cover art is by Robert Brownjohn, and features a Dadaist LP-shaped cake created by cookbook author Delia Smith. The cover art was a recent addition to the design collection of New York's Museum of Modern Art and was the subject of a commemorative postage stamp issued by Great Britain's Royal Mail in 2010.
GET YER YA-YA'S OUT! THE ROLLING STONES IN CONCERT was the first live album by any artist to reach No. 1 on the U.K. charts. Recorded at New York City's Madison Square Garden on November 27 and 28, 1969, Ya-Ya's is considered the Stones' finest live album and includes concert versions of the hits "Jumpin' Jack Flash," "Street Fighting Man," and "Sympathy for the Devil." The album's cover was shot by David Bailey in February 1970 and the original design is by John Kosh (art director for over 100 album covers, including The Beatles' ABBEY ROAD, The Who's WHO'S NEXT, the Eagles' HOTEL CALIFORNIA, and Rod Stewart's A NIGHT ON THE TOWN).
As I mentioned earlier all three of these sets are limited to 2,500 copies worldwide. Each component on its own would be a worthy addition to any collector of Rock and Roll memorabilia, and for certain any Stones fan. The fact that they are offered together as a lithograph and album is just awesome, and make it a must have!
The lithographs are printed on acid-free, 100# Opus dull cover stock measuring 20" x 24" with an image area of 16" x 16."  No additional copies will be produced after the initial press run is exhausted and the signature plates will be destroyed.  The printing plates contain the facsimile signatures of the band's personnel at the time each album was recorded: Mick Jagger, Keith Richards, Charlie Watts, Brian Jones and Bill Wyman on the 12 X 5 and LET IT BLEED lithographs, and Jagger, Richards, Watts and Wyman on  GET YER YA-YA'S OUT!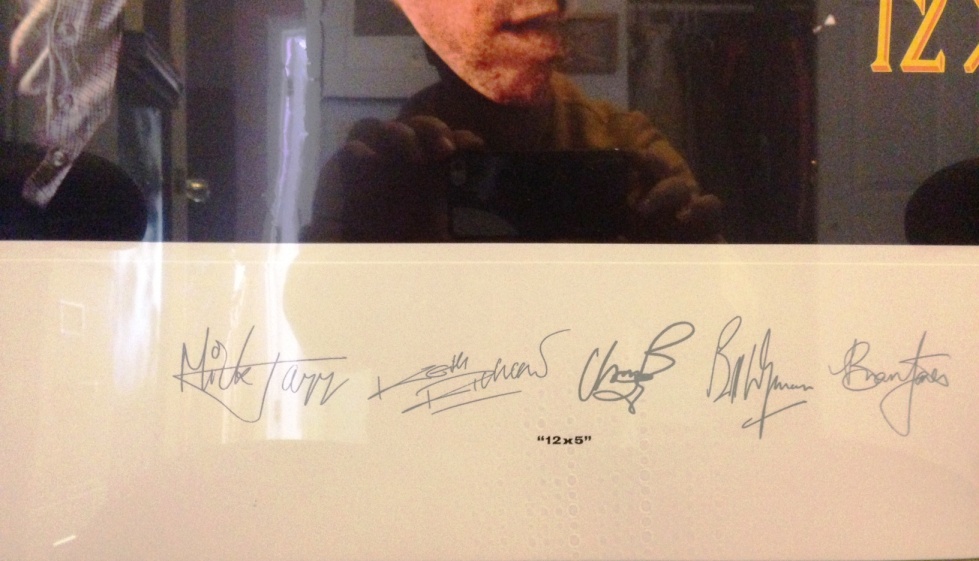 Signatures on 12X5 Lithographs
The colors and finish on the lithograph are beautifully rendered and the images are crystal clear -- and the acid free paper they are printed on means that it will remain white and non-yellowing for years to come. The lithos look like they were lifted right off of the albums. When you hold the two next to each other, the album art looks like a miniature of the Litho.
If you are fortunate enough to snag one or perhaps all of these, you won't be disappointed. If you are not satisfied, then I reckon you're one of those who is never satisfied by anything they have be it a collectable or dinner.
I have seen a lot of other so-called "collectables" sell for a lot more and end up not being worth the paper they were printed on. Here you get more value than what you pay for.
It is totally up to you as to whether or not you want to open and play the album. You may just be a Stones fan who just doesn't have a turntable anymore, and that's okay. Put in its own frame and displayed next to the lithograph, it will make you just as proud to own it and be the envy of any music fan who sees them on your wall. If you want to open the album and play it, but don't because you're afraid it will be worth less in the future then that is okay too.
Will this item increase in value? Who knows? Anything, no matter what, is only worth what someone will pay you for it, but my thoughts are that if you are a collector of classic rock and roll and/or a Rolling Stones fan, then you will get this for yourself because you want to keep it; you're not buying this to sell down the road, you're buying this to enjoy forever. But given what you are getting here, the limited number of available sets and the millions--maybe tens of millions, perhaps even hundreds of millions--of Stones fans in the world today, I don't see why these wouldn't go up in value over the years. Think about this again: a limited edition lithograph with plate signed signatures of the band at the time, and a reissue of the album on clear vinyl made so well that many years from now after you've gone on to the hereafter these will still look as good then as they did the day you got them--all for just $199.00. Something like this really does not require any thought, you just get it and then when you receive it you say to yourself, "Wow, I am so glad I got this."
If you are contemplating these as a gift for someone, I would think the recipient would feel they must be the most special person in the world for you to think so much of them that you would get this for them. I mean that. These are that good.
If you have waited until now to make your decision, I can only hope that there are some still left for you.