You are here
Home
›
Home Video
› Black Sabbath: The End A Farewell Spectacular From Originators of Real Heavy Metal ›
Black Sabbath: The End A Farewell Spectacular From Originators of Real Heavy Metal
FTC Statement: Reviewers are frequently provided by the publisher/production company with a copy of the material being reviewed.The opinions published are solely those of the respective reviewers and may not reflect the opinions of CriticalBlast.com or its management.
As an Amazon Associate, we earn from qualifying purchases. (This is a legal requirement, as apparently some sites advertise for Amazon for free. Yes, that's sarcasm.)
Submitted by

Dennis Russo

on Sat, 11/18/2017 - 06:00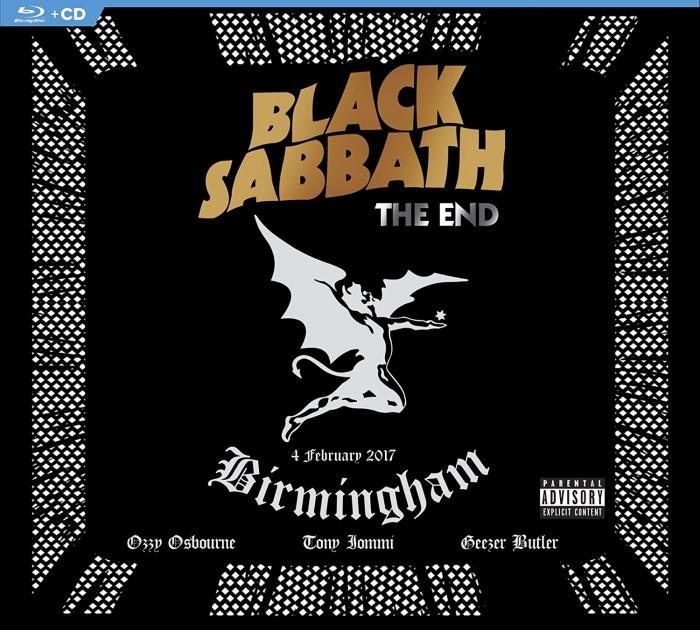 BLACK SABBATH: THE END is a multi-format send-off from Eagle Rock Entertainment of Black Sabbath's final concert, held in their hometown of Birmingham, England on February 4th, 2017, available in combinations of DVD+CD, /BluRay+CD, Double CD, Triple 180gram Vinyl and a Limited Edition Deluxe collector's set.
Reviewed here is the 2-disc DVD+CD set, containing the DVD of the live concert and studio Angelic Sessions, and the single CD of the studio Angelic Sessions.
I must say, as I start this review, that I, like the members of the band, had strange emotions about watching and hearing this show, as they did performing it. I have been listening to Black Sabbath since the mid '70s, and have listened to and gone to concerts consisting of several different incarnations of band's line-ups. I have most of their original albums. But to me, when someone asks me what was the best line up, I simply say, "If you're talking about THE Black Sabbath, then you can go no further than to say Ozzy Osbourne, Geezer Butler, Tony Iommi and Bill Ward. Any other lineup is just a cover band."
Now, don't take me wrong here. I like the other line-ups, for the most part, but when you are talking about THE Sabbath, then there is only one line up.
Going back to what I said earlier, watching this concert gave me such a strange feeling; strange because this was their final (I've heard that before) show, and it was already past and I was watching it recorded.
As soon as the show started, the years simply melted away before my eyes. In front of me was Black Sabbath, older in stature but not in performance. It is amazing how some musicians as they age become almost feeble in nature until you put them back on stage. There's no better example of that than Ozzy Osbourne. Now, those of you who have never seen him perform beyond the various reality shows he's been may think there is no way he could still front a band, let alone a heavy metal band. Let me tell you, when the music started, it was as if he were 30 years younger. His voice was almost spot on, and seeing him sandwiched between Iommi and Butler--who themselves appeared like elder statesmen of the genre as they commanded their instruments--was just awesome.
I will agree, sometimes it was hard to understand what Ozzy was saying--but that has always been the case. But there were times when he would look at the crowd or at Geezer or Tony, and he would cut this wide-eyed, toothy grin, and he looked just like a kid looking to get into trouble again, like he could go on for another 50 years. (Maybe he did make a pact with the devil!?)
In any case, as the band played classic after classic (see song list at bottom), the audience was just in a frenzy. Ozzy really knows how to work a crowd up, even one as large as this one. As the different cameras showed shots of the crowd, there were people in the audience from 16 to 60, and everyone was just into the show. It was funny though; at times they appeared almost oblivious to the music being played as if they were just blown away by being there at a Sabbath. Ozzy had to sometimes keep shouting instructions to them over and over again when he wanted them to do something. (It's funny too, that you can always tell an amateur at a real heavy metal show, when they try to act cool in front of others by flashing horns, squeezing their eyes shut, or mouthing the words to the songs instead of just watching the band and listening to the show.)
The band played great songs too, some rare-ish and, of course, their biggest hits--which is funny, too, because you didn't have to be a rocket scientist to know who were longtime fans and who weren't. When some of the lesser known songs were played you could hear the crowd somewhat sing along by those who knew those lyrics, but when "War Pigs," "Iron Man," or "Paranoid" were played, the crowd was almost as loud as Ozzy. This was a testament too to the way the show was captured, because this was a loud raucous crowd that Ozzy held court over, and you felt like you were part of it.
The stage was set laid-back cool, there was always a rail of flames burning on both sides that occasionally flared up when apropos, with some cool Sabbath-style videos on the screen behind them. Again, the film crew did an awesome job of filming the show. They moved around the stage to show each band member and intersperse them with shots of the crowd. They did a great job of filming as each member got to play their solo, too.
Sound-wise, the DVD was good to very good. It was a Sabbath concert, so to get the best effect you need to play it loud, and when you do, the soundstage will collapse some, and it sounds a little too centered; but that is to be expected.
This concert set should fill the tank of every Sabbath fan, to see and hear three of the four original members play their music as only they can. And speaking of Tony Iommi, many say (and I am one of them) that Ritchie Blackmore was/is one of the best riff-masters to come down the rock and roll pike, and Tony Iommi is right there with him. You need only hear the few opening chords of "Iron Man" or "Paranoid," and instantly everyone will start singing and head-banging. The genre would not exist if it were not for him, I think, and he's still got it. The five songs after the concert portion of the DVD that were done in studio after the show are proof of that, as well as his spot-on performance in the show. This is true of Geezer Butler as well.
Could this be the end of an era? Oh, I don't know. Maybe so. There certainly is no one out there today that plays like these guys, and no one will be remembered as such either, I dare say.
The good thing though is that they aren't giving up making music, just hanging up their Sabbath shoes. (Or so they say; I went to three separate AC/DC farewell tour concerts in 10 years, I think, so we'll see.)
The CD of this set, which only contains the five studio songs (see below) entitled "The Angelic Sessions," was a bit of an oddity for me. Perhaps because my sound system is ruthlessly revealing, I found the songs a little disconnected. By that, I mean had I not just watched them perform these songs on the DVD, I would say Ozzy was in a different room. His voice sounded somewhat hollow compared to that of the bass and guitar, which had their full weight displayed before me. Even Ozzy's harmonica sounded good; it was just the way his voice was mixed into the set. You might call it a little echo-y. The instruments were mic'd and mixed very well, as I could follow any instrument I chose throughout the songs. The soundstage was fairly wide, if not too deep. 
These studio songs themselves are very good, and every bit Black Sabbath songs. I especially like "The Wizard" and "Changes," which to me was very reminiscent of "Mama I'm Coming Home."
By and large though, I definitely preferred the way these songs sounded on the DVD compared to the CD. Through headphones, or a less-critical system, though, the sound may come together more unified, as it is on the DVD. Not every headbanger is an audiophile (and vice-versa).
This set also comes with a small booklet that really has some of the coolest shots of Ozzy, Tony and Geezer, and shouldn't be overlooked. So once again I am here to sing the praises of Eagle Rock Entertainment, who it appears, time after time, is seeking out the best of the second-generation rock and rollers and capturing them on film and disc for everyone, old and new, to enjoy. And they don't just do it without putting any care into the production. No way, this set, as well as the others I've reviewed, are first-rate productions all the way.
It may seem somewhat ironic, but what a great Christmas gift this set would make for the heavy metal rock-and-roller in your life. Or birthday gift, or just for yourself to add to your collection.
Black Sabbath: The End

DVD Songs:

Black Sabbath
Fairies Wear Boots
Under the Sun / Every Day Comes and Goes
After Forever
Into the Void
Snowblind
Band intro
War Pigs
Behind the Wall of Sleep
Bassically / N.I.B.
Hand of Doom
Supernaut / Sabbath Bloody Sabbath / Megalomania
Rat Salad / Drum Solo
Iron Man
Dirty Women
Children of The Grave
Paranoid

Extras: The Angelic Sessions

The Wizard
Wicked World
Sweet Leaf
Tomorrow's Dream
Changes

CD Songs:

The Wizard
Wicked World
Sweet Leaf
Tomorrow's Dream
Changes
Recent Tweets
Top Ten Most Popular Ever