You are here
Home
›
Home Video
› When Comedy was King, Red Skelton was Sovereign ›
When Comedy was King, Red Skelton was Sovereign
FTC Statement: Reviewers are frequently provided by the publisher/production company with a copy of the material being reviewed.The opinions published are solely those of the respective reviewers and may not reflect the opinions of CriticalBlast.com or its management.
As an Amazon Associate, we earn from qualifying purchases. (This is a legal requirement, as apparently some sites advertise for Amazon for free. Yes, that's sarcasm.)
Submitted by

Dennis Russo

on Mon, 12/11/2017 - 10:41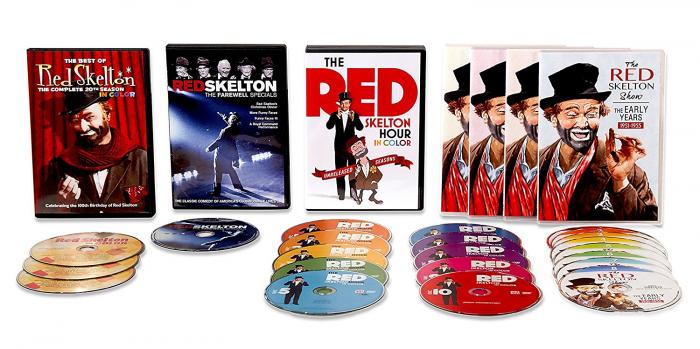 They are many young people out there today who have never heard of Red Skelton or the mirth he brought upon this Earth. And that is a shame. Fortunately, though, it doesn't have to be that way any longer, thanks to Time Life who brings us the definitive set of Red Skelton.
Comprising a couple of their previous sets of his work along with never before seen episodes of his TV series, this 22-DVD set has everything you could ever hope to see of Red. Considered "America's Clown" in his day, Red Skelton brought to us a sense of comedy timing, improv, and inward feeling of joy that few, if any, other comedians have done since. Whether it was stand-up jokes that often included two seagulls Gertrude and Heathcliff (Red would brush his hair forward and tuck his hands under his arms to tell it in funny voices) and a little boy (Red would invert his hat one way for the boy and one way for the adult he was talking to); skits containing iconic Skelton characters such as Clem Kadiddlehopper, Freddie the Freeloader, Sheriff Deadeye, Cauliflower McPugg, Willie Lump Lump, et al; or Pantomime skits where he would tell a short story that would sometimes make you bust out laughing and sometimes lovingly put a lump in your throat, Red entertained like no other.
What I didn't remember, or maybe was too young to notice, was that on his TV shows, in his improv with his various special guests (which were literally the who's-who of everyone famous in their day), he would sometime say some double entendres in a funny, magical way that you get what he means (now) but in a way that still makes them sound innocent. He had a way when working with his guest stars that he could make anyone, even serious actors, be funny. There is this great skit where Boris Karloff and Vincent Price sing a comedic song about themselves, amidst a skit where you see Karloff and Price both ad-lib with Red: it's priceless!
In every episode and special he did, year after year, decade after decade, you always see him having a good time. He loved to laugh, at his jokes and others', when things would go wrong, he was always smiling in a way that was infectious on his guests, his audience and me! If you thought Tim Conway could make Harvey Korman bust out laughing, you ain't seen nothing till you see Red work!
This Deluxe Edition of the Red Skelton Hour In Color contains:
One 10-disc DVD set "The Red Skelton Hour In Color" (which has a biography of Red as well as interviews and also the 1/14/1969 episode with his famous recitation of the Pledge of Allegiance ((How I wish every politician, pro athlete and citizen of this country could be made to see again!))

Four 2-disc DVD sets of The Red Skelton Show "The Early Years" 1951-1955

A 3-disc DVD set of "Red Skelton the Complete 20th season in Color"

A single DVD titled Red Skelton the Farewell Specials (4 shows: Red Skelton's Christmas Dinner, More Funny Faces, Funny Faces III, A Royal Command Performance)
What you come away with most in this mega-set is that, throughout all the years, specials and series, every guest and everyone that worked with him or knew him had this profound respect. No, more than respect: love is a better word for it; for him as a comedian and clown without peer.
Personally, I never thought I would ever see anyone who could ad-lib so quickly and as funny as Robin Williams could, but that was because I forgot about Red Skelton, and never saw him as I have before in this set. He could rattle off improvs lightning-fast that broke script--either on purpose or because he or his guest forgot or messed up a line--that just makes you bust out laughing, as his guests often did.
So, besides coming away with a sore jaw, I came away with a sense of humor raised to a level that I didn't think possible.
What is remarkable about Red is that he did his humor not only in words but also without them, as he also worked in pantomime (which I dare say most people have never heard of). It was a rare art form when he did it, and I'd venture to say it would classify as a lost art form today. And that's a shame.
Video quality-wise, it is probably better than you'd expect for the age of some of the earlier material. And while some is occasionally a little sketchy, its content far and away makes up for it.
This set will take you a long time to get through, but what better way to while away the long winter nights than with America's Clown? Every disc is a treasure chock full of laughs, and Time Life did the world a huge favor by obtaining these classics and compiling them all in the one comprehensive collection.
A perfect gift to add to one's own collection, and a great addition to one's life.
Heartily recommended. Good night and may God Bless.
Recent Tweets
Top Ten Most Popular Ever