A Critical Look at DC's January 2016 Solicits
FTC Statement: Reviewers are frequently provided by the publisher/production company with a copy of the material being reviewed.The opinions published are solely those of the respective reviewers and may not reflect the opinions of CriticalBlast.com or its management.
As an Amazon Associate, we earn from qualifying purchases. (This is a legal requirement, as apparently some sites advertise for Amazon for free. Yes, that's sarcasm.)
Submitted by

Grey Scherl

on Thu, 11/05/2015 - 07:49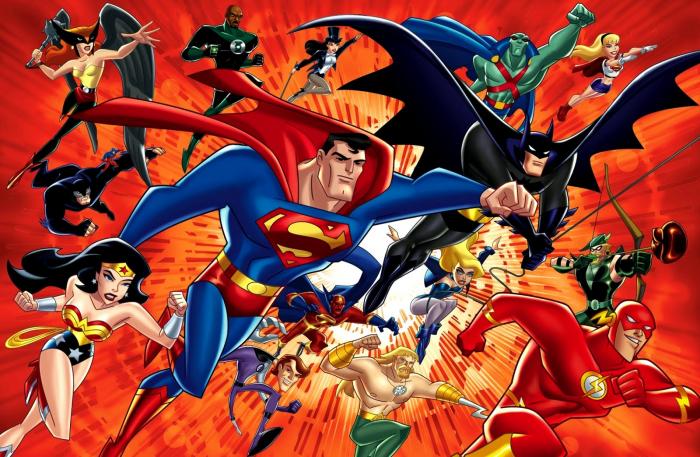 With assistance by Mike Maillaro
Check out Newsarama for a complete list of DC books shipping in January.
---
GREEN LANTERN CORPS: EDGE OF OBLIVION #1 by TOM TAYLOR & ETHAN VAN SCIVER
Picking up where GREEN LANTERN: LOST ARMY left off! As the universe around them reaches entropy, the Green Lantern Corps must find a way home! Along the way, they'll face dying gods, worlds torn asunder and a desperate group of survivors whose only hope is these cosmic heroes.
Mike: So...Lost Army just ends abruptly...to get turned into a GLC mini-series.  Why didn't they just finish the story in Green Lantern: The Lost Army?  I can't imagine this is going to give them a huge jolt in sales.  Kind of a waste if you ask me.  
Grey: Totally different creative team, too. Part of me thinks that Cullen had to bow out of Lost Army for some other project, but I won't complain because Tom Taylor is back at DC!
Mike: Last month we had commented that Lost Army vanished, and at least now we know why.  Not saying I like it, but it is what it is.
THE LEGEND OF WONDER WOMAN #1 by RENAE DE LIZ AND RAY DILLON
A new WONDER WOMAN 9-issue miniseries begins here with a story written and pencilled by Renae De Liz (The Last Unicorn)! In the beginning there was only chaos. But Hippolyta, Queen of the Amazons, saw a better future—and eventually, her daughter would be destined to bring that new world to life! Before her ultimate fate unfolds, though, Diana of Themyscira must learn the important lessons of an Amazonian childhood!
Mike: Did someone declare January to be pointless mini-series month?  I feel like I missed the memo.  Green Lantern Corps.  Wonder Woman.  Poison Ivy. Suicide Squad: Most Wanted.  To be honest, none of these books even sound bad, I just don't quite understand why they exist.  Most of them could probably have been stories in already existing books...Maybe DC should just reinstate an anthology book so they can do this without overpriced mini series..
SWAMP THING #1 by LEN WEIN & KELLEY JONES
Swamp Thing returns in an all-new series written by his co-creator, legendary writer Len Wein! Swamp Thing has received an ominous warning, and now he finds himself under attack from the forces of dark magic. These are more than just your average monsters—and there's something much worse looming on the horizon for Alec Holland!
Mike: Sorry to say, but Len Wein on Swamp Thing these days holds no appeal for me.  He did the Swamp Thing mini as part of Convergence, and it might have been the worst of the Convergence books.  I enjoyed Snyder's work on Swamp Thing, but I can't see myself buying this book unless it gets a lot of buzz.
Grey: Agreed. I get having old school creators come back around to help prop up old properties on nostalgia, but Swamp Thing isn't going to sell hotcakes because of Len. They should be using this book to create new talent, bring in some horror novelist and see if they take off.
Mike: They should have seen if Lauren Beukes could do it.  I was so happy to see her doing Survivor's Club for Vertigo.  And it would be another book by a female writer!  Win Win!
JUSTICE LEAGUE #48 by GEOFF JOHNS & JASON FABOK
The epic "Darkseid War" continues as the League is forced to unite with their evil counterparts, the Crime Syndicate, to defeat the nigh-omnipotent Anti-Monitor! Plus, what is the terrible secret behind Superwoman's newborn child?
Grey: Darkseid War has been so good, but I keep getting this feeling like it's Geoff's version of Grant's World War 3, and that when it's over, he's done.
Mike: I tend to agree with that.  This has been one hell of a run.  I wonder what he will work on next.  Johns has done a great job with Justice League.  High profiles books are always tough, and he's really made it work.
JUSTICE LEAGUE OF AMERICA #7 by BRYAN HITCH and DANIEL HENRIQUES
The devastating climax of last issue has the League scrambling for revenge! Only problem is, they'll need to get through millions of super-powered Kryptonians to get it!
Mike: This solicit looks real familiar.  I ended up dropping this book.  I liked the idea, but the execution was dull.  Sad that we got rid of Justice League United, but this book is still around.
Grey: They lost me with Rao wanting everyone to worship him.
Mike: I was okay with Rao wanting everyone to worship him.   I mean that is what religions do.  BUT Superman going along with it so readily is what drove me away.  Come on, Supes...are you really that desperate to make a connection with Krypton?  You Superjerk!
BLACK CANARY #8 by BRENDEN FLETCHER & ANNIE WU
In recent weeks, a mysterious white ninja has appeared at the edges of Dinah's life, but her agenda has never been clear—until now! The truth about who she is will open up a whole new world for Dinah…and will require new allies by her side as well!
Mike: STORM SHADOW!!  Okay, probably not...
EARTH 2: SOCIETY #8 by DAN ABNETT & JORGE JIMENEZ
A bold new era begins on Earth-2! The heroes have decided to take leadership roles in this still-rebuilding world. But power soon becomes absolute power, and the people of Earth-2 quickly discover they've trusted in the wrong heroes!
Mike: We're only 8 issues into the NEW ERA of Earth 2, and we're already getting another BOLD NEW ERA.  For the most part, I enjoyed Earth-2, but I just couldn't maintain my interest when it relaunched.
Grey: I've been enjoying this book, but yeah, Abnett is going to be the fifth or sixth guy to tackle this characters in the three and a half years or so they've been around. We don't need a bold new direction, we need a writer to last longer than fifteen issues.
Mike: Hmmm...what about Geoff Johns?  He really killed it on JSA, and he could definitely provide some stability.  He tends to stick around.
Grey: I'd buy it.
THE FLASH #48 by ROBERT VENDITTI, VAN JENSEN, & JESUS MERINO
In the aftermath his recent clash with Zoom, The Flash finds himself on the run…from the law! And the task force charged with arresting him is made up of his enemies, The Rogues!
Grey: ROGUES! Maybe Captain Cold can have Captain be his actual rank!
GREEN ARROW #48 by BENJAMIN PERCY & PATRICK ZIRCHER
As a result of the traumatic effects of the recent ANNUAL #1, Oliver Queen has contracted the Lukos virus! As he struggles to find a cure, he must stay far away from his friends and family—or else he'll tear them to shreds!
Mike: Nice that in January we will finally find out the resolution of a story that came out last month.  I normally hate annuals anyway, but this one was extra annoying.  Especially since we have to wait months to find out where this story is going.  
Grey: Could be worse. Remember a few years back when Bendis did connecting Avengers and New Avengers annuals that were supposed to happen over the course of a day or two, yet released six months apart?
Mike: It amazes me how much of a trainwreck release schedules become.  Back in the day, it seemed like Marvel and DC did everything possible to make sure release schedules made some sense.  Sometimes that mean filler issues or fill in artists, but these days, we just get lengthy gaps that make it hard to care.  See also, Uncanny 600.
JUSTICE LEAGUE 3001 #8 by KEITH GIFFEN,  J.M. DeMATTEIS & SCOTT KOLINS
As Lady Styx's legion reigns over the Commonwealth, an all-new Justice League rises from the ashes of the old. But can they topple a tyrant who's embraced by the very people she's conquered?
Grey: So the other day I'm at the comic shop, and we're all crapping on Lobo and how bad he is, and how it's a stupid idea to ever give him an ongoing series. Then I bring up how the best version of him was in 52, when he went around with Adam Strange, Starfire, and Animal Man, and at one point got into a major fight with Lady Styx. First time I'd thought of her in a while, but hey look, here she is!
Mike: Poor Lobo.  If they had just let him end gracefully with the Extreme era of comics, he'd be fine.  But he's just outstayed his welcome.  That said, I would rather the over the top bastich Lobo than skinny jeans Lobo we got in New-52.
Grey: You and South America.
MARTIAN MANHUNTER #8 by ROB WILLIAMS, EDDY BARROWS and EBER FERREIRA
The reborn Martian Manhunter has refused to restore Earth! Instead, he's decided to make a new home for himself on the Martian world that's taken our planet's place—much to the displeasure of Mr. Biscuits!
Grey: I've enjoyed this book wayyyyyy more than I expected to. Don't mess with Mr. Biscuits!
THE OMEGA MEN #8 by TOM KING & BARNABY BAGENDA
The Omega Men are back as their space-spanning series continues! The team's mysterious plan for Kyle Rayner reaches its shocking endgame when the outlaws bypass the energy shield surrounding the off-limits world of Voorl! In doing so, will they discover the true cost of life in Vega?
Mike: Last weekend, my brother was telling me that this actually is a real good series.  I typically trust his judgement, so I might end up giving it a shot.  I've said in the past that I didn't have a lot of interest in The Omega Men, but there are plenty of comics that I had no interest in that became favorites.
RED HOOD/ARSENAL #8 by SCOTT LOBDELL AND JAVIER FERNANDEZ
Red Hood and Arsenal and—Joker's Daughter?! As the boys deal with their newfound success as a rent-a-hero company, a new crop of catastrophe puts Jason and Roy to the test! But with a new hire like Joker's Daughter, who needs enemies?
Mike: Well, that's just random.  But if any book can make it work, it's this one.
TEEN TITANS #16 by by SCOTT LOBDELL,  WILL PFEIFER, & ALISSON BORGES
While the Teen Titans try to deal with the aftermath of the Robin War, they search for a new direction. Can Red Robin hold the team together?
Mike: LOBDELL BACK ON TITANS???? NOOOOOOO!!!!
TELOS #4 by JEFF KING, CARLO PAGULAYAN and JASON PAZ
Trapped deep underground on the planet Colu, Telos has the data he came for, and he's ready to fight his way out. But his revolutionary teammates—Techne, K'Rot, Stealth, and Captain Comet—have other ideas. They have a larger agenda: to liberate Colu's population by destroying the omnipotent dictator, Computo, but does their plan include betrayal?
Mike: After reading the first issue, I have no idea what to make of this book….I think I enjoyed it…  Nothing worse than a comic I just can't decide how I feel about…  I will probably give it a few more issues to grab me, but honestly, the solicits aren't really telling me anything that makes me feel like I MUST BUY this book.
Grey: I'll echo that. It was a rare case where I enjoyed the first issue but had no idea if that made me feel more or less confident about enjoying the series as a whole.
ACTION COMICS #48 by GREG PAK and AARON KUDER
"The Savage Dawn" begins! Following recent events in the SUPERMAN ANNUAL, Superman is becoming increasingly desperate to regain his powers! The situation is dire, as he must rescue his fellow Justice Leaguers and save the lives of the soldiers facing Vandal Savage!
Grey: I really do love that Vandal Savage is being treated like an A lister.
Mike: Yeah, the timing on that is great as I just did a reread of Resurrection Man.  Sadly, Resurrection Man only got to tease at the importance of Vandal Savage before the series ended so abruptly.  Making Savage a major villain for Superman is a great way to restore him to some semblance of bad-ass villain again.  Too often, he's just been a lame version of Ra's Al Ghul.
BATMAN/SUPERMAN #28 by TOM TAYLOR & ROBSON ROCHA
It's an untold tale from the early days of Bruce and Clark's crime-fighting careers! A new 3-part epic from another time begins here as Batman and Superman are pitted against a menace that will test their partnership—and their friendship!
Grey: Tom Taylor! Even if I wasn't already reading this book, this would be an instant seller. Everything dude touches turns to gold.
SUPERMAN #48 by GENE LUEN YANG & HOWARD PORTER
"The Savage Dawn" continues! Time is running out, and Superman must make a fateful choice! Can he risk exposing himself to the one thing that could save him: Kryptonite?
Grey: Full powered Supes by issue 50?
Mike: Yeah, I suspect by Superman 50 and Batman 50, we have Superman and Batman both back to their status quo.
SUPERMAN: LOIS & CLARK #4 by DAN JURGENS AND LEE WEEKS
The mysteries surrounding Lois and Clark are just starting to unfold! In this issue find out what happened to the man who would have been the Cyborg Superman! Learn what else is hidden in this Superman's Fortress! And discover why Lois gave Clark his new, black uniform!
Grey: The first issue reveal of what universe they're in made this book even more awesome than I expected it to be.
Mike: Yeah, I was surprised by both Superman: Lois and Clark and Titans Hunt.  Neither book was what I expected, but I really enjoyed both books anyway.
BATMAN #48 by SCOTT SNYDER, GREG CAPULLO and DANNY MIKI
Mr. Bloom's seeds have grown into an army that may turn all of Gotham City against its new Batman. Meanwhile, Bruce Wayne meets a mysterious stranger who could start a chain of events no one can stop.
Mike: Prediction, Bruce Wayne will be Batman by issue 50.  I haven't hated Gordon Bats like many people have, but he's just never felt like the right fit to me.  
Grey: Do it up like pre-Flashpoint and let Bruce have a book or two, and then Gordon has a book or two. I'd happily read Snyder writing Bruce and Tomasi writing Jim.
Mike: Yeah, I would be fine with that.  There are still plenty of Batman books to go around...
BATMAN AND ROBIN ETERNAL #14 - 17 by Various
Grayson, Red Hood, Red Robin and Harper Row have uncovered the full scope of Mother's dangerous operation, and they're ready to spring their trap! But there's one problem: Cassandra Cain has gone rogue, and they may not be able to pull her back from the edge! There's no time to lose, either, because for every mystery they solve about Mother, there are more waiting to be discovered, including Mother's next target, a place that couldn't be more personal to Dick Grayson!
Grey: I'd guess Hayley's Circus, but we've already had an extended story about the circus in the New 52.
BATMAN BEYOND #8 by DAN JURGENS AND BERNARD CHANG
No good deed goes unpunished! Freeing the world from Brother Eye was only the beginning—with Neo-Gotham now standing as the only stable society in the known world, thousands of refugees have fled their war-torn cities to come knocking at the gates. But when the mayor of Neo-Gotham claims his city can't support the whole world, the fate of these people will rest on Batman's shoulders.
Mike: Damn DC!  SPOILER WARNING HERE!  Not like I was expecting Batman Beyond to die or anything, but now we know that he manages to stop Brother Eye by issue 7.   BUT AT WHAT COST?  See, at least someone here is trying to build some suspense.  DC should totally hire me to write their solicits.  BUT AT WHAT COST???
Grey: Twenty bucks an hour?
Mike: I would totally take that gig.  BUT AT WHAT COST?  Oh wait, we already answered that.  Moving on...
HARLEY QUINN #24 by AMANDA CONNER, JIMMY PALMIOTTI,& CHAD HARDIN
Harley's got an endangered friend to save, but there's just one problem: she's got to get through Arkham Asylum first! Unsurprisingly, Harley's not eager to set foot in the site of some of her darkest hours…and she definitely isn't ready to face a certain someone who's laughing at the end of a dark hallway…
Mike: If Joker's back, we riot.
ROBIN WAR #2 by TOM KING & KHARY RANDOLPH
The stunning conclusion to the "Robin War" is here!
Mike: Now that is one vague solicitation.  This is what I get for complaining about spoilers.  
WE ARE ROBIN #8 by LEE BERMAJO & JORGE CORONA
The Robin War is over. From the rubble a new force rises, one that is attacking Duke and his Robins one by one. This new movement laughs at hope and justice. They believe in anger. They believe in fear. They believe in chaos. They are…JOKERS.
Mike: Rise of the Jokers!!  Nice to see DC tying a little bit of Batman Beyond lore into their comics.  I'm definitely curious about this one.  I haven't been picking up We Are Robin, but I might grab it during Robin War.
GREEN LANTERN #48 by ROBERT VENDITTI & MARTIN COCCOLO
Back on Earth once more, Hal Jordan must bring in help to handle a terrorist attack on Coast City. But when Batman arrives on the scene, Green Lantern learns that much has changed while he was off-planet…
Grey: Like Batman being Jim Gordon in a mecha suit?