A Critical Look at Marvel's January 2016 Solicits
FTC Statement: Reviewers are frequently provided by the publisher/production company with a copy of the material being reviewed.The opinions published are solely those of the respective reviewers and may not reflect the opinions of CriticalBlast.com or its management.
As an Amazon Associate, we earn from qualifying purchases. (This is a legal requirement, as apparently some sites advertise for Amazon for free. Yes, that's sarcasm.)
Submitted by

Grey Scherl

on Thu, 11/05/2015 - 07:53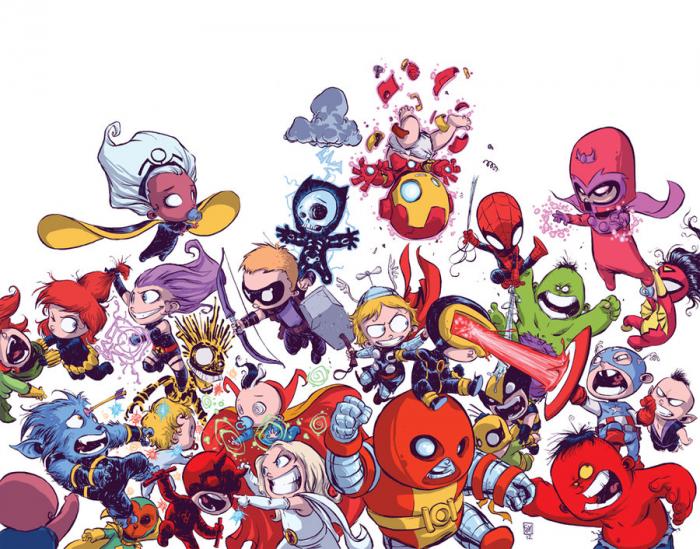 With assistance by Mike Maillaro
Check out Newsarama for a complete list of Marvel books shipping in January.
---
INVINCIBLE IRON MAN #5 by BRIAN MICHAEL BENDIS & DAVID MARQUEZ
• The big finale to our big first storyline. Cards are turned over. Truths are revealed. Tony's life is turned upside down!
Grey: Generic solicit is generic.
Mike: Hmmm….yeah.  I enjoyed the first issue, but Marvel really needs better solicits.  I buy the books for the characters and creative teams.  Not so much their dull as wallpaper solicits.  Marvel either does generic solicits, or warped solicits that have nothing to do with the book either, but at least always gives me a chuckle.
OLD MAN LOGAN #1 by JEFF LEMIRE & ANDREA SORRENTINO
Fifty years from now, Logan — the man who no longer calls himself Wolverine — will have endured many atrocities: The Marvel Universe's villains will have banded together and rid the world of its heroes. Logan's closest friend, Hawkeye, will have been murdered in cold blood right before his eyes. And driven mad by the same radiation that gave him his superhuman strength, Bruce Banner will have fathered a family of hillbilly Hulks...that eventually went on to slaughter Logan's wife and two children. But now, in the present, Old Man Logan wakes up to discover himself in a world before these atrocities, before the Wasteland. And he's going to seize this opportunity and change history to ensure that his future never comes to pass…
Grey: I'm very amused by Bendis doing Old Man Logan for SW and Lemire doing it as an ongoing. I mean, and maybe this is just me, but I would have used the SW mini as a gauge for how people responded to Lemire writing it. Not warm people up to a book and then go with a writer who is completely different in how they do everything
Mike: Same here.  Especially since Lemire is very hit and miss.  I never know what I'm going to get with him.
Grey: His Superboy was awful..though at the time it was clear he had very little knowledge of any character he was working on, and was just given a job
Mike: Descender was so bad it made me end my "try every Image 1" policy.
CAPTAIN MARVEL #1 by Michele Fazekas, Tara Butters, & KRIS ANKA
Face front, true believers! The Captain has made her return and oh, how mighty it is. It's a bold new frontier for Carol Danvers as she soars to new heights in her greatest mission yet—leader of the all-new Alpha Flight space program. Yup, Alpha Flight. As earth's first line of defense, Carol and her team aim to protect the planet from extraterrestrial threats. But can Carol be a soldier and a diplomat? Especially when an unknown enemy emerges that Carol can't quite punch. The superstar team behind Marvel's Agent Carter television series, Tara Butters and Michele Fazekas, make their comics debut alongside the awesomely-talented Kris Anka.
Mike: I am really glad to see DeConnick off Captain Marvel.  I love Carol, but DeConnick's run really chased me away from the character.  She just never felt like the right fit.  Agent Carter was really good, so I can't wait to see what Tara Butters and Michele Fazekas can bring to Carol.
Grey: KSD's run was ridiculously decompressed. I tried both volumes, and while I could tell she was building to something, the path was just so...boring?
SPIDER-MAN/DEADPOOL #1 by JOE KELLY & ED MCGUINNESS
BECAUSE YOU DEMANDED IT!
The Webbed Wonder and the Merc with a Mouth are teaming up for their first ongoing series EVER! It's action, adventure and just a smattering of (b) romance in this episodic epic featuring the WORLD'S GREATEST SUPER HERO and the star of the WORLD'S GREATEST COMICS MAGAZINE. Talk about a REAL dynamic duo!
Mike: I really hope they don't forget that in Uncanny Avengers, Spider-Man distinctly decided not to be part of the team because he didn't want to be anywhere near Deadpool.  My first instinct is to say "Yuck, more Deadpool.  But I really liked how Joe Kelly wrote Deadpool."  Then again, I was ranting before about not wanting to see classic creators back on their projects, so I would be a hypocrite if I said I was totally excited about this...
SILVER SURFER #1 by DAN SLOTT & MICHAEL ALLRED
"Fantastic Planet"
The Surfer has taken Dawn Greenwood to the end of the universe, and now he's going to show her the most fantastic planet of them all: Earth! It's your homeworld like you've never seen it before: with monsters, magic and...a secret that will change everything! The perfect jumping-on point for the book everyone's talking about!
Mike: Okay, I am a huge fan of Slott and Allred. Not to mention Silver Surfer was basically my first favorite comic character who wasn't a Ninja Turtle.  And I love this book.  But calling it "the book everyone's talking about" is a little ambitious.  I can honestly say I've heard no one talk about this book other than a handful of reviews.  In fact on GameFAQ's Comic Book Message board (which is where Grey and I first met), the topic that someone posted about Silver Surfer 13 (WHICH WAS A SECRET WARS CROSSOVER) got exactly 0 responses.  Come on, Marvel.  I can dig hyperbole, but this is definitely stretching it a bit…
Grey: It's a critical darling that is selling like crap. And isn't even that good
Mike: Bah.  I like it, you bastard!  
Grey: I got bored after four issues
Mike: Hey!  Now there are two people talking about it.  Marvel won!
I will admit, I just love Allred's art.  If he's drawing something, I am buying it.  Though the whole time I am whining "I WANT MORE MAD MAN!"
AGENTS OF S.H.I.E.L.D. #1 by MARC GUGGENHEIM & GERMAN PERALTA
It's high-stakes espionage in the Marvel Universe in this brand-new series inspired by the hit television show Marvel's Agents of S.H.I.E.L.D. Tony Stark guest-stars in the beginning of "THE COULSON PROTOCOLS."
Mike: I like Guggenheim, but I have to admit, most of my interest in the last series was that Waid was writing it.  I will probably check out the first few issues here, but I kind of prefer keeping the comic and "movie universe" characters separate.  I really like Ming-Na Wen as Melinda May...but I really don't have much interest in reading a comic with the character.
Grey: I finally got current on the show, and now have zero interest in reading about Fitz, Simmons, and May. I'm quite happy following them on TV, and not their shoveled into continuity counterparts.
A-FORCE #2 by G. WILLOW WILSON,  KELLY THOMPSON  & JORGE MOLINA
• What do you do when a sentient cosmic event rampages through Japan? ASSEMBLE A-FORCE!
• Marvel's newest hero, SINGULARITY, has escaped Battleworld and found her way to the Marvel Universe! But she didn't make the journey alone...
• To combat the villainous ANTIMATTER, Singularity will call upon Earth's mightiest team of Avengers. And one thing's for sure: They are A FORCE to be reckoned with!
Mike: Singularity and Antimatter.  It's official.  We've run out of names for comic characters.
Grey: Next up….Marvel Lady!
Mike: I am shocked that hasn't already happened…
Grey: Hyperiongirl!
SQUADRON SUPREME #3 by JAMES ROBINSON  & LEONARD KIRK
SQUAD GOALS!
• The Squadron must answer for their extreme measures and the Uncanny Avengers are here to collect!
• Across the globe, they hear the call...but will the Squadron assemble fast enough to come to Nighthawk's aid?
• Plus: Thundra makes her move!
Grey: So are they going to play up that Nighthawk really doesn't like white people? Because Fox News will LOVE THAT!
Mike: I am not even coming near that comment...THIRD RAIL WARNING!!
ALL-NEW, ALL-DIFFERENT AVENGERS #4 by MARK WAID & MAHMUD ASRAR
• You thought the origin of the All-New, All-Different Avengers was surprising? You haven't seen anything yet!
• When passions flare between Captain America and Thor, they lead to Earth's Mightiest Kiss!
Mike: You know...for anyone who doesn't follow comics, if you see the line "CAPTAIN AMERICA AND THOR KISS" you really think Marvel is trying something All-New All-Different.  Someone calls Fox News!   I am kind of bummed out because I thought Cap and Misty made a cute couple…
Grey: I imagine it's a pairing that won't exist in any other book.
NEW AVENGERS #5 by AL EWING & GERARDO SANDOVAL
• Captain America! Iron Mariner! King Hulk! Marvel Woman! Collapsar! Together, they are the Avengers – of the year 20XX!
• Now, these five heroes are breaking the laws of time itself to prevent their greatest tragedy!
• Destination – the year 2016! Target – the New Avengers!
Mike: They kind of hinted at a story like this in Avengers World.  Not sure if it's the same characters.  It doesn't sound like them.  Kind of a shame, as I thought that story had some real potential.  
UNCANNY AVENGERS #4 by GERRY DUGGAN & RYAN STEGMAN
• The Uncanny Avengers save Boston from destruction, but at what cost? The finale of the first arc has devastating consequences for one Avenger.
• Rogue learns to love Deadpool through the joy of the "fastball special"!
• Plus: The Torch issues an ultimatum about the membership status of one Avenger...
Mike: Losing Boston would not be a huge loss.  RED SOX SUCK!!
Grey: F*** THE PATS!
UNCANNY AVENGERS #5 by GERRY DUGGAN & CARLOS PACHECO
• Gambit! Will he be friend or foe?
Mike: Gambit...there is a name I haven't cared about in a long time.  A long time.
Grey: Mike Carey's X-Men Legacy, for me.
CAPTAIN AMERICA: SAM WILSON #5 by NICK SPENCER & PAUL RENAUD
• Witness the birth of the All-New, All-Different FALCON!
Mike: HEY!  I thought Stephen Colbert was the new Falcon.  What gives here??
THE VISION #3 by TOM KING & GABRIEL HERNANDEZ WALTA
• A house attacked. A daughter dying. An old, dead friend screaming out in pain. This wasn't how it was supposed to go.
• The Vision created his family to be normal. This isn't normal. This is terrifying. And it's just the beginning.
• The epic tale of Vision and his family continues as he fights to remain ordinary, and that fight starts to tear his ordinary world apart.
Grey: It doesn't sound epic. It sounds lame.
Mike: I have no idea how this series even exists.  Look, I am in favor of trying something new, but come on, does this really sound like a book anyone asked for or would have any interest in buying?  If I can see this, how can't an editor?
NOVA #3 by SEAN RYAN & CORY SMITH
• NOVA IN NEW YORK!
• Sam Alexander and the other ALL-NEW, ALL-DIFFERENT AVENGERS team up, and love might be in the air!
• Featuring guest stars MILES MORALES and KAMALA KHAN!
Mike: I really love Marvel's "new" teen characters.  I hope they keep them around for a while.  Nova, Ultimate Spider-Man, and Ms Marvel are all great!
THE ASTONISHING ANT-MAN #4 by NICK SPENCER & RAMON ROSANAS
• The Power Broker has a new app called Hench – need a super villain to take out a super hero for you? Just Hench it!
• "Zero out of five stars!," says Scott Lang, the Astonishing Ant-Man.
Mike: The Hench app made an appearance in the first issue of Ant-Man.  Loved the idea.  Can't wait to see where Spencer takes this story.
DRAX #3 by CULLEN BUNN, CM PUNK, & SCOTT HEPBURN
THE TRAP IS SET!
• Drax is on the case of the missing, well, just about everything. And it is...NOT going well.
• The answer is obvious: LIVE BAIT!
• Sometimes your bait catches a fish, and sometimes it catches a...well, you'll just have to read and find out!
Mike: It just occurred to me, but pretty much every member of the GOTG has their own title now, except for Thing.  
Grey: Gamora?
Mike: I thought I had heard she was getting her own book.  I could be wrong about that.
GUARDIANS OF THE GALAXY #4 by BRIAN MICHAEL BENDIS &  VALERIO SCHITI
• A new threat to the galaxy has emerged.
• His name is Yotat the Destroyer and he will have blood.
Mike: Yotat was single handedly the dumbest part of Secret Wars.  He basically just randomly appeared in Guardians of Knowhere and did just about nothing.  Real glad to see Marvel decided to keep him around...Says no one.  We also got Regent appearing in the Spider-Man books.  Yuck.
Grey: At least Regent was and is interesting. Yotat is just like….here's a generic bad guy for space!
UNCANNY INHUMANS #4 CHARLES SOULE & STEVE MCNIVEN
• The titanic first arc comes to its conclusion as Kang's final salvo hits the Inhumans!
• Can Medusa, Black Bolt, The Human Torch, Beast and the rest stand up to the Time-Lord?
• You will not see this ending coming!
Grey: Does it involve Medusa and Crystal realizing that they're Eskimo Sisters?
Mike: Time Lord?  Uhm...someone needs to tell The Doctor he can stop looking for Gallifrey.  The time lords are hiding out here...
KARNAK #4 by WARREN ELLIS &  GERARDO ZAFFINO
• A death cult has abducted an Inhuman child and installed him as their messiah.
• Magister Karnak of the Tower of Wisdom, hired by the family to retrieve the boy...might be finding that the death cult members are not the bad guys.
Mike: Loved the first issue, though everytime I see "Tower of Wisdom" I can't help but think of John Morrison and his Palace of Wisdom.  
Grey: "When you get a car that doesn't work right, it's called a lemon. And you know what to do when God gives you lemons, right? You find a new God!"
UNCANNY X-MEN #3 by CULLEN BUNN & GREG LAND
• With mutantkind in extinction's crosshairs once more, Magneto leads a team of the deadliest X-Men to fight for the fate of their species!
• But can the Master of Magnetism curb his killer instincts long enough to find out who's trying to speed up mutantkind's descent into the grave?
• Plus: Fantomex! Triage! And an X-Man you probably thought you'd never see again...
Grey: Adam X? Marrow? Chamber? Joseph? Maggot? Stacy X? Beak? Kylun? X-Man?
Mike: I was going to say most of those are X-Men I'd never want to see again...but then I realized I was just bs'ing.  At one time or another I liked pretty much every character on this list except for Stacy X and Joseph….
ALL-NEW WOLVERINE #4 by TOM TAYLOR & DAVID LOPEZ
THE DOCTOR IS IN!
• Things get truly STRANGE when Wolverine turns to the Sorcerer Supreme in the next mystical chapter of the mystery of the three sisters.
• But will the supernatural efforts of Stephen Strange combined with the raw power of THE WOLVERINE be enough to combat the evils of Alchemax?
Grey: Laura teams with Dr. Strange to fight Alchemax? Sold.