A Critical Look at DC's February 2016 Solicits
FTC Statement: Reviewers are frequently provided by the publisher/production company with a copy of the material being reviewed.The opinions published are solely those of the respective reviewers and may not reflect the opinions of CriticalBlast.com or its management.
As an Amazon Associate, we earn from qualifying purchases. (This is a legal requirement, as apparently some sites advertise for Amazon for free. Yes, that's sarcasm.)
Submitted by

Grey Scherl

on Thu, 11/26/2015 - 03:00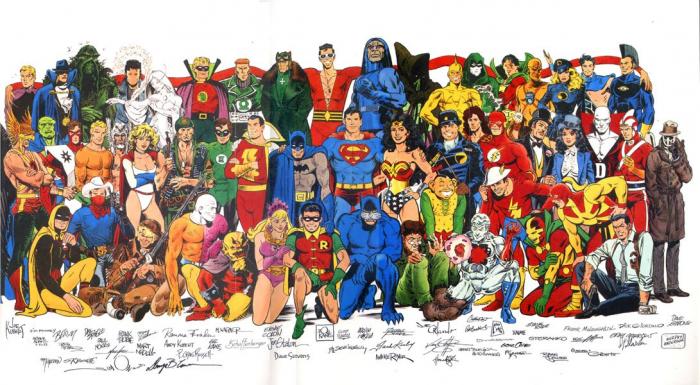 With assistance by Mike Maillaro
Check out Newsarama for a complete list of DC books shipping in February.
---
THE DARK KNIGHT RETURNS: THE LAST CRUSADE #1 by FRANK MILLER,BRIAN AZZARELLO, JOHN ROMITA, JR., and BILL SIENKIEWICZ
The Joker. Poison Ivy. Selina Kyle. And the last Robin.
Mike: I had no idea what this is, so I had to look it up.  Apparently, they decided that Dark Knight III wasn't enough, they are also releasing this prequel to the original Dark Knight Returns.  It's insane how overhyped DKIII has been, especially since Dark Knight Strikes Again was pretty much universally (and rightfully) panned.  Dark Knight Returns was good back in the day, but I just don't have any interest to reading more to it.  Let it rest.
Grey: Is it really the last Robin if Carrie becomes Robin after?
Mike: Depressingly, after I wrote this I found out that DC is already planning for Dark Knight 4.  Can't we get one awful idea done before we already plan for the next one?
SUPERMAN: THE COMING OF THE SUPERMEN #1 by NEAL ADAMS
From legendary writer/artist Neal Adams comes a threat so epic it will take more than one Man of Steel to handle it in this new 6-issue miniseries!
As Darkseid and the hordes of Apokolips lay waste to the world, even Superman is overwhelmed—but not for long, as three heroes from the miniaturized city of Kandor emerge at full size, armed with all the vast powers of Kal-El, ready to become the new Supermen!
This battle of titans also features the machinations of Lex Luthor, plus fan favorites Jimmy Olsen and Lois Lane aiding in the fight for Truth, Justice and the American Way.
Grey: "What If?!....New Krypton happened again"
WONDER WOMAN EARTH ONE VOL. 1 HC by GRANT MORRISON & YANICK PAQUETTE
In this new installment of the New York Times best-selling Earth One original graphic novel line, Grant Morrison (THE MULTIVERSITY) joins with Yanick Paquette (SWAMP THING, BATMAN, INC.) to reimagine Wonder Woman for a new era. Encompassing the vision of her original creator, William Moulton Marston, Morrison presents a Diana who yearns to break free from her mother and the utopian society on Paradise Island to learn about the forbidden outside world. Her dreams may come true when Air Force pilot Steve Trevor crashes on their shores, and she must defy the laws of the Amazons to return him to Man's World.
Is she ready for the culture shock that awaits her in America? And is the world ready for this Wonder Woman?
Mike: Because of the price, I've basically stayed away from the Earth One books.  I like the idea, but like Marvel Season One, I can't bring myself to spend over 20 bucks for really padded retellings of stories I have already read.  It's also hard to figure out what they are going for with Earth One.  It's sort of a half-ass Ultimate universe (like All-Star Batman and Superman were), but with no real consistent releases.  
Grey: I'll buy this the same way I did Batman: Earth One. That is, I'll wait for it to be on sale for five or six bucks on Comixology.  
JUSTICE LEAGUE: DARKSEID WAR SPECIAL #1 by GEOFF JOHNS & OSCAR JIMENEZ
The massive "Darkseid War" epic continues to set the stages for the future of the DC Universe as we reveal the secrets behind its newest major player: Darkseid's daughter, Grail! And if the Justice League is not careful, the spoils of war will all end up with her! See the truth behind Grail's role in this war and the future of the DC Universe as she tears her way across it. Don't miss this extra-sized special offered at the regular price of $3.99!
Plus, world-renowned visualist Kim Jung Gi puts his stamp on the DC Universe with a wall-to-wall-to-wall action triptych featuring the Big Three!
Mike: Darkseid War continues to expand!!  For the most part, I enjoyed the one-shots.  It's just been odd since this seems to be a major event...but it's not having any real impact on any of the character's individual titles.  I know DC has basically made it a policy that continuity doesn't matter anymore, but I think in a lot of ways that is going to create more problems than it solves.  Especially with their rabid fanbase.
Grey: I've really been enjoying it, but yeah, the lack of continuity is giving me headaches. Superman at full strength, Bruce as  Batman, Hal Jordan as a Green Lantern? I sorta feel like the story is going to end with a timeloop putting things back as they were before the arc started.
Mike: That is pretty much the only way this can make sense at this point.  And that would be an awful way to end the story after this much time and investment by the reader.
AQUAMAN #49 by DAN ABNETT & VICENTE CIFUENTES
In the aftermath of the Thule invasion, Aquaman must show the people of Atlantis that he was the target of a conspiracy and earn their trust once more. And no, it's not going to be easy...
Mike: Hey! Next month, all the remaining DC New 52 series will all be hitting issue 50.  Hopefully DC won't jack the prices up, but I do kind of hope they commemorate this.  Any series hitting 50 issues these days without starting all over again is a small miracle in itself.   Now watch DC prove me wrong and do a huge relaunch again before March.  Uhm...I have nothing specific to say about Aquaman, it just happened to be the first series I came across in these solicits that was number 49...
Grey: I thought Geoff and Ivan were coming back. Oh well, I guess they're back after Abnett does an arc or two.
BLACK CANARY #9 by BRENDEN FLETCHER & ANNIE WU
Black Canary barely escaped the army of martial artists who abducted her to a mysterious battleground! Unfortunately, they've followed her right back to Gotham City…but Batgirl owes her a favor or two!
Mike: I keep wondering if the mysterious white ninja is connected to Orphan from Batman and Robin Eternal, but that might just be a coincidence.
CYBORG #8 by DAVID F. WALKER, FELIPE WATANABE and OCLAIR ALBERT
Following the Technosapien invasion, the government implements greater regulation on cybernetics. Their first step is determining ownership of the cybernetics implanted in Vic Stone, setting up a major conflict when it is decided that Vic is actually property of the government. And when he refuses to comply, a warrant is issued for his arrest—and Vic Stone becomes a hunted man!
Grey: This book has been awesome, and I'm looking forward to Vic on the run.
Mike: Totally agree!  Though I hope it allows David F. Walker to do another Shaft series. That book was awesome!  As is his work on Cyborg!  Terrific comic writer.  
DEATHSTROKE #15 by JAMES BONNY and TYLER KIRKHAM
Deathstroke versus an army of Bizarros! As the battle within Lexcorp intensifies, the hunt for Slade's missing daughter takes a surprising turn! Is a betrayal looming…or will it be something far, far worse?
Grey: I don't read this book, but this solicit is probably going to sell me this issue. Slade vs Bizarro's? Sounds fun.
EARTH 2: SOCIETY #9 by DAN ABNETT & JORGE JIMENEZ
The Mist rises in New Gotham as Batman takes on this strange new foe! And Hawkgirl finds herself outnumbered as she confronts Fury and the new Amazons.
Grey: THE MIST!
Mike: I was so happy when Mist showed up in Flash season 1, though I doubt we'll see much of him again since Anthony Carrigan's also playing Mr. Zsasz in Gotham, and that is a pretty major role there.  Now we just need to get a New-52 version of Starman and Shade...
JUSTICE LEAGUE 3001 #9 by KEITH GIFFEN, J.M. DeMATTEIS,  & SCOTT KOLINS
After suffering a brutal defeat by Lady Styx's legion, the remaining members of the Justice League are forced into hiding—but there are eyes everywhere. And what's the best way to hide in plain sight? Create secret identities! But even that may not be enough deceive Styx's deadliest bounty hunter: Eclipso!
Grey: ECLIPSO! This book just keeps getting better!
Mike: It really feels like Giffen, DeMatteis, and Kolins figure this series could end at any time, so they better get as much cool stuff in as possible.  JL3000/3001 is always great.
NEW SUICIDE SQUAD #17 by TIM SEELEY & JUAN FERREYRA
Gothamites Tim Seeley (GRAYSON, BATMAN ETERNAL) and Juan Ferreyra (GOTHAM BY MIDNIGHT, BATMAN ETERNAL) visit the dark and unspeakably violent world of the Suicide Squad for a thrilling new storyline that begins here! Indentured super villain Harley Quinn has made covert contact with someone outside the walls of Belle Reve prison—and this mysterious savior has discovered the secrets of Amanda Waller and Task Force X.
Mike: I haven't had a lot of interest in Suicide Squad since New 52...but I do love Grayson. This might make me have to check this book out...
TITANS HUNT #5  by DAN ABNETT & PAULO SIQUERIA
Titans: together at last? As the evil Mr. Twister continues to plague our heroes from the shadows, a deadly reunion draws near. But as hope fades, a mysterious third party emerges to join the fray…
Mike: Titans Hunt has been awesome, though I have to admit, I have no idea what's going on here.  I keep feeling like Pre-52 is creeping in to the New-52, which would not be a bad thing at all.  It's always bugged me that we had no classic Teen Titans or Justice Society in the New-52.
TELOS #5 by JEFF KING, CARLO PAGULAYAN and JASON PAZ
Telos abandons his team on Colu to head into the stars alone. But he doesn't get far before an alien alliance attacks him, now that he's wanted for the destruction of Computo and his empire. And when all hope seems lost, help arrives in the unexpected form of Parallax!
Mike:  You know, I vastly prefer evil Hal, though I will admit Geoff Johns did a great job making Hal into an interesting character over the years.  Parallax was a total douche in Convergence (no shocker), so I can't wait to see what new havoc he can cause.
BATMAN/SUPERMAN #49 by TOM TAYLOR & ROBSON ROCHA
This epic tale from another era in Clark and Bruce's history continues! Someone has put a bounty on Batman's head, and Lobo's come to collect. Can Superman stop this intergalactic bounty hunter in time?
Mike: I like the idea of using this to fill in the gaps in New 52's history for Batman and Superman.  I hope that DC does this with more of their characters.  New 52 history is still so vague after 4 years.  
SUPERMAN/WONDER WOMAN #26 by PETER J. TOMASI, DOUG MAHNKE and JAIME MENDOZA
"Savage Dawn" continues! Suffering a terrible loss, Wonder Woman comes to the aid of the Kryptonite-charged Man of Steel to face the terror of the twins of Vandal Savage!
Mike: With Scandal Savage showing up in Secret Six, I wonder if she'll be involved in this storyline which seems to include quite a few of Vandal Savage's offspring.  I doubt it, but she's been one of my favorite characters for a while now.
BATMAN #49 by SCOTT SNYDER & YANICK PAQUETTE
It is time. Bruce Wayne has reclaimed his true past as Batman. Now he must descend into the cave and face what he once was. Can he truly leave behind a life free from the pain and anguish of the Bat? Can he plunge once more into the madness and purpose that once consumed him? In this special, thrilling issue, watch as the fate of Bruce Wayne, and Batman, is decided once and for all.
Mike: I am really curious how this story goes.  I can't imagine anyone who had a redo would choose once again to be Batman and suffer all the misery that comes along with it.  Personally, I have always wanted to see superhero comics move forward. Bruce Wayne never putting on the cowl again would be a dream come true for me.  NOT because I don't like Batman, I have been a fan for as long as I can remember.  But if I want to read Bruce Wayne as Batman, I have literally 75 years worth to choose from. It's time to move forward…  But it will never happen.
Grey: Bruce won't stop until he's dead, and even then, he only stops until he comes back a year later.
BATMAN BEYOND #9 by DAN JURGENS & BERNARD CHANG
Let the doctor make you strong,
Let him give you the tools to survive…
While the world flocks to Neo-Gotham, Batman tracks Terry's brother, Matt, to the former City of Tomorrow: Metropolis! But they both get more than they bargained for when they meet the new muscle in town. Check out the DC Universe debut of the Splicers, previously seen in the Batman Beyond animated TV series!
Grey: So when the book launched, Gotham was the ONLY city to survive Brother Eye, but hey look, Metropolis! I really think that they put way too many limitations in place with that attempted status quo. That said, I do love this book.
Mike: Yeah, I can't help but wonder how much of this book is driven by editorial mandate.  I really enjoy Jurgen's work here, but it does feel inconsistent at times.
HARLEY QUINN #25 by AMANDA CONNER, JIMMY PALMIOTTI, & CHAD HARDIN
At long last, it's Harley Quinn and The Joker, face-to-face! The life of Harley's new love, Mason Macabre, is in the Joker's hands…but can he or Harley survive another round of The Joker's twisted mind games?
Mike: Please make this a swerve.  Joker coming back is even worse than Batman coming back.
HARLEY'S LITTLE BLACK BOOK #2 by AMANDA CONNER, JIMMY PALMIOTTI, &JOHN TIMMS
Guest-starring Green Lantern! Black and red are kind of Harley Quinn's thing…so when the most unique power ring in the universe crosses her path, she has no choice but to put it on, right? Unfortunately for Harley—and everyone else—this hybrid ring is fueled by rage and death…and things are gonna get out of hand very quickly!
Mike: I have no interest at all in a Harley Quinn team up book, even though I usually like Conner and Palmiotti's work...but I am definitely intrigued by Hybrid Lantern rings.