A Critical Look at DC's March 2016 Solicits
FTC Statement: Reviewers are frequently provided by the publisher/production company with a copy of the material being reviewed.The opinions published are solely those of the respective reviewers and may not reflect the opinions of CriticalBlast.com or its management.
As an Amazon Associate, we earn from qualifying purchases. (This is a legal requirement, as apparently some sites advertise for Amazon for free. Yes, that's sarcasm.)
Submitted by

Grey Scherl

on Wed, 12/23/2015 - 19:43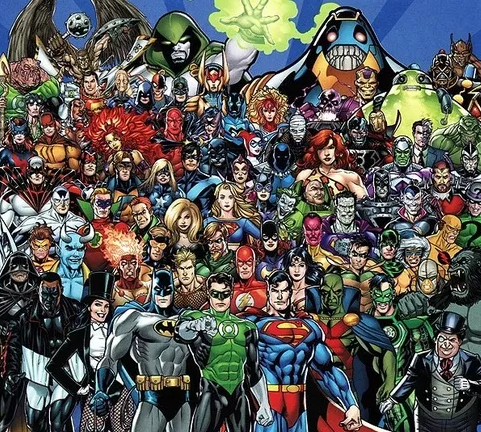 With assistance by Mike Maillaro
Check out Newsarama for a complete list of DC books shipping in March.
---
Mike: So, of the 52 books that launches under the New-52, 12 of them are still around for issue 50 (well, 49 for Justice League).
Batman

Superman

Action Comics

Aquaman

Batgirl

Catwoman

Detective Comics

Flash

Green Arrow

Green Lantern

Wonder Woman

Justice League
Not a lot of real surprises on that list, though I would have never expected Batgirl or Catwoman to still be around.  Especially since quite a few Batman books have fallen off the list.   I get that 50 is a big deal these days, but I'm not thrilled with the $5 price tag on all of these books.  
DARK KNIGHT III: THE MASTER RACE #4 COLLECTOR'S EDITION by FRANK MILLER, BRIAN AZZARELLO, ANDY KUBERT, KLAUS JANSON, JIM LEE and SCOTT WILLIAMS
This oversized paper-over-boards COLLECTOR'S EDITION features both stories from DARK KNIGHT III: THE MASTER RACE #4 at the same size, with a cover that's a pencils-only version of Jim Lee's 1:500 variant for DARK KNIGHT III: THE MASTER RACE #4.
Mike: I keep forgetting to comment on this.  I have zero interest in Dark Knight III as is.  But how does DC justify doing a $13 collector's edition of this book?  Anyone who buys these issues is getting ripped off.  BIG TIME!
Grey: I just keep trying to convince myself that this book doesn't exist. Can we do images? Can we put up the crazy Frank Miller comic? I think our readers will like that more than DK3.
Mike: Sure!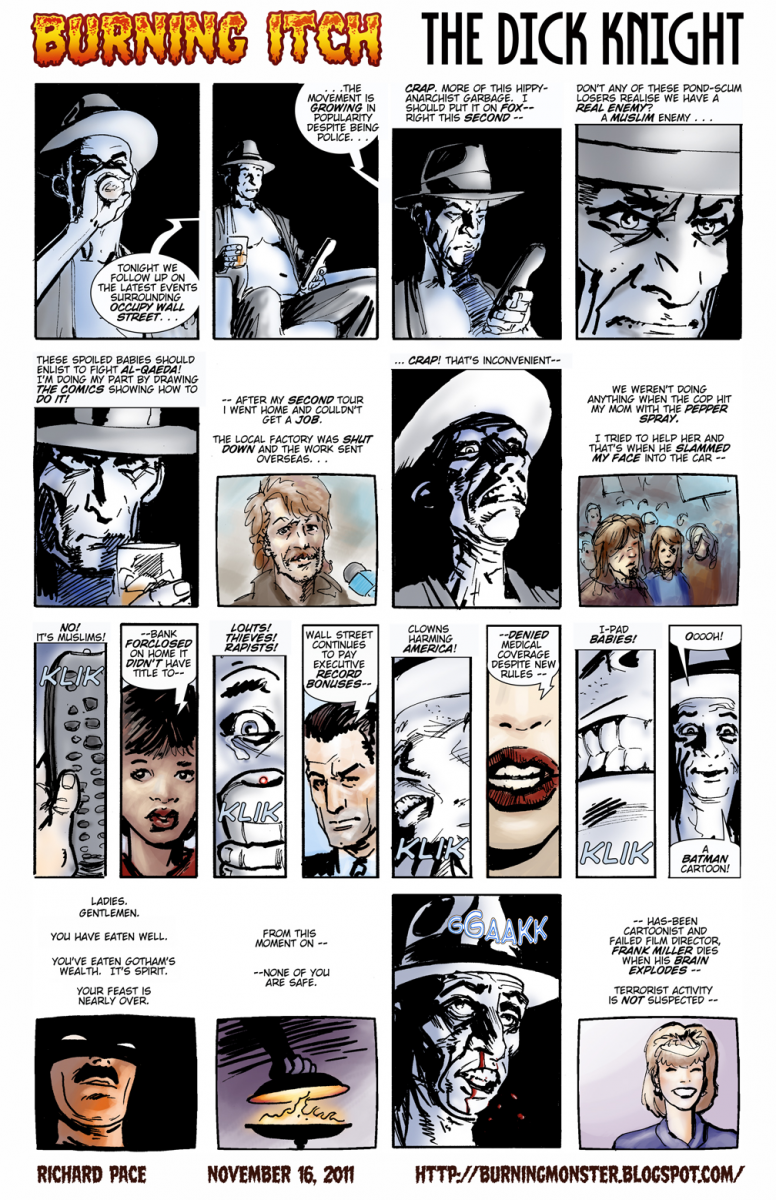 Grey: That one's great, but I meant this one!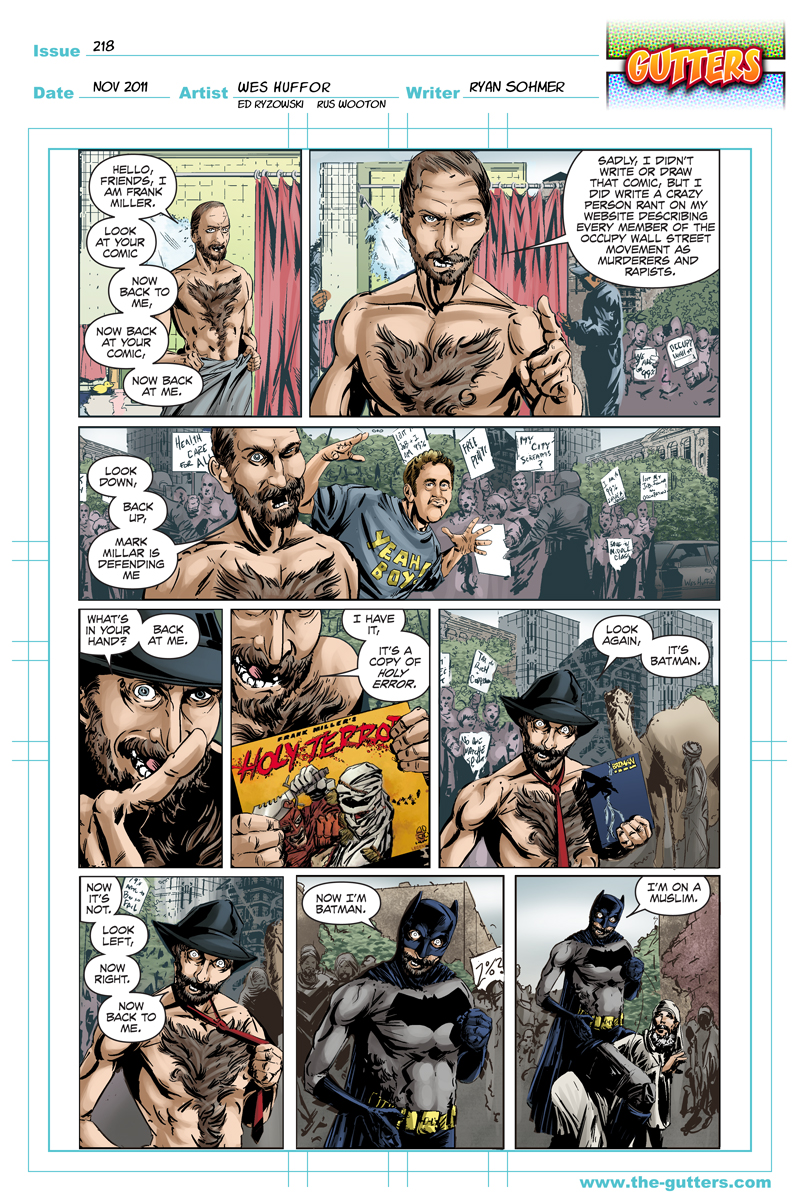 Mike: LOL!  I forgot all about that one!  Yeah, that one is great too!  Mocking Frank Miller is a genre in itself.  Couldn't have happened to a nicer guy...
LEGENDS OF TOMORROW #1 by Various
It's four powerhouse tales in one colossal comic, as some of comics' most legendary talents launch new tales of Firestorm, Metamorpho, Metal Men and Sugar and Spike—that's right, Sugar and Spike!
Grey: Remember when these were mini series? I wasn't interested then, not interested now.
Mike: I am actually kind of annoyed that they "stole" The Legends of Tomorrow name for this.  I would have preferred this to feature some of those characters like Atom, Captain Cold, Rip Hunter.  And how do you justify a $8 price tag for this?  Who is going to pay that to read these series?  None of these characters have been able to maintain a series over the years...there is a reason for that.
Grey: What in the blue hell is Sugar & Spike?
Mike: I only vaguely have heard of them before.  They were two toddlers created by Sheldon Mayer who had adventures in diapers.  This was long before either of us were born.  My favorite part of the Wikipedia entry is that "Mayer had an agreement with DC that no one else could write Sugar and Spike".   Was there a lot of demand for this?   Hey, maybe they should have turned Frank Miller loose on this project!!
BATMAN #50 by SCOTT SNYDER, GREG CAPULLO and DANNY MIKI
Batman has returned to Gotham City! In this extra-sized conclusion to Snyder and Capullo's epic story "Superheavy," Bruce Wayne returns to the cape and cowl to battle Mr. Bloom alongside Jim Gordon for the fate of the city they both love.
Grey: What are the odds that this ends with both guys still being Batman? I liked it when they did it with Bruce and Dick before the New 52, and it really opens up the dynamic across the books by not just tossing Bruce into four books a month. Also, bigger question, is the Bruce that returns the same one who left?
Mike: It's looking like Bruce is slowly starting to regain his memories, so I'm thinking that it will be New-52 Batman.  I do hope they keep Gordon around as Batman in some capacity.  A lot of people have been down on Gordon Bats, but I've thought it's been a fun new dynamic.
Grey: He's an everyman thrust into a world that everyone assumes isn't so bad because Batman is human, but is even more messed up than they can possibly imagine. Years of being Commissioner did nothing to prepare him.
SUPERMAN #50 by GENE LUEN YANG & HOWARD PORTER
Superman returns in all his glory in this very special issue that sees the Man of Steel back to full power as he faces his greatest enemy and also comes face to face with the pre-Flashpoint Kal-El! At last, it's the meeting of the Supermen you've been waiting for!
Grey: So Lex isn't a good guy anymore? But seriously, old school Superman! I'm stoked for this!
Mike: I hope Pre-Flashpoint Supes smacks him in the back of the head and tells him to act like Superman.  My favorite moments in Convergence were seeing a Superman who actually acts like Superman again.
Grey: Save everybody. Period.
AQUAMAN #50 by DAN ABNETT, BRETT BOOTH and NORM RAPMUND
Dead Water is a killer and a monster. No matter where you go, he can reach you if there's even one drop of water present. Pray that Aquaman finds you first! And the most famous oceanic hero on Earth is Aquaman, right? In our gala 50th issue, make way for…Aquawoman!
Mike: Aquawoman?  Don't care.  Call me when we get the return of Aqualad.  Kaldur'ahm for life!
DETECTIVE COMICS #50 by PETER J. TOMASI, FERNANDO PASARIN and MATT RYAN
Jim Gordon faces his past in this extra-sized conclusion to his most shocking cold case yet. With history itself forcing him to reflect on the last year as Batman, Gordon must make a decision about what his future holds in Gotham City.
Grey: I would hope his future is remaining Batman for the GCPD.
Mike: Second'd!
THE FLASH #50 by ROBERT VENDITTI, VAN JENSEN, & JESUS MERINO
In our massive 50th issue, The Flash must win back the trust of Central City! But to do so, he needs to outrun the police force that's been charged with bringing him down—with the awesome power of the Rogues behind it all!
Mike: Running from the cops.  Yeah, that is always a good way to win back the trust of the City.  I've been loving this arc in Flash, though I will admit it may be going on a little too long, especially since we know it will last a few more months.
Grey: I love this book, but the Zoom arc has been the slowest time in a Flash book since Johns was writing Barry for the slowest year ever.
Mike: Yeah, it's funny that you have a speedster feuding with an army of speedsters, and the result is a rather slow paced story.  
GREEN LANTERN #50 by ROBERT VENDITTI, BILLY TAN and MARK IRWIN
In this extra-sized issue, it's a battle for the fate of Earth! Parallax believes Hal Jordan has failed this universe—and now, he's prepared to wipe Hal out of existence! Hal has to get over the shock that Parallax still exists so he can unleash the power of his gauntlet to stop him! It's a battle neither Jordan can win, and one that will change both forever.
Grey: If I still read Green Lantern, this would sound awesome. I mean, even right now, I'm considering it because of Parallax, but I probably still won't.
Mike: Just Lost Army and Sinestro for me.  Green Lantern really lost me as a reader a while back, and I don't see that changing unless there is a huge creative team overhaul.  I have no real issue with Venditti as a writer, but Green Lantern just isn't a great fit.
Grey: Exactly. He's awesome on Flash, but GL is just...no. I mean, I'm probably just bitter about the gutting he did to everything Johns did, but it doesn't take away from how dull this book was when I cut it loose.
JUSTICE LEAGUE #49 by GEOFF JOHNS & JASON FABOK
In this, the penultimate chapter of the critically-acclaimed epic "Darkseid War," the fate of the Justice League and the entire universe is on the line! But can even the combined might of the Justice Gods contend with the secret machinations of Grail, the deadly daughter of Darkseid? Death, rebirth and the life of one of the members of the League changed forever!
Grey: I like how in the month where every book hits 50, this, the first book they released, is only at 49.
Mike: Hey, it could be worse.   If this was Marvel, you would have some books at 75, and some at 40… One issue off isn't bad at all!
Grey: Or you could be Marvel and be releasing the first three issues of a new volume before getting around to finishing the previous one.
CONSTANTINE: THE HELLBLAZER #10 by MING DOYLE, JAMES TYNION IV & ALBERTO PONTICELLI
The demonic mogul Neron's plans come to fruition as New York City becomes a one-stop shop for any and all kinds of magic, open to the public and completely unregulated. But John Constantine is trapped in the one place he hoped he'd never go: the magical realm of Faerie, home to tricksters so skilled that even the Hellblazer can't bluff his way home in time to save humanity from itself.
Mike: I had no idea Neron is back.  Underworld Unleashed was such a big over the top concept, and I was kind of bummed that DC didn't do more with the idea that all the villains were willing to sell their souls for more power.  Granted, he's basically just discount rack Mephisto, but I am curious if DC will do more with Neron.
Grey: Best Neron story ever was Ralph Dibny trapping him in Fate's Tower for eternity. I mean, yes, he was free within a year and a half, but it was still a great story!
MARTIAN MANHUNTER #10 by ROB WILLIAMS, EDDY BARROWS and EBER FERREIRA
In the shadow of an epic war on the Living Mars, DC Comics presents the definitive origin story of J'onn J'onzz, the Martian Manhunter—and reveals his terrible destiny!
Grey: This book has been awesome, so I'm excited to see his new origin to go along with this status quo.
CYBORG #9 by DAVID F. WALKER, FELIPE WATANABE and OCLAIR ALBERT
Federal forces are sent to capture Cyborg and his technology—but things take a bizarre twist when tensions rise among members of the Justice League, who are split over what Cyborg should do. Shazam doesn't understand why Cyborg won't go along with the federal agents. Could this be the moment that ends their friendship?
Mike: Shazam Vs Cyborg!  They sort of teased that way back in Divergence.  Been looking forward to this for a while.  I love this book!
EARTH 2: SOCIETY #10 by DAN ABNETT & JORGE JIMENEZ
While Batman and his allies fight to keep their city safe from organized crime, Green Lantern and his wonders struggle to prevent the world from toppling into all-out war. But Hawkgirl may have just uncovered a global threat greater than either of those dangers…one that has come with them all the way from Old Earth…the world-changing intentions of the mighty and secret Amazons!
Mike:  Seems like there is like three different comics shoved into this one.  Kind of a cool idea, but I would worry that each idea wouldn't get enough focus when you try to tell them all at once in the same comic.
Grey: This book would benefit from being double sized. There's just way too many characters and story arcs bubbling to really flesh it out in 20 pages a month.
JUSTICE LEAGUE 3001 #10 by KEITH GIFFEN, J.M. DeMATTEIS, &  SCOTT KOLINS
After a brutal defeat by Lady Styx's legion, the remaining members of the Justice League are forced into hiding—but there are eyes everywhere. How do you hide in plain sight? You create secret identities. But will that be enough to elude Styx's deadliest bounty hunter, Eclipso?
Grey: You had me at "Eclipso".
MIDNIGHTER #10 by STEVE ORLANDO & ACO
It's Midnighter versus the Suicide Squad, round two—unfortunately, Parasite came very, very prepared! Have they found a way to set a trap from which Midnighter can't think his way out?
Grey: Spoiler….no, no they have not.
Mike: Maybe it's a trap that forces him to kill himself billions and billions of times over and over again to escape.  Hey it worked in Doctor Who and The Librarians.  Heaven Sent and The Point of Salvation are two episodes that are going to haunt me for a long, long time.
TELOS #6 by JEFF KING & IGOR VITORINO
Multiverse beware—because Telos and Parallax have formed a catastrophic alliance that could change the DC Universe as we know it! Plus, Parallax wants to bring back his Coast City, and the only person standing in his way is Telos!
Grey: Of course I'd buy the first three issues of a book canned at six. OF COURSE I WOULD DO THAT!
Mike: Part of me is glad...I have read the first three issues, and I still have no idea if I liked them or not.  At least this way, DC made the choice for me and I don't have to keep buying and wondering every month.
Grey: Books I will finish when it's a buck an issue on Comixology. Maybe.
TEEN TITANS #18 by GREG PAK & IAN CHURCHILL
"Who Is Wonder Girl?" Cassie finally learns the truth about her father and her powers—but her mission puts her on a collision course with Wonder Woman, and it may change the Teen Titans forever!
Mike: Who cares?  I like Pre-52 Wonder Girl SOOOOO much better.  #NotMyCassie
BATMAN & ROBIN ETERNAL #22-26 by Various
It's the catastrophic conclusion of the acclaimed weekly series that brings together all of Batman's one-time partners! Mother's trap has been sprung, and the whole world is feeling her wrath! Can Dick Grayson pull together his allies to fight an entire army of foes? Is one among them still under Mother's control? And what will become of Cassandra Cain? You won't believe how huge this battle can become!
Mike: 26 issues was really the perfect length for this story.  Has DC announced any more weeklies let?  I actually really like the weekly story, as long as it doesn't stretch out longer than the story needs.
Grey: They haven't, but I expect we'll hear about some after the new year. Likely another Batman one.
GRAYSON #18 by TIM SEELEY, TOM KING, & MIKEL JANIN
At last, the spy stands alone. Now an agent of multiple masters, Grayson must go rogue from them all, find the truth within the web of lies, and take down Spyral once and for all.
Grey: I haven't been reading this book for long, but it seems that Dick goes rogue a lot.
BATMAN BEYOND #10 by DAN JURGENS & BERNARD CHANG
Captured by the Splicers, Batman is set to become the latest guinea pig in their DNA experiments! His only hope may be the very thing that got him into this mess, as Matt's investigations into history's greatest heroes—long thought dead in the war with Brother Eye—finally bears fruit: enter the Justice League Beyond!
Grey: So the Brother Eye Superman wasn't Superman?
Mike: I find it better to just go with the flow on this one and not ask a lot of questions on this one.  The book seems to contradict a lot of Future's End, not to mention everything we have seen of Batman Beyond in the past.  It is a great book, but definitely follows DC's "we don't care about continuity" model.
ROBIN: SON OF BATMAN #10 by PATRICK GLEASON and MICK GRAY
The Son of Batman faces the Son of Lu'un Darga! Damian, Maya, Goliath and their new friends seek out Talia al Ghul in order to fight back against the rising threat of the Lu'un Darga family, only to come face to face with the rival clan's champion, young Den Darga! Has Damian finally met his match?
Mike: I have no idea what a Lu'un Darga is.  Isn't that a Star Wars character?   That said, Son of Batman is a great series and I will pick it up to see if he wins this lightsaber duel.
WE ARE ROBIN #10 by LEE BERMEJO & JORGE CORONA
The Jokers have taken over Middleton High! Duke and Riko are trapped inside as average students—can Dax and Izzy get to them in time? And could Dre really have joined the side of the Jokers? In a final showdown between the Robins and the Jokers, Duke and his team will be put to the ultimate test of loyalty.
Mike: Adding Jokers into the mix should be a huge shot in the arm for this series.  I am not sure there is an audience for a book about a bunch of Robins, but I've mostly enjoyed it.  Though it can be a little slow moving at times.