A Critical Look at Marvel's February 2016 Solicits
FTC Statement: Reviewers are frequently provided by the publisher/production company with a copy of the material being reviewed.The opinions published are solely those of the respective reviewers and may not reflect the opinions of CriticalBlast.com or its management.
As an Amazon Associate, we earn from qualifying purchases. (This is a legal requirement, as apparently some sites advertise for Amazon for free. Yes, that's sarcasm.)
Submitted by

Grey Scherl

on Fri, 11/27/2015 - 03:00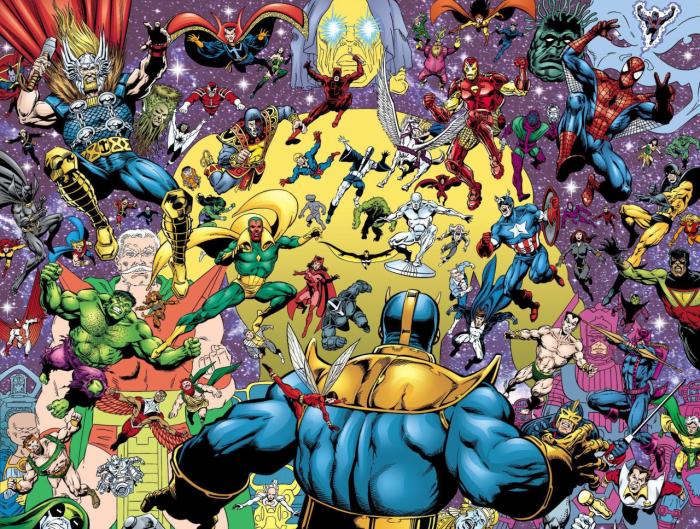 With assistance by Mike Maillaro
Check out Newsarama for a complete list of Marvel books shipping in February.
---
SPIDER-MAN #1 by BRIAN MICHAEL BENDIS & SARA PICHELLI
Miles Morales has been doing the super hero thing for a while, now, but after SECRET WARS, he'll be a full-fledged member of the Marvel Universe. Swinging next to The Invincible Iron Man, The Mighty Thor and the All-New Captain America as a card-carrying member of the Avengers is an adventure, but it's not all fun and games for New York City's main Spider-MAN! What happened in the eight month gap? It all starts in SPIDER-MAN #1!
Mike: I am surprised it took this long to get Miles back in his own book.  I'm a fan of the character, though I can't help but wonder if he'll be a little redundant with Spider-Man, Spider-Man 2099, Spider-Woman, and Silk running around.  Not to mention all the Spiders in Web Warriors.  BUT, I will read this book anyway.  Bendis can be hit or miss at times, but he's always been great on Ultimate Spider-Man, with Miles or Peter.
AVENGERS STANDOFF: WELCOME TO PLEASANT HILL #1 by NICK SPENCER & MARK BAGLEY
The prelude to the Spring's blockbuster AVENGERS event!
Hello there and welcome, new resident. You've sure made the right choice in moving to Pleasant Hill-- a friendly small town where burdens are lifted and the sun is always bright... so hide your eyes. Don't let it see you looking its way. Hide if you must. Otherwise it will burn right through you. Pleasant Hill is the kind of place where folks look out for one another. Everyone knows who their neighbors are. But who are you, neighbor?
Mike: Groan.  NOT ANOTHER EVENT.  Marvel's track record on those has not been great.  I do like Nick Spencer, but it's like when they had Waid writing lead ins for Avengers Vs X-Men, a great writer leading into what might be a very underwhelming crossover.  Actually, I had not even heard of this crossover until I saw this solicit.  Not normal for Marvel's usual overblown hype machine.
POWER MAN AND IRON FIST #1 by DAVID WALKER & SANFORD GREENE
THE ORIGINAL HEROES FOR HIRE, BACK ON THE CLOCK!
We KNOW you've been waiting to see LUKE CAGE and DANNY RAND back together and back to STREET-STOMPING basics! POWER MAN and IRON FIST are tracking a mystery with all the ingredients of a classic Heroes-for-Hire tale. Expect old friends, hired goons, crime lords, weird magic, plenty of power, a flurry of fists and as much bromance as you can handle! It's Power Man and Iron Fist reunited, and writer DAVID WALKER and artist SANFORD GREENE are making it feel so GOOD!
Mike: DAVID WALKER ON POWER MAN!  COUNT ME IN!  Uhm...and Iron Fist is cool too.
DEADPOOL & THE MERCS FOR MONEY #1 (of 5) by Cullen Bunn & Salvador Espin
Deadpool might be an Avenger now, but he's also got his own private team of mercenaries...the legally-cleared-to-be-called MERCS FOR MONEY! Got a problem you can't solve on your own and a pile of money you'd like to be rid of? Just call Deadpool, Stingray, Massacre, Solo, Foolkiller, Terror and Slapstick and watch as that problem is shot, stabbed, eviscerated, pulverized and generally made bloody!
Mike: More Deadpool?  Groan!!!
ALL-NEW, ALL-DIFFERENT AVENGERS #5 by MARK WAID & MAHMUD ASRAR
Seven minus one equals tragedy! It's been Ms. Marvel's dream to be an Avenger – so why would they throw her off the team? What has she done – and will she recover?
Mike: Poor Ms Marvel.   I blame racism!  Now Jersey City once again has zero representation on the Avengers.  
Grey: Could be worse. Synch was the only Marvel hero from STL, and they blew him up with a bomb and then never mentioned him again.
Mike: Man, I miss Synch.  Hell, I miss a lot of those Gen X characters.  Even when they show up, it's just quick cameos.  Gen X was a great book back in the day.
SCARLET WITCH #3 by JAMES ROBINSON & STEVE DILLON
• A magical curse has befallen the Irish countryside and only the SCARLET WITCH has the cure!
• A powerful new magician by the name of the EMERALD WARLOCK has his eye on Wanda…but is he friend or foe?
• Wanda discovers that there is much more to her family history than meets the eye…
Mike: Unexpectedly, this spins off of Uncanny Avengers Annual 1….which was a great story.  Robinson has been doing some great work lately...but I still can't bring myself to care about Scarlet Witch having her own series.
THE VISION #4 by TOM KING & GABRIEL HERNANDEZ WALTA
• Just as everything is coming together, everything goes to hell.
• After finally finding love for The Vision, Virginia must respond to the one person who threatens that love - and her response will shock the Marvel Universe.
• A not-to-be-missed ending that builds to next issue's breathtaking climax.
Grey: This book, well, the first issue at least. surprised the hell out of me. Not for any twists and turns, but just for the direction they chose to take.
THE ASTONISHING ANT-MAN #5 by NICK SPENCER & ANNAPAOLA MARTELLO
• Cassie Lang used to be cool. She used to be a super hero! But nowadays, she's de-powered, her friends are on the other side of the country and she sucks at basketball. It's the worst.
• But Cassie is about to find out what being a hero really means. It isn't about changing size, it's about what's in your heart.
Grey: No, I'm pretty sure it's about changing size.
THE ULTIMATES #4 by AL EWING & KENNETH ROCAFORT
• The Ultimates are headed to the very edge of everything that is - and beyond! Destination: Outside!
• But on the way, they're going to have to deal with pan-dimensional parasites, rogue realities, universal systems...
• ...and an enemy from Blue Marvel's past.
Mike: I loved the first issue of Ultimates.  Seems more in line with what Ewing was doing with the first volume of Mighty Avengers.  I didn't like the second volume all that much as it kept getting bogged down by crossovers, but if Ultimates #1 is any indication, it should be a good series again.
DRAX #4 by CM PUNK, CULLEN BUNN, & SCOTT HEPBURN
DRAX AND THE TEMPLE OF FOOM!
EARTH'S TOUGHEST COMPETITOR CM PUNK CONTINUES HIS GALAXY RUMBLING DRAX SERIES!
• DRAX faces FIN! FANG! FOOM!
• The fiend kidnapped children and put their little hands to work digging. But for WHAT?! Prepare to be SHOCKED! And AWED!!!
• Drax is ready to PUNCH out an escape route, barring any WEIRD mystical surprises. (FYI, we consider a dragon in hot pants to be pretty normal, so what could weird possibly even mean???)
Grey: What are the odds that at some point in this series, before Punk is gone, that Drax gives someone the GTS?
STAR-LORD #4 by SAM HUMPHRIES & JAVIER GARRÓN
A GIANT LEAP FOR MANKIND! A FALL FROM GRACE FOR PETER QUILL!
• Is young Star-Lord pirate enough to betray his species and steal the ASTERION ONE?
• Peter came to space to be a pilot, a pirate, avenge his mother's murder by Badoon, and chew gum.
• Well, he's all out of gum! And already did those first two things!
Grey: Truth be told, the fact that the book launched with an origin story is why I'm not buying it.
Mike: I really tried to give the first issue a fair shot.  But it was real forgettable.  I definitely won't be picking up any more.
SILVER SURFER #2 by DAN SLOTT & MIKE ALLRED
• Why is Silver Surfer fighting the ever-loving blue-eyed THING?
• Who is this Alicia Masters person, and why hasn't Norrin told Dawn about her before?
• Where did that alien armada come from?
• What can they really do to planet Earth that is WORSE THAN DEATH?!
• And WHEN, exactly, IS Clobbering Time?!
• Right now, True Believer! RIGHT NOW!
Mike: Thing Vs Surfer drawn by Mike Allred.  Yeah, I want to see that so much!
CARNAGE #5 by GERRY CONWAY & MIKE PERKINS
• The first terrifying arc concludes catastrophically!
• What does the Darkhold Cult want with the Symbiote Psychopath?!
Grey: Hopefully to find ways to keep making this book scary!
WEB-WARRIORS #4 by MICHAEL COSTA & DAVID BALDEON
• The WEB-WARRIORS have to call in backup after the Electros launch an all-out siege on Earth-001!
• Featuring two titanic guest stars straight out of SPIDER-VERSE!
Mike: Man...I was kind of hoping this series would move a little more briskly.   4 issues in and we're still on Electro world.  That's modern comics for you.
Grey: Six issue arc or bust.
SPIDER-MAN 2099 #6 & 7 by PETER DAVID &  WILL SLINEY
• Miguel O'Hara's crusade against the mysterious organization called FIST continues!
• But there's trouble in New York when the Inhuman LASH (y'know, the one from a little show called Agents of S.H.I.E.L.D.) arrives AND PUTS MIGUEL IN THE MIDDLE OF THE INHUMAN CONFLICT!
Mike: I have really been enjoying Spider-Man 2099...but as I've said before, I don't like the Marvel Cinematic Universe leaking over into the comics so much.  Lash's story had a great twist in the show...but I would rather stay away from that in the comics.  Of course, I just don't like the Inhumans, so that doesn't help this particular situation.
Grey: If he has the same identity in the comics, then it has zero meaning whatsoever. Some characters really don't need to transition over, and really, he's one of them. He works perfectly in that setting with that universe, and hell, he could work in an Inhuman book. But Spidey 2099? Really?
ILLUMINATI #4 by JOSHUA WILLIAMSON & SHAWN CRYSTAL
• TITANIA VERSUS THOR! 'NUFF SAID!
Grey: No. You could easily have said more. Don't lie.
CONTEST OF CHAMPIONS #5 by AL EWING & PACO MEDINA
TO THE DEATH!
• NO MORE GAMES! White Fox enters the fray - in time for a six-a-side deathmatch!
• And one contestant WILL die – AND MAYBE MORE!
• Plus! A new guest star THRASHES the enemy! You won't believe who's back!
Grey: Night Thrasher, right?
Mike: THRASH MAN!!  New Warriors forever!
ALL-NEW X-MEN #5 by DENNIS HOPELESS &  MARK BAGLEY
• Which is more stubborn: A teenage X-Man or a homicidal villain whose power is literally to render himself immovable?
• Find out here, when the ALL-NEW X-MEN take on THE BLOB!
Grey: Hey! Blob's back! Last time we saw him he was relying on a steady stream of MGH to keep being blobby.
OLD MAN LOGAN #2 by JEFF LEMIRE &  ANDREA SORRENTINO
• For Old Man Logan, home is a wasteland in the distant future, one overridden by hillbilly Hulks who extort and torture civilians for fun.
• But now, mysteriously finding himself in the present, Logan is hellbent on preventing that future from coming to pass.
• And the best way to keep the Hulk population from surging in the future is to eliminate them altogether in the present...starting with Amadeus Cho, the Totally Awesome Hulk!
Grey: Any excuse for a Wolverine/Hulk fight, right?
ALL-NEW WOLVERINE #5 by TOM TAYLOR & DAVID LOPEZ
JOURNEY TO THE CENTER OF A CLONE
• Wolverine will have to go where she's never gone before in order to save the lives of her mysterious three "sisters!"
• Along her journey, Laura will have to team up with an ally she never expected, and one who has seemingly sworn off the life of a super hero...
• Say hello to the original Wasp, the one and only JANET VAN DYNE!
Grey: Up until they said it was Jan, I'd have assumed we were getting a Laura/Old Man Logan team up.
Mike: I am really looking forward to that whenever it happens.
Wasp basically vanished after Uncanny Avengers when Havok was inverted during Axis.  Odd that she resurfaces here.  I wonder if they are ever going to deal with what happened to the "inverted" character who didn't turn back, like Sabretooth, Havok, and Iron Man.  It seems clear to me that they are back to status quo, but it happened off panel.
Grey: Which kinda sucks because the inverted personalities were actually going to freshen some of them up. Lord knows Sabretooth needed it.
EXTRAORDINARY X-MEN #7 by JEFF LEMIRE &  HUMBERTO RAMOS
• As one team of X-Men stages a daring rescue mission in Weirdworld, another team stages one in the psyche of their teammate!
• Something happened to Nightcrawler that left his mind in turmoil. Determined to bring their friend back to sanity, Storm and Jean Grey enter his mind…but are they prepared for what awaits them there?
• Meanwhile, Old Man Logan, Colossus, Iceman and Magik discover just who it is they're on a mission to rescue in the wilds of Weirdworld…and the truth might tear the team apart!
Grey: Does this have anything to do with Kurt getting his tail torn off?
Mike: That was one of the most brutal images I've ever seen.  They should have done a better job featuring it in the panel though.  I missed it the first time because it was so small.  When I realized what I was looking at, I actually yelled a little.  Poor Kurt.  Yeah, I definitely assume that is the horrible thing that happened to him.  Unless Lemire is a real sadist and has worse things in store for him...
UNCANNY X-MEN #3 by CULLEN BUNN & GREG LAND
• With mutantkind in extinction's crosshairs once more, Magneto leads a team of the deadliest X-Men to fight for the fate of their species!
• But can the Master of Magnetism curb his killer instincts long enough to find out who's trying to speed up mutantkind's descent into the grave?
• Plus: Fantomex! Triage! And an X-Man you probably thought you'd never see again…
Grey: I'm getting kind of annoyed with every month having an X book tease an X-Man we never thought we'd see again.
Mike: LOL!  This is actually the same issue that it was last month, just resolicited because of how badly Marvel had to push back all of their mutant books because of Uncanny 600 being delayed for like 8 months.