A Critical Look at Marvel's March 2016 Solicits
FTC Statement: Reviewers are frequently provided by the publisher/production company with a copy of the material being reviewed.The opinions published are solely those of the respective reviewers and may not reflect the opinions of CriticalBlast.com or its management.
As an Amazon Associate, we earn from qualifying purchases. (This is a legal requirement, as apparently some sites advertise for Amazon for free. Yes, that's sarcasm.)
Submitted by

Grey Scherl

on Thu, 12/24/2015 - 03:00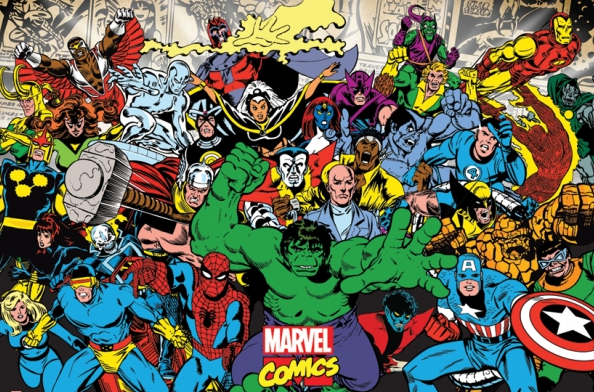 With assistance by Mike Maillaro
Check out Newsarama for a complete list of Marvel books shipping in March.
---
INVINCIBLE IRON MAN #7 by BRIAN MICHAEL BENDIS (W) • MIKE DEODATO (A/C)
"THE WAR MACHINES" PART 2!
• War Machine and Iron Man team up to stop a brand new threat to the Marvel Universe… like only they can. All this plus more hints to next summer's insane Marvel blockbuster event.
Mike:  Great!  A summer event (Civil War 2).  Just in time to follow up on these massive spring event (Standoff).   
INTERNATIONAL IRON MAN #1 by BRIAN MICHAEL BENDIS (w) • ALEX MALEEV (a/C)
Who is Tony Stark, really? Since learning that he was adopted as a baby, this question has cast a shadow over Stark's life. Now, it is time to uncover what his legacy truly is, a journey that will carry Tony into new directions as a man and as a super hero. Alongside his strange new quasi-ally Doctor Doom, Iron Man will discover new things about the Marvel Universe he didn't know existed before! A character deconstruction from Bendis and Maleev along the lines of their award-winning DAREDEVIL run!
Mike: Love the creative team, but no idea why this can't be dealt with in the other Iron Man series.  Was there anyone clamoring for TWO Iron Man series?  I don't even think Invincible Iron Man is selling all that well to justify a spinoff.  
Grey: Bendis just wants to tell two heavily decompressed stories and isn't intending to stay for that long, is my guess.
THE INFINITY ENTITY #1 (of 4) by JIM STARLIN (w) • ALAN DAVIS (a/C)
FROM THE PAGES OF THE THANOS: THE INFINITY RELATIVITY OGN!
When last we saw Adam Warlock, he was a captive of Annihilus of the Negative Zone. So where does THE INFINITY ENTITY #1 find him? Hanging with the original Avengers? Then things start getting weird. But what else would you expect from the cosmic team of Jim Starlin and Alan Davis? Guest starring the Guardians of the Galaxy.
Mike: Jim Starlin's Silver Surfer and Infinity Gauntlet were my favorite comics when I started reading comics.  BUT, I think Starlin has not really updated with the times all that well.  His last few Infinity stories have just been painful to read.  I have to pass on this one.
HYPERION #1 by Chuck Wendig (w) • Nik Virella (a)
HYPERION IS BACK!
Or is he? The high-powered hero is hiding in plain sight, driving a truck across the U.S. to learn about the country he has adopted. Along the way, he picks up a lone runaway named Doll, who has more baggage than he anticipated. Doll is in danger, chased by a pack of freaks and lunatics known as THE CARNIES. Will Hyperion reveal himself to save her? Maybe! Will he use a tractor trailer as a baseball bat? Probably!
Grey: So is this the Hyperion that just murdered Namor and Atlantis, or is there another Hyperion?
Mike: I think this is the Hyperion who was featured during Hickman's Avengers run, so yeah, it would be the same Hyperion from Squadron Supreme.  I think.  Though I guess it's possible there are more Hyperions running around.  We still don't quite understand the state of the Marvel Multiverse.   Web Warriors seems to suggest it exists in full, so there could be millions of Hyperions running around...
X-MEN '92 #1  by CHRIS SIMS & CHAD BOWERS (w) • ALTI FIRMANSYAH (a)
The X-Men of the 90s are back! Continuing from the hit Secret Wars series starring the X-Men of a more EXTREME decade. With Cassandra Nova defeated, the X-Men have taken in all the young mutants she had rounded up and are officially reopening the Xavier School for Gifted Children...but being responsible won't stop them from having crazy adventures! Especially when Omega Red shows up with the (Formerly) Soviet Super Soldiers!
Mike: NOOOOOO!!!!!  This series was by far the worst part of Secret Wars.  I am actually truly pissed they are bringing it back.  I wouldn't read this if you paid me.    The sad part is that I think there is a good series that could exist here, BUT you have to take the good parts of the 90's, not the bad.
BLACK WIDOW #1 by Chris Samnee & Mark Waid (w) • CHRIS SAMNEE (a/C)
S.H.I.E.L.D.'S MOST WANTED!
The Eisner Award-winning team of Mark Waid and Chris Samnee are taking Black Widow on the lam! Natasha has spent years gathering secrets, and when some of the darkest ones begin mysteriously going public, no one is safe. With her betrayed former confederates at S.H.I.E.L.D. on her heels and a lifetime of training and ingenuity at her disposal, Natasha's out for answers in a knock-down-drag-out tale of action and espionage! Hidden enemies, old friends and unusual allies collide, and all eyes are on Black Widow. The chase is on!
Mike: Team Daredevil on a Black Widow book?  YES PLEASE!
Grey: Congrats, Marvel, you've finally hooked me on a Black Widow book.
HAUNTED MANSION #1 (of 5) by JOSHUA WILLIAMSON (w) • JORGE COELHO (a)
WELCOME, FOOLISH MORTALS, TO THE HAUNTED MANSION!
It seems that no one lives in the elegant mansion on the hill…but then where's that creepy organ music coming from? Are the iron gates meant to keep people out…or some things in? Get ready to meet the 999 ghosts of the Haunted Mansion…but be warned, they're looking for the 1000th! The delightfully chilling Disney attraction comes to (after)life in an all-new story, penned by JOSHUA WILLAMSON with art by JORGE COELHO! Don't miss the next great Disney Kingdoms adventure, and the most spine-tingling experience you'll find this side of a Doom Buggy!
Grey: Josh Williamson! For as little as I want to care because it's a Disney theme park ride turned into a book, JOSH WILLIAMSON!
Mike: I am actually amazed how high in the solicits this book was listed.  They usually hide all the "Disney" stuff way towards the back.  I like Williamson too, but I have to pass on this one.  Though I am still thinking I need to check out Figment at some point.  Journey Into Your Imagination is pretty much the most underrated ride in Disney World.  My wife actually had a Figment doll from when she was a kid.  I had no idea what it was until my third visit to Disney World.
MOCKINGBIRD #1 by CHELSEA CAIN (w) • KATE NIEMCZYK (a)
BECAUSE YOU DEMANDED IT! Now in her own ongoing series!
Bobbi Morse is Mockingbird, S.H.I.E.L.D.'s most versatile, most in-demand agent!
But a string of missions gone wrong indicate that something strange is lurking within S.H.I.E.L.D.'s own medical and recovery network. How far will Mockingbird have to go in order to solve this puzzle box and get to the truth? Bestselling author Chelsea Cain teams with newcomer Kate Niemczyk.
Mike: Who demanded this?  I want names!  Don't get me wrong, I actually liked Mockingbird back in West Coast Avengers, but when she died, it never once occurred to me to think "she'll be coming back."  I really couldn't imagine anyone cared that much.  And while I think Adrianne Palicki has done a great job playing Mockingbird in Agents of SHIELD, I still can't imagine there was a huge demand for her to have her own title.  I'd rather she stick to a supporting role like she's done in Amazing Spider-Man and Silk.   I do like that Marvel does seem to be throwing everything at the wall and trying to figure out what will stick, but there are definitely titles you know won't last, and Mockingbird is going to be one of them.
Grey: Remember a few years ago when they tried to make her a thing with Hawkeye and the books kept getting cancelled?
Mike: Expect that to happen again!  Though maybe they will hold on to it a little while because of the show...
AVENGERS STANDOFF: ASSAULT ON PLEASANT HILL ALPHA #1 by NICK SPENCER (w) • JESUS SAIZ (a/C)
Pleasant Hill looks like the perfect small-town community -- but underneath the surface, a deadly secret lurks. One so explosive it will draw estranged allies Steve Rogers and Sam Wilson back together to save a friend in danger and put things right. But when the combined might of the Captain Americas isn't enough, whom do they call? In the face of unspeakable evil, it's time for the Avengers to Assemble like never before! The blockbuster spring AVENGERS event starts right here!
Mike:  I have to say, Assault on Pleasant HIll might be the oddest name for a crossover I've ever heard. Though I guess the title is really "Standoff"...which isn't all that much better.  I am feeling a little done with Marvel crossovers after the train wreck that is Secret Wars.  But I have been enjoying the Avengers books, and I do like Nick Spencer.  I will probably buy it, but I have no idea if that's a good idea or not.  
Grey: I feel like I'll have to read Uncanny Avengers since I'm reading everything else involved in this, like Son of Batman in Robin War.
Mike: For me, it was Gotham Academy and We Are Robin.  I actually like Son of Batman quite a bit. I was always a bit down on Damien, but he's really grown on me lately.
NEW AVENGERS #8 by AL EWING (W) • GERARDO SANDOVAL (A)
A STANDOFF tie-in!
• The New Avengers are a global rescue force – but what happens when they have to rescue someone...
from S.H.I.E.L.D.?
• Answer: THIS MEANS WAR! And the beginning of the three-part conflagration that changes EVERYTHING!
• PLUS! The traitor -- REVEALED! And the twists keep coming! Who -- or WHAT -- is the AMERICAN KAIJU?
Mike: American Kaiju needs to fight Astro City's American Chibi.  My money is on Chibi!
Grey: I was about to drop this book and now they tell me American Kaiju is coming. God damnit, they know about my Kaiju Kryptonite.
ALL-NEW, ALL-DIFFERENT AVENGERS #7 by MARK WAID (W) • ADAM KUBERT (A)
A STANDOFF tie-in!
• The ALL-NEW, ALL-DIFFERENT AVENGERS vs the UNCANNY AVENGERS! Why? How?
Mike: Is there any book that is not featuring the Uncanny Avengers?  They are becoming the new Spider-Man or Wolverine.  You need a guest star, throw in the Uncanny Avengers.  Yeah, Yeah, I know this is a crossover so it makes sense, but what about Black Knight and Squadron Supreme?  The Uncanny Avengers showed up in both those books when the All-New, All-Different Avengers probably would have made more sense.  
Grey: Nah, Cap's the control freak these days, Tony just wants to pretend he's Ultimate Spider-Man.
CAPTAIN AMERICA: SAM WILSON #7 by NICK SPENCER (W) • DANIEL ACUñA (A)
Since World War II, Steve Rogers has wielded his red, white and blue shield against unspeakable odds. When he fell, his brother in arms, Bucky Barnes, picked it up. When it was time to rest, he handed it to his good friend, Sam Wilson. But now Steve will be asked to wield it one last time, against a foe so deadly he knows it could very well be his final stand.
• Commemorating the 75th Anniversary of Marvel's Sentinel of Liberty with a story of Captain Americas present and former -- with this explosive, world-changing chapter in the blockbuster spring Avengers event, STANDOFF.
• Plus, stories celebrating the legacy and legend of Captain America throughout history, by Greg Rucka & Mike Perkins; Tim Sale; & John Cassaday
Mike: You know, I think they should have made this a stand alone special, and not just thrown it in as issue 7 of SAM WILSON's Captain America series.  I've been enjoying Spencer's take on Captain America, and I actually do want to see him tell some Steve Rogers stories, but I'm just not sure this is the right place for it.
Grey: It's Marvel. Everything is the same place for every story.
Mike: I am most excited for the $6 cover price!  Thank you Marvel for milking the reader every chance you get!
CAPTAIN MARVEL #3 by MICHELE FAZEKAS & TARA BUTTERS (W) • KRIS ANKA (A/C)
• Captain Marvel's powers are on the fritz and the timing couldn't be worse…
• All evidence says that Alpha Flight has a traitor in their midst .
• How will Carol and her crew figure out the origins of the mystery ship when they can't even trust each other?
Mike: Am I the only one who thought it was odd that Alpha Flight is a big part of Captain Marvel's supporting cast?  This is a nice throwback to back in the day when Carol was a big part of the X-Men's supporting cast.  Just for the sheer novelty of this, I am definitely in as a customer.
THE MIGHTY THOR #5 by JASON AARON (W) • RUSSELL DAUTERMAN (A/C)
• Thor vs Odin. The biggest, meanest, bloodiest Thor/Odin showdown ever. And in the war for Asgard...there will be casualties.
Grey: And they will likely be nameless people that we will soon forget.
Mike: Here lie the nameless dead Asgardians.  The sad part is that this is Marvel, so even they likely won't stay dead.  BUT, while they are, they will all be replaced by females and affirmative action hires.
NOVA #5 by SEAN RYAN (W) • CORY SMITH (A)
• Sam Alexander starts to unravel the mystery of his father, Jesse Alexander, and his actual whereabouts...
• But first he'll have to find and take down the IMPOSTER!
• The answers start here!
Mike: Does this mean I can skip the next two issues if they aren't going to bother to give us any answers until issue 5?  I actually like Sam as Nova, but this whole "fake Jesse" storyline has been a bit of a mess.  I was hoping for a new status quo with two Novas, but instead we get Nova and...something that is not Nova.
SCARLET WITCH #4 by JAMES ROBINSON (W) • MARGUERITE SAUVAGE (A)
• In order to confront a new enemy, SCARLET WITCH must journey to a magical realm called the WITCHES ROAD.
• The path is full of dark surprises lurking around every corner -- Wanda must keep her wits about her to survive.
• But will a surprise visit from a long-lost relative make Wanda lose her way?
Mike: This book was a real surprise for me.  I picked it up because of Robinson, and because I liked the lead-in story in Uncanny Avengers Annual.  I wonder if the "death of magic" storyline here ties into Doctor Strange or is it just a coincidence.  I have been trying to cut back on the number of comics I've been buying, but Scarlet Witch's first issue really convinced me that this was a book I needed to keep reading.  
THE ULTIMATES #5 by AL EWING (W) • KENNETH ROCAFORT (A/C)
• Beyond every universe...beyond the omniverse itself...beyond any limit mankind has ever known...there is only The Outside.
• From here, The Ultimates can see into the true nature of all time and space - and learn the secrets of the All-New Marvel Universe!
• The question is...what's out here seeing into them?
Mike: Are they going beyond the Source Wall?  No wait, that is DC...
Captain America 75th Anniversary MAGAZINE by Written by JOHN RHETT THOMAS
Celebrate the birthday of a living legend with an All-New, All-Different, ALL-FREE commemoration of 75 years of Captain America! From fans' first impression of Steve Rogers socking evil in the jaw, to Sam Wilson wielding the shield today, this magazine has it all — bringing you fully up to date with Cap's comics and films! From a guide to the firmest friends and fiercest foes of Cap's storied history, to an in-depth look at his timeless costume, to features focusing on some of the finest creators ever to write or draw the Sentinel of Liberty — including John Romita Sr., Mark Gruenwald, Mark Waid and the King himself, Jack Kirby! Do your patriotic duty and take home this FREE slice of red, white and blue. Happy birthday, Captain — we salute you!
96 PGS./All Ages …$0.00
Mike: Man, I wonder what Marvel is going to be charging for this.  96 pages full of the best Captain America stories of all time.  Wait?  Does that say free?  Uhm….how did that happen???   Granted, they are also selling $10 editions with special covers, but still Marvel is not known for giving anything for a reasonable price these days.  A nice way to honor one of Marvel's most important characters.  It's rare that I say this, GOOD JOB MARVEL!
SILVER SURFER #3 by DAN SLOTT (W) • MICHAEL ALLRED (A/C)
• In 1966, the heroes of Earth met Norrin Radd of Zenn-La, The Silver Surfer.
• In 2016, for the greatest stakes of all time, he will have to fight them all.
• Not a dream. Not a hoax. This is really happening. A major turning point in the life of Norrin Radd that will profoundly change the saga of the Silver Surfer!
Mike: So wait...Silver Surfer has been around for 50 years in comic time…  I know Slott and Allred just like messing with the reader, so I am not going to worry too much about that.  But, we are all clear that makes no sense, right?
SPIDER-MAN #2 by BRIAN MICHAEL BENDIS (W) • SARA PICHELLI (A/C)
• The Avengers are down and Miles Morales stands alone against a villain with the power to destroy the universe.
• More importantly, his grades are in the toilet.
Mike: Miles and Ms Marvel seem to be having some of the same problems.  I wonder if they can set up a superhero tutoring support group.  
SPIDER-GWEN #6 by JASON LATOUR (W) • ROBBI RODRIGUEZ (A/C)
• THE FIRST ARC OF RADIOACTIVE SPIDER-GWEN REACHES ITS CONCLUSION!
• CAPTAIN AMERICA JOINS FORCES WITH SPIDER-GWEN AGAIN TO TAKE DOWN THE GREEN GOBLIN!
Mike: STOP SHOUTING AT ME!!
Grey: NEVER!
THE AMAZING SPIDER-MAN & SILK: THE SPIDER(FLY) EFFECT #1 by Robbie Thompson (W) • TODD NAUCK (A)
Spider-Man and Silk aren't necessarily pals right now, but they've got no choice but to work together when they accidentally travel back in time to just BEFORE they got their spider-powers! Now, they have to get along while stopping a threat to the timeline...WITHOUT accidentally wiping out their own powers! Writer Robbie Thompson (Silk, Venom: Spaceknight) teams with artist Todd Nauck (Nightcrawler, Amazing Spider-Man) to bring us a tale of Amazing Anachronistic Arachnids! Collecting the first two chapters of the Infinite Comic series.
Grey: This solicit needs a joke about whether or not they can stop from trying to bang each other long enough to get the job done, because the Spider-Sex Drive that gets triggered when Pete and Cindy are together has yet to not be funny.
Mike: TODD NAUCK RULES!
BLACK KNIGHT #5 by FRANK TIERI (W) • LUCA PIZZARI (A)
• The Ebony Blade may be out of sight, but that doesn't mean it's out of mind! Can Dane live a life unaffected by the sword, or will fate step in?
• Find out here!
Grey: This book is growing on me quickly. Dane's a good guy with an evil weapon that's changing who he is, and he's totally alright with it.
EXTRAORDINARY X-MEN #8 by JEFF LEMIRE (W) • HUMBERTO RAMOS (A)
"APOCALYPSE WARS" STARTS NOW!
Mutantkind is an endangered species once more. But what better way to ensure your people see the future…than to skip ahead right to it? As the mutant race's last hope is jettisoned into the time stream, the Extraordinary X-Men make a startling discovery: the fate of their kind is about to fall into the hands of one of their most formidable adversaries — the immortal APOCALYPSE. Now, the X-Men race into a perilous future, desperate to reclaim what was taken from them…and completely unaware of the horrors that await them.
Grey: This sounds very much like what they were saying when Baby Hope was tossed into the future after Messiah Complex.
OLD MAN LOGAN #3 by JEFF LEMIRE (W) • ANDREA SORRENTINO (A/C)
• Fighting to keep his apocalyptic future from coming to pass, Old Man Logan is waging war in the present.
• And after a disastrous confrontation with the Hulk, Logan looks to enlist the help of an ally.
• But when he seeks out to recruit his longtime friend HAWKEYE, will he instead find himself in the archer's sights?
Grey: So all he's doing is covering the beats from the original story? Is Spider-Man next?